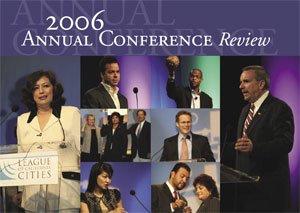 2006 Annual Conference Review
Special thanks to the following California Association of Public Information Officials members who contributed to the on-site conference newsletter and this article, and helped staff the conference media room: Randy Bachman, Redding; Ann Erdman, Pasadena; Judy Franz, Santa Monica; Bill Gay, El Centro; Mike Maxfield, Yorba Linda; Mark Mazzaferro, Vallejo; Kevin Melin, Roseville; Bill Polick, County of San Diego; Sue Schlerf, Reno, Nev.; Scott Summerfield, consultant; Tom Manheim, San Jose; and Krista Lemos, University of Minnesota, Crookston.
The League of California Cities' 108th Annual Conference, held Sept. 6–9 in San Diego, welcomed 2,319 city officials, who participated in a variety of activities. The conference offered dozens of educational sessions, discussions and briefings covering city finance, housing, telecommunications, flood control, homeland security, ethics and a range of other issues important to cities. In addition, a two-day Expo showcased more than 320 exhibitor booths, where city officials browsed for new product and service ideas to take back to their cities.
Wednesday Highlights
City officials gathered at Wednesday's opening general session to hear author and motivational speaker Kevin Carroll deliver the keynote address.
"Everyone here has courage and is a risk-taker," said Carroll, remarking on the traits necessary to succeed in public office. "But you also have to remember the value of play and have passion in what you do."
NLC President Speaks
National League of Cities' (NLC) President James Hunt, a council member in Clarksburg, W. Va., also addressed the general session attendees. Hunt thanked the California League and its members for their support in working to preserve federal funding for Community Development Block Grants and lobbying Congress on federal telecommunications legislation.
In addition, Hunt briefed the audience on NLC's Inclusive Communities program. Acknowledging the diversity of individuals that populate cities, Hunt urged the delegates to "make your city
an inclusive community."
Thursday Highlights
Author, speechwriter and political commentator John Avlon encouraged attendees at Thursday morning's general session to work together and avoid the pitfalls of extreme ideology and partisanship.
Avlon, who recently authored the book Independent Nation, said that our country needs to move away from the "us against them" mentality and cautioned public officials to move forward, rather than to the left or right. "It's important to remember that there is strength in the center, where most Americans are," he said.
"I talk to a lot of government groups, and the bottom line is that you're problem-solvers," Avlon said. "You want to get things done for the people you serve. That's the essence of this country's deep tradition of strong centrist leaders."
"Professional partisans have hijacked our politics," Avlon added, noting the 300 percent rise in people voting as Independents over the past three years. Avlon says this reflects a growing sentiment toward centrist beliefs, and a desire to achieve balance and move away from extremes. Avlon was chief speechwriter for former New York Mayor Rudy Giuliani and is a columnist for the New York Sun.
League Executive Director Chris McKenzie discussed Proposition 90 (the "taxpayer trap" initiative on the November ballot) and the damage its passage could do to the ability of state and local agencies to manage competing land use needs or build infrastructure. Calling it "the most pernicious measure I have ever seen," McKenzie described the League's efforts to defeat the initiative in November.
Presidents' Lifetime Achievement Award
Rosario Marin was honored with the League's Past Presidents' Lifetime Achievement Award. Currently secretary of the state Department of Consumer Affairs, Marin previously served as the 41st treasurer of the United States. Sworn in on Aug. 16, 2001, she was the first Mexican-born .S. citizen to hold that office. Her local government background is extensive, having previously served as mayor and council member of Huntington Park and as the president of the League's Mayors and Council Members Department.
League Immediate Past President Pat Eklund presented the award, and emphasized Marin's leadership and dedication to making a positive impact on those around her as the key reasons for her selection.
"Rosario Marin is a shining example of what this award stands for," Eklund said. "She has worked at all levels of government, making outstanding contributions to her community, her state and our nation. She has been a champion for those with developmental disabilities, and an inspiration to public officials everywhere. Rosario's positive and lasting contributions resonate deeply with the communities she has served."
Friday Highlights
At the closing general session, the League announced the election of new officers to form the Executive Committee of its board of directors. Pinole Mayor pro Tem Maria Alegria will serve as League president, assuming the post held for the past year by former Los Angeles Council Member Alex Padilla. San Diego Council Member Jim Madaffer assumes the role of first vice president, and Sacramento Mayor Heather Fargo is joining the Executive Committee as second vice president.
"Los Angeles City Council Member Padilla has been an outstanding leader for the League of California Cities this year," said Executive Director McKenzie. "His leadership, and that of our entire Executive Committee, has been critical to our success in working with the Legislature and Governor Schwarzenegger to place a package of infrastructure bonds on the November statewide ballot."
Barrales Boosts League
Ruben Barrales, director of intergovernmental affairs at the White House, spoke to attendees following the introduction of the League's new board members, emphasizing that California cities have an ally in the Office of the President.
"What I love about California government is that you get things done. You cut through the red tape," Barrales said, "and now you know there is a Californian [on] the White House [team] to help."
Journalist Pak Emphasizes Teens' Future Role
SuChin Pak, MTV News Team correspondent and producer of the documentary "My Life Translated," a TV series dealing with young people who live in two cultures, delivered a keynote speech on teen politics at the closing general session.
"Just like all politics is local, so is television," Pak said. "Teens are the voters and decision-makers who will lead this country into the future."
Saturday Highlights
The League's General Assembly met as part of the Annual Business Meeting held Saturday morning. City delegates considered four resolutions, two of which addressed procedures used to review andconsider annual conference resolutions. A third resolution dealt with health andwellness in cities, and the remaining resolution dealt with forfeiture of vehicles used in illegal speed contests. All four resolutions were approved.
To view the final report on these resolutions, visit the League website at www.cacities.org/resolutions.
---
This article appears in the December 2006 issue of Western City
Did you like what you read here? Subscribe to Western City
---