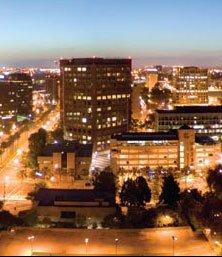 2009 Annual Conference Preview
Each year nearly 2,000 elected officials and municipal staff from throughout California convene at the League's annual conference to attend workshops, discuss with colleagues and experts how to best tackle common challenges, and explore products and services designed to help cities serve the public more efficiently.
The Event at a Glance
Conference-related events begin on Wednesday, Sept. 16 with policy committee meetings at a hotel adjacent to the San JoseConvention Center. The conference registration area opens at 9:00 a.m.First-time attendees will be welcomed with a special session commencing at 12:30 p.m., and break-out sessions begin at 1:30 p.m. At 4:00 p.m., the Opening General Session will feature League President Judy Mitchell, Executive Director Chris McKenzie and keynote speaker William Hudnut. Immediately following the keynote address, enjoy a reception hosted by the City of San Jose at the Tech Museum; later that evening, support the CitiPAC event.
A full day of programming starts at 7:45 a.m. on Thursday, Sept. 17. Each League department will offer a business meeting, followed by the General Session, where keynote speaker Charlene Li will present "Transforming Cities Using Social Media." Li is the author of Groundswell: Winning in a World Transformed by Social Technologies. Next, join more than 200 exhibitors at the grand opening of the Exposition. Browse new products and cost-effective services at the Expo during lunch or support the Institute for Local Government by purchasing a ticket to its annual symposium, which focuses this year on "Creating Healthy Neighborhoods for All" (see page 9 for more information). The conference will pro-vide more than 20 educational program options on Thursday afternoon; in the evening, the League caucuses will host a variety of networking receptions.
Many League regional divisions will offer breakfast events on Friday, Sept. 18. The Expo concludes with lunch and afternoonprize drawings at 1:00 p.m., before atten-dees welcome the new board of directors at the Closing General Session. The modified schedule for 2009 will offer voting delegates and attendees the opportunity to participate in the concluding Annual Business Meeting. Remember to register your city's voting delegate early, and be sure your city is represented at the Annual Business Meeting.
The entire schedule of events, including content, sessions and speakers, is online at www.cacities.org/AC. Registration for any League conference can be accessed through www.cacities.org/events. Hotels will fill quickly, and registration is required prior to reserving hotel space. Don't miss this valuable learning experience — register today.
---
This article appears in the July 2009 issue of Western City
Did you like what you read here? Subscribe to Western City
---