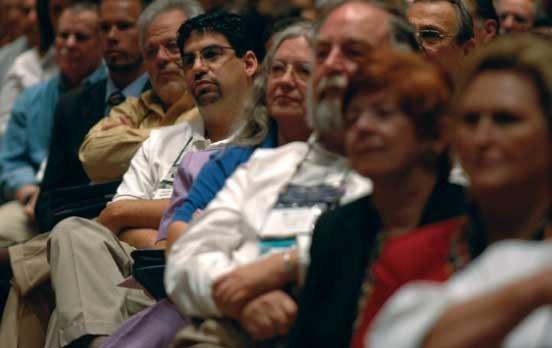 2009 Annual Conference Preview
Don't Miss the Annual Conference!
Conference!
The 111th Annual Conference of the League of California Cities
September 16–18, 2009, San Jose Convention Center
This year's annual conference theme is "Strong Cities, Strong State, Strong Nation," and each attendee has a role to play in realizing this vision. Moving our cities beyond the current economic recession will require grassroots action, strong leadership and community engagement.
To provide local elected officials and staff with the tools needed for such action, the conference offers more than 40 break-out sessions and will feature leading thinkers at keynote sessions. The condensed schedule of events includes an earlier starting time on Wednesday and concludes with the Annual Business Meeting and General Assembly on Friday evening.
Conference Highlights
On Wednesday, Sept. 16, programming will commence with several early learning opportunities. Topics include:
Foreclosure Meltdown — Stem the Impacts in Our Communities;
Gang Violence Reduction, Intervention and Prevention Strategies, presented in partnership with the National League of Cities; and
Understanding Public Service Ethics Laws and Principles (AB 1234 Training), which provides two hours of education required by state law for local elected officials.
The Opening General Session will highlight the significant work that the League has undertaken in its "Save Your City" campaign and the fight to retain local control and save local revenues. Keynote speaker William H. Hudnut III has first-hand experience in local efforts as a former four-term mayor of Indianapolis and member of Congress. A past president of the National League of Cities, he currently serves as a senior fellow emeritus at the Urban Land Institute (ULI) in Washington, D.C., and as principal of his consulting firm, Bill Hudnut Consultants, LLC. Hudnut will speak about the issues confronting municipalities in a talk titled "Cities in a Squeeze."
On Thursday, Sept. 17, each League professional department will offer a business meeting, followed by the featured General Session, "Transforming Cities Using Social Media," presented by Charlene Li, author of the business bestseller Groundswell: Winning in a World Transformed by Social Technologies. Li is an independent expert on emerging technologies, with a specific focus on social technologies, interactive media and marketing.
Next, join more than 300 exhibitors at the grand opening of the Exposition. Browse new products and cost-effective services at the Expo during lunch or support the Institute for Local Government by purchasing a ticket to its annual luncheon symposium, which focuses this year on "Creating Healthy Neighborhoods for All." The symposium will explore how planning, designing and building communities has a tremendous impact on the health and well-being of residents. Robert Ogilvie, Ph.D., will present a dynamic perspective on the ways that cities can use planning, economic development, redevelopment and other tools to create healthier neighborhoods for all their residents. Advance symposium reservations are $45 each. Space is limited, and tickets are available through the advance registration process. For more information about this event, visit www.ca-ilg.org.
On Friday, Sept. 18, many League regional divisions will offer breakfast events. The Expo concludes with lunch and afternoon prize drawings at 1:00 pm, before attendees welcome the new board of directors at the Closing General Session. Immediately following the Closing General Session, voting delegates and attendees will participate in the concluding Annual Business Meeting. Remember to register your city's voting delegate early, and make certain that your city is represented at the Annual Business Meeting.
For More Information
Check out the entire schedule of events, listing content, sessions and speakers at www.cacities.org/AC or to register for any League conference visit www.cacities.org/events. Priority, adjacent hotels will fill quickly and registration is required prior to reserving hotel space. Don't miss this opportunity to improve your skills and your ability to serve your city.
---
Why Attend the Annual Conference?
"Training becomes more important in times of crisis."
— Jose R. Villarreal, Mayor, Sanger
"There are statewide issues that need attention, and League meetings provide the time to rally cities to address these issues."
— Jere Melo, Council Member, Fort Bragg
"It's essential that we stay engaged in the programs and sessions offered by the League."
— Paul V. Morris, Council Member, San Pablo
"Elected official training is critically important."
— Rick Daniels, City Manager, Desert Hot Springs
---
This article appears in the August 2009 issue of Western City
Did you like what you read here? Subscribe to Western City
---