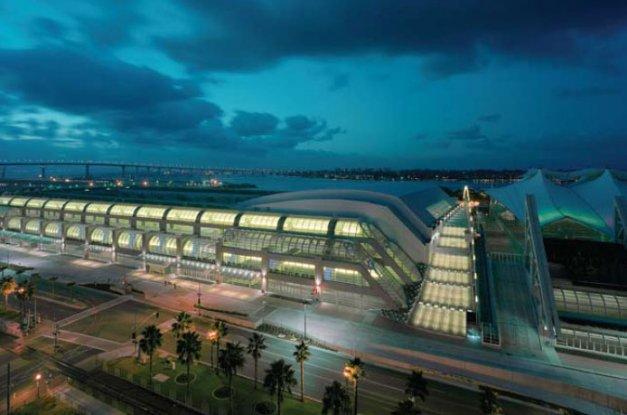 2010 Annual Conference Preview: Rebuilding California From the Ground Up
The League of California Cities 112th Annual Conference and Expo
San Diego Convention Center
September 15-17, 2010
---
Allison Fuller is conference logistics and social media coordinator for the League and can be reached at afuller@cacities.org.
---
This year's annual conference offers an opportunity for city officials and staff, policy-makers and experts to work together toward a shared interest: rebuilding California from the ground up.
With more than 40 educational sessions and dozens of networking opportunities to choose from, attendees will gain practical, valuable knowledge they can put to work right away to strengthen their cities and serve their residents more effectively.
Conference Highlights
On Wednesday, Sept. 15, the League's policy committees meet, and conference programming at the convention center commences with a first-timers orientation and break-out sessions.
The Opening General Session keynote speaker Doug Williams will highlight Government 2.0 and separate fact and fiction related to social media. He will offer strategies for managing messages and protecting a city's reputation. Williams is a leader in the marketing and communications industry and president of Fuse 5, a Houston-based firm specializing in marketing, public relations and training.
On Thursday, Sept. 16, conference activities include concurrent sessions in the morning and afternoon, with topics ranging from new electric transmission lines to working effectively with local clergy and congregations (for more on this topic, see "Working With Local Clergy and Congregations Offers Real Benefits"). During the afternoon, Cesar Millan will share his thoughts on mastering leadership by understanding how to take charge and become a pack leader. Millan hosts the popular TV show "Dog Whisperer."
The Exposition opens on Thursday, and attendees can join more than 200 exhibitors, showcasing new products and services, who are available to discuss ways to cut costs and increase efficiency. For a small additional fee, attendees also can join the Institute for Local Government during the Sixth Annual Luncheon Symposium (see "Informing Democracy: Local Leadership and the Changing Information Needs of Communities" below). Advance symposium reservations are $45 each.
On Friday, Sept. 17, League regional divisions will hold networking breakfast events, and the Expo concludes with a lunch and afternoon prize drawings. Attendees will welcome new board of directors during the Closing General Session. Immediately following the session, voting delegates and attendees will participate in the concluding Annual Business Meeting. Voting delegates are required to register and stay until the conclusion.
New: Social Media Action Center
This year, the League is taking its conference conversations onto several social media platforms. Attendees can follow event updates and League news on Facebook and Twitter. Using Twitter, attendees can tweet before, during and after the conference by following @CaCitiesLearn and using the annual conference hashtag #cacitiesannual. The new Social Media Action Center at the annual conference will offer computer stations, and friendly, knowledgeable staff will be available to help attendees set up Facebook and Twitter accounts, build social networks and enhance online conversations within a city.
For More Information
Check out the most current schedule of events, sessions and speakers at www.cacities.org/AC or to register for any League conference visit www.cacities.org/events. The conference's two priority hotels that place attendees in the heart of conference activities will fill quickly, and registration is required prior to reserving hotel space.
Don't miss this opportunity to help rebuild California. See you in September!
---
Informing Democracy: Local Leadership and The Changing Information Needs of Communities
An information revolution faces local officials and their communities in the way that news and information are created, shared and received. The Institute for Local Government's Sixth Annual Luncheon Symposium on Sept.16, 2010, will feature Professor Peter M. Shane speaking on the topic of "Informing Democracy: Local Leadership and the Changing Information Needs of Communities." Professor Shane served as executive director of the Knight Commission and took the lead in drafting its Informing Communities report. Professor Shane also teaches at Ohio State University's Moritz College of Law.
This Sixth Annual Luncheon Symposium, held in conjunction with the League of California Cities Annual Conference in San Diego, will offer a thought-provoking presentation on what constitutes an informed democracy at the local level. In a period of changing information flows resulting from technology, local officials face a dizzying array of opportunities to inform — and be informed by — their communities. This information grid is as important to community vitality and success as are networks of roadways and water systems, and local officials can play a leadership role in addressing their communities' changing information needs.
Advance symposium reservations are $45 each. Symposium sponsorship opportunities are also available. For more information call the Institute for Local Government at (916) 658-8231 or visit www.ca-ilg.org/2010Symposium.
---
This article appears in the August 2010 issue of Western City
Did you like what you read here? Subscribe to Western City
---