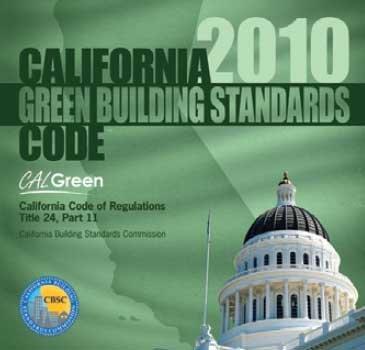 The 2010 California Green Building Standards Code Raises the Bar
Dave Walls is executive director of the California Building Standards Commission and can be reached at Dave.Walls@dgs.ca.gov.
---
A new building code is coming to your city and county.
The 2010 California Green Building Standards Code (CALGreen) takes effect Jan. 1, 2011. CALGreen is the first statewide mandatory green building code in the nation. It sets minimum standards for all new structures as part of a broad effort to significantly reduce California's carbon emissions. CALGreen is intended to make environmentally responsible buildings part of the everyday landscape in California cities.
The new code has approximately 52 mandatory measures and an additional 130 optional provisions, which appear in the code's appendix. Some key mandatory measures for commercial occupancies include:
Providing specified parking for clean-air vehicles;
Reducing potable water use within buildings by 20 percent;
Diverting 50 percent of construction waste from landfills;
Using building finish materials that emit low levels of volatile organic compounds; and
Increasing a structure's system efficiencies by using building commissioning.
Key optional provisions include cool roofs, performance and prescriptive energy measures and additional reductions in landscape potable water irrigation.
The code addresses compliance verification by using the existing building code enforcement infrastructure. Public agencies will incorporate the CALGreen code provisions into their construction field inspections, and local building departments will inspect and verify the mandatory CALGreen measures.
CALGreen also features a two-tiered system designed to allow jurisdictions to adopt codes that go beyond the state mandatory provisions. The nonresidential tiers include increased reductions in energy usage and potable water use, parking for clean-air vehicles, cool roofs, construction waste diversion, use of recycled materials, and use of low-emitting resilient flooring and thermal insulation. The tiers are designed to become mandatory when adopted by a local jurisdiction.
Once adopted, they become part of the local building department's inspection process.
To help with CALGreen's implementation, the California Building Standards Commission is taking advantage of existing training programs within the building industry and developing educational materials and a program curriculum.
The new code brings green construction design into the mainstream and represents a significant step toward reducing the carbon footprint of buildings in California.
CALGreen is being published along with the rest of the California Building Standards Code, Title 24, which was adopted in January 2010. The new code is available online at www.bsc.ca.gov.
---
This article appears in the July 2010 issue of Western City
Did you like what you read here? Subscribe to Western City
---