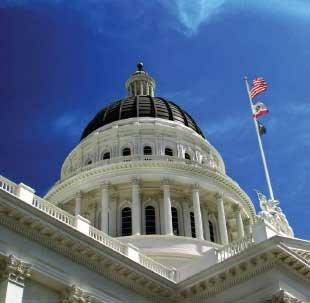 2010 Legislative Review: Significant Accomplishments in Protecting Local Control and Local Revenues
Dan Carrigg is legislative director for the League and can be reached at CarriggD@cacities.org.
---
2010 was a year of trying to hold on and also a year of great success for the League, despite the fact that there was no economic turnaround. Unemployment remained above 12 percent, and housing prices continued to wallow. Shrinking tax revenues hit both state and local budgets hard.
While local governments made the cuts necessary to balance their budgets, state lawmakers settled for another temporary patch job. Gov. Arnold Schwarzenegger secured some pension reforms and another "rainy-day fund" measure placed on the 2012 ballot, but the long budget standoff and positioning over November ballot items overshadowed the remainder of legislative business, contributing to one of the least productive sessions in memory. In the midst of all this, the League had a solid legislative track record and success at the ballot box by passing Proposition 22, the Local Taxpayer, Public Safety and Transportation Protection Act of 2010. The League's single-minded focus on Prop. 22 proved to be an effective short-term and long-term strategy.
Budget Revisions, Positioning and Delays
For the Legislature, 2010 was also a year of waiting: waiting for federal aid, waiting for an economic rebound that never came, and waiting for more than 100 days after the constitutional deadline to adopt the state budget.
The year began with the governor declaring yet another fiscal emergency. Because of revenue declines, the FY 2009–10 budget adopted only months earlier was already out of balance. In March, the state took interim measures that included deferring payments to various public agencies and enacting a complex "gas tax swap," a mechanism to reshuffle existing transportation funding sources. The swap was driven by an effort to save state General Fund dollars, but left local dollars more vulnerable to future shifts.
Many causes underpinned the delayed adoption of the FY 2010–11 budget. Even after the major tax increases of February 2009, the budget deficit was $19 billion. Republican legislators who had voted for taxes the prior year suffered heavy political costs, and a ballot measure was circulating to undo tax breaks granted to businesses adopted as part of the FY 2009–10 budget agreement. The election of Assembly Member Martin Garrick (R-74) to replace Assembly Member Mike Villines (R-29) as Republican leader also signaled a harder line. (Garrick was replaced immediately following the Nov. 2 election after his caucus lost one seat.) Major tax increases were considered off the table.
Democrats had their own reasons for digging in. From their perspective the state had already cut enough to education and social services. New Assembly Speaker John A. Peréz (D-46) proposed an alternative "Jobs Budget," which featured a new oil-extraction tax and a complicated securitization scheme with bottle-recycling revenues. The speaker represented this proposal as a short-term way to avoid cuts to vital programs and additional job losses while the economy recovered. The potential success of Prop. 25, which would reduce the vote threshold to pass a state budget from two-thirds to a simple majority, was another consideration.
The governor's position hardened as well, with his reform legacy on the line and only months remaining in office. In January, he unveiled a budget of "terrible cuts," proposing to slash spending for social service programs and insisting he would not sign a budget unless it was accompanied by state pension reform, the adoption of a state rainy-day fund and revisions to reduce the volatility of the state revenue system.
October Budget Patch Job
The long summer of waiting for a budget agreement resolved few of the state's fiscal ills. The October budget agreement contained neither tax increases nor the level of cuts to social programs originally proposed by the governor. Gaps were instead filled with optimistic revenue projections and elevated expectations for federal aid. This meant fiscal problems were being punted to the next governor, who will immediately face shortfalls upon entering office. Of paramount importance to cities, the budget did not contain any additional raids of local revenues other than the $350 million shift of redevelopment funds that was approved as part of the FY 2009–10 budget. Clearly one factor in this situation was that further raids of local revenues would have fueled even stronger voter support for Prop. 22.
Ripple Effects: Water Bond, Greenhouse Gas, Pensions
The dire economy affected other political disputes. The water bond, which was the cornerstone of the historic water package agreed to by legislative leaders in fall 2009, was pulled from the November ballot and moved to 2012 when polling revealed that voters appropriately questioned the state's ability to pay. Business groups unhappy with greenhouse gas regulations aligned behind Prop. 23, a controversial measure to delay implementation of greenhouse gas reduction goals. Public pensions were restricted through the governor's agreements with state bargaining units, and lower tier formulas will apply for new state hires.
Transparency of Public Compensation
The City of Bell's salary scandal sparked outrage from many sectors. The League condemned Bell's practices and advocated for broader transparency of public compensation. Working with its City Managers' Department, the League published a survey of city manager salaries, developed compensation guidelines for city managers and supported the state controller's efforts to gather and disclose compensation information. Transparency legislation supported by the League did not become law when the Legislature objected to complying with the same compensation disclosure standards proposed for local government. Several other hastily drafted and overreaching legislative proposals also did not succeed.
Local Authority Protected in Scattered Legislative Activity
While the state's budget woes remained unresolved, legislative activity was scattered and unpredictable. Many bills harmful to local control did not make it out of the Legislature. Satisfactory amendments addressed concerns in many others. The League successfully lobbied for the veto of AB 602 (Feuer), which would have created significant legal uncertainty for local land-use decisions. The governor's signature on other measures will be helpful for many communities. For example, AB 2756 (Blumenfield and Feuer) expands local authority to regulate mobile billboards, and SB 1284 (Ducheny) reforms regional water quality control boards' minimum mandatory penalties. Overall, the governor's decisions were consistent with the League's requests 72 percent of the time.
Evaluating League Progress On Strategic Goals
The League board of directors outlined three strategic goals for the 2010 legislative session:
Protect local control and funding for vital local services;
Support reform of the structure, governance, management and financing of state government; and
Promote economic stimulus, infrastructure investment, business development and job creation.
As always, the cornerstone of the League's political strength and success begins with the commitment and dedication of the many city officials who devote their time and energy to serving within the League's divisions, policy committees, special task forces and board of directors.
Protect Local Control and Funding For Vital Local Services
The FY 2009–10 budget hits suffered by cities, transit and transportation interests left the League with little option but to work with a coalition to protect local revenue. The state's raid of more than $2 billion in redevelopment funds, cuts to public transit funding and attempted theft of nearly $1 billion in local gas-tax dollars conveyed the political reality that without additional constitutional protection local revenues were vulnerable. The $1.9 billion Prop. 1A loan was securitized through an arrangement that cost the state interest equal to 15 percent of the "loaned" amount — or $275 million. It is unlikely that the state would ever agree to pay such costs for a future loan. Thus, securing Prop. 22's passage became the central focus of the League's efforts in 2010.
Nothing about the state initiative process is pleasant or easy. The League encountered many obstacles in forging and maintaining a coalition. Groups seeking to protect state flexibility formed opposition. City officials already faced tremendous fiscal challenges in their own communities, leaving them less time to focus on broader issues. Raising funds was difficult in a recession. Still, the League proceeded, because not doing so meant more raids of vital local funds.
The hard work bore fruit, and Prop. 22 passed by a 22 percent margin, with 61 percent of the vote. None of this would have been possible without strong coalition partners, which included the California Transit Association; California Alliance for Jobs: State Building and Construction Trades Council of California; California Police Chiefs Association; California Fire Chiefs Association; Peace Officers Research Association of California, representing 60,000 public safety members; Automobile Club of Southern California; California Library Association; California Chamber of Commerce; and more than 300 cities and towns.
While the successful efforts to pass Prop. 22 were under way, the League protected local funds in the Legislature. AB 155 (Mendoza), which would have created state political hurdles in the way of a municipal bankruptcy, and SB 848 (Hollingsworth), a last-minute effort to undermine the collection of local transient occupancy tax, were both stopped.
The League also opposed both Prop. 19 (marijuana) and Prop. 26 (regulatory fees). Prop. 19 failed passage; however Prop. 26 passed by a narrow margin. The League is working to inform cities about Prop. 26's impacts on local fee authority. While the measure's ultimate impacts may not be known for years following likely litigation, the effects on local fee authority could be modest based upon the numerous exemptions in the measure.
Support Reform of the Structure, Governance, Management and Financing of State Government
While working on the development of Prop. 22, the League engaged in numerous discussions with two other groups looking at governance and fiscal reform: the Bay Area Council and California Forward. The Bay Area Council advocated for convening a constitutional convention to update and reform the state Constitution. California Forward considered introducing several initiatives, one focused on local revenue but with weaker protections than those the League proposed. The League offered various suggestions on how these concepts could be improved, but none of these proposals advanced to the ballot. These groups and others are likely to continue developing proposals to improve state and local governance, and the League will remain engaged in these discussions.
Promote Economic Stimulus, Infrastructure Investment, Business Development and Job Creation
Budget and election-year politics limited major opportunities in this area. Still, the League played offense and defense where it could. At the state level, the League supported AB 2531 (Fuentes) that would have expanded opportunities for redevelopment agencies to create jobs, which unfortunately was vetoed. The League also worked with a coalition to block SB 974 (Steinberg), which sought to restrict enterprise zones. At the federal level the League advocated, along with the National League of Cities, for various block grant funds important to cities and new proposed stimulus programs, like the Local Jobs for America Act.
Going Forward
The success of Prop. 22 marked a significant achievement for the League and cities. The high level of voter support in the face of major opposition validates once again that California residents want local revenue to remain local. But the work is never over. California continues to face deficits and a difficult economy. New challenges and threats will certainly emerge, along with new opportunities. The League looks forward to working with our new governor, state legislators and others in the effort to rebuild and repair the California dream that we all share.
---
This article appears in the January 2011 issue of Western City
Did you like what you read here? Subscribe to Western City
---