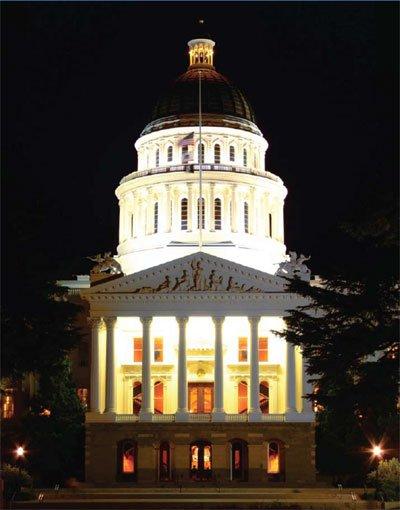 2011 Legislative Year in Review
Dan Carrigg is legislative director for the League and can be reached at dcarrigg@cacities.org.
---
The stage was set for 2011 when California voters approved Proposition 22 by a margin of 61 percent in the November 2010 statewide election. Once the governor proposed to eliminate redevelopment and enterprise zones, the 2011 legislative session devolved into one of the most difficult in memory for city-state relations. Then the battle to preserve local revenues shifted to the courts.
Two Propositions Alter Budget Dynamics
Voters in the November 2010 election approved two other measures that had an even more direct effect on the state budget process: Propositions 25 and 26. Prop. 25 reduced the vote threshold to approve state budgets from two-thirds to a simple majority, something legislative Democrats and their allies had long desired. This change removes Republicans from a major role in adopting state budgets except for revenue increases, which still require a two-thirds vote. Prop. 25 also contains a provision that causes legislators to forfeit their pay when the budget is late.
Prop. 26, sponsored by anti-tax and business groups, ended a recent practice to pay for state programs with regulatory "fees." The measure also prohibited the tactic of reducing a tax, backfilling the lost tax revenue with new fees and then increasing another tax to the level of the reduced tax. These fees are now defined as "taxes" and require a two-thirds vote.
Governor's Budget Eliminates Redevelopment
The return of Democrat Jerry Brown to the Governor's Office signaled political change. After four decades in California politics, he had built a reputation for challenging established thinking. During his campaign, Brown expressed a willingness to aggressively fix the budget. His early actions as governor, which included taking away cell phones and swag from state agencies and issuing fiscal austerity warnings, were followed closely by the media.
Yet, when unveiled, most elements of Gov. Brown's budget were relatively familiar, with no radical reorganizations of state programs or agencies. Half of Gov. Brown's proposed solution came from cuts, half from revenue "extensions." He proposed extending for five years the tax increases adopted in 2009 on the vehicle license fee (VLF), sales taxes and personal income taxes. Some of these "extended" taxes were to fund the realignment of various state programs to counties, a concept begun by the previous administration.
Ironically, Gov. Brown's most aggressive proposals targeted local government, primarily cities. Without any prior effort to explore compromise or reform options with the affected entities, he proposed eliminating all redevelopment agencies, an urban revitalization and job-producing program that had been in place for more than 60 years. He also proposed eliminating the state's 42 enterprise zones, an economic development program that brings jobs to disadvantaged areas.
Killing redevelopment made little policy or budget sense. As former mayor of Oakland, the governor knew redevelopment's value in cleaning up brownfields, upgrading infrastructure, eliminating blight, building affordable housing and generating jobs. He also understood how it furthered environmental policies, like improving air quality, increasing transit ridership and reducing urban sprawl. So why kill it? The official rationale was that the General Fund could no longer afford to backfill property tax dollars for schools. But the proposal did not benefit the General Fund in the long term. It scored state budget savings for only one year; in all future years any additional benefit would be given to schools but not counted as part of the state's Prop. 98 school-funding formula.
Republican Votes Needed
Legislative Democrats lined up behind "their" governor. Many did not like the proposed cuts, but they stuck with him anyway. The tax extensions were needed to avoid even deeper cuts; agreement with Republicans was the most viable path.
Gov. Brown used a strategy that attempted to woo the votes of at least two Republicans in each house. Negotiations continued for months. Republicans proved to be hard bargainers, because they viewed tax votes as career-enders. They insisted that extensions must be accompanied on the ballot by a state revenue spending cap, public pension reform and regulatory streamlining.
Playing Defense on Redevelopment
Cities faced enormous challenges battling redevelopment elimination in the Legislature. The Democrat leadership supported the governor's budget, most of which could now be approved by a majority vote. The California Teachers Association and the California Professional Firefighters, organizations that led the opposition to Prop. 22, eagerly supported the governor's proposal as well. Most legislative Democrats would not move without the leadership's blessing, and several key staff championed the proposal with zeal. Anger over Prop. 22 was palpable.
Not all legislators, however, were hostile to cities and redevelopment. Assembly Member Diane Harkey (R-Laguna Niguel) was helpful in persuading legislative counsel to issue a legal opinion concluding that taking redevelopment funds to pay for state programs violated the state Constitution.
The League and the California Redevelopment Association (CRA) worked to develop a reform package that aggressively responded to criticisms of redevelopment and better positioned it for the future. An alternative financing package, also proposed by CRA and the League, granted redevelopment agencies time extensions in exchange for financial contributions that offset state obligations to schools.
A pragmatic group of Democratic legislators began asking fundamental questions about the redevelopment proposals. Many had seen firsthand the role redevelopment played in their communities to spur economic revitalization and create jobs. They thought it was a waste to throw away such a valuable tool. The reform proposals surfaced as SB 286 by Sen. Rod Wright (D-Los Angeles) and AB 1250 by Assembly Member Luis Alejo (D-Watsonville). The financing proposal was introduced as SB 1X 24 (Wright).
Republican legislators negotiating with the governor also sought to protect redevelopment. Sen. Bob Huff (R-Diamond Bar) worked with his colleagues in this effort. While there are conflicting accounts of why a comprehensive agreement was ultimately not struck, redevelopment would have been protected in such an accord.
The League recognized Sens. Wright and Huff as Legislators of the Year for their efforts (see "League Honors Senators Bob Huff and Rod Wright as 2011 Legislators of the Year").
Paycheck-Inspired Budget Includes Redevelopment and VLF Sweep; Enterprise Zones Protected
When an agreement with Republicans did not materialize, the prospect of potentially forfeiting their salary inspired quick action by the Democrats who sent the governor a budget prior to the traditionally ignored June 15 constitutional deadline. Confusion abounded, however, when the governor vetoed the budget bill. Controller John Chiang insisted that the budget sent to the governor was not balanced and that he had independent authority to withhold legislative pay. A dispute ensued about Prop. 25's requirements and the controller's powers. Ultimately, the governor and legislative Democrats reached a revised budget agreement containing elevated revenue projections and triggered cuts, but the controller's ruling caused legislators to forfeit more than a week of salary.
The final budget included a revised redevelopment proposal, AB 1X 26, that eliminated redevelopment agencies unless they agreed to AB 1X 27, which required them to make specific payments to the benefit of the state. The League and CRA filed litigation and convinced the California Supreme Court to hear the case.
The final budget also included SB 89, a budget trailer bill passed with little public review, which swept $130 million in city VLF funds, and approximately $50 million from the County of Orange and shifted it to fund part of the plan for public safety realignment. The League pursued a legislative fix to this ill-conceived measure that ultimately failed to move. This left the League with no choice but to file a lawsuit in the Sacramento County Superior Court challenging SB 89's constitutionality.
Thanks to the work of the California Enterprise Zone Association and a coalition including the League and other groups, enterprise zones survived the budget intact. The two-thirds vote requirement provided a strategic advantage in this effort, because Republicans refused to provide the needed votes.
Progress in Other Areas
Cities nevertheless made progress on other important matters. As always, the League's success depended in large part on the efforts of city officials to write letters, make phone calls, conduct legislative visits, meet with the local press, build coalitions and engage in related activities. These actions helped stop legislation undermining local authority, advance beneficial legislation and secure amendments to many bills.
While Prop. 22's protections for redevelopment are being tested in the courts, the initiative has worked to protect the flow of local highway users tax (HUTA) to cities and counties and repeal deferrals of those revenues.
More than 30 bills were introduced in response to the City of Bell scandal. Some measures were narrowly tailored and workable, but many were duplicative and overly broad. Strategic lobbying and collaborative efforts with legislators helped reconcile conflicting proposals and reduce the volume of potential legislation.
Defeating AB 710 (Skinner) in the final hours of the legislative session was another success for cities and the League.
This measure attempted to intrude into local land use authority by imposing a mandatory cap on local parking standards in transit-intensive areas.
Finally, the issue of municipal bankruptcy was resolved. The League and other local agencies removed their opposition to AB 506 (Wieckowski) when the author accepted amendments that rewrote the bill so that it provides an opportunity for pre-bankruptcy mediation without state or other political intrusion. Local agencies continue to have access to federal bankruptcy protection when necessary.
Governor's Final Bill-Signing Decisions
Despite saying that he would be very aggressive in vetoing unnecessary legislation, Gov. Brown signed more than 85 percent of bills placed on his desk, including many that were priorities for labor and environmental groups. Unlike some of his predecessors, the governor did not express concern about "gut and amend" legislation that reached his desk without adequate opportunity for public review. This could trigger more such activity.
Based on his actions, Gov. Brown does not appear to have a defined or consistent philosophy on local control. Aside from realigning state programs to counties and proposing to eliminate redevelopment agencies and enterprise zones, his sign-veto decisions were consistent with the League's request just 56 percent of the time. The League appreciated his vetoes of two land-use bills, SB 469 (Vargas), economic analysis for big-box stores selling groceries; and AB 1220 (Alejo), statute of limitations for housing element lawsuits. Other helpful bills became law. But there were significant disappointments. Gov. Brown signed some of the most controversial League-opposed bills, such as SB 244 (Wolk), planning and annexation mandates; AB 438 (Williams), limiting contracting for library staffing; and AB 646 (Atkins), compulsory fact-finding.
Evaluating League Progress On Strategic Goals
The League board of directors outlined three strategic goals for the 2011 legislative session:
Stronger partnerships for a stronger Golden State;
Sustainable and secure public pension systems; and
Responsive and accessible League services.
As always, the cornerstone of the League's political strength and success begins with the commitment and dedication of the many city officials who devote their time and energy to serving within the League's divisions, policy committees and special task forces and board of directors.
Strong Partnerships for a Stronger Golden State
In the effort to preserve local redevelopment the League worked closely with CRA and then reached out to build coalitions with homebuilders, the construction trades, housing advocates, environmental groups, local chambers of commerce and others. Despite supporting redevelopment, numerous groups had other vulnerable budget priorities or were politically cautious of getting in the way of the new governor's agenda, which was supported by the Democratic leadership. The pressure caused some to seek carve-out protections for specific projects or preserve only affordable housing, thus weakening the coalition's strength.
Early in the year, the League successfully worked to resolve legal and technical issues arising from the "gas tax swap" and Prop. 26 and Prop. 22 with a coalition of transportation stakeholders, including road construction firms, labor, council of governments, transit agencies and counties. This resulted in transportation funds flowing unfettered to local agencies in 2011.
Sustainable and Secure Public Pension Systems
Declines of state and local revenues combined with benefit enhancements granted over the past decade have exposed the public pension system as unsustainable. City governments have led the way in negotiating benefit adjustments with local bargaining units, in many cases adopting a lower tier of benefits for new employees.
At its conferences and educational sessions, the League hosted several panel discussions on pension issues with representatives of labor, management and other stakeholders and created a section on its website dedicated to the topic. The League adopted a Pension Reform Action Plan as its policy (online at www.cacities.org/pensions). At the request of city managers, the League commissioned legal research on vested rights. The Institute for Local Government, the League's nonprofit research affiliate, developed and published additional pension-related resources.
Responsive and Accessible League Services
The League expanded its communication efforts in 2011 by increasing the frequency of its electronic newsletter to several times per week to inform city officials about developments in the Capitol. In addition, the League expanded its use of social media platforms, such as Facebook and Twitter. As part of its efforts to help city officials and staff cope with limited resources, the League adapted many of its workshops and seminars to an online format in 2011 that enabled more members to participate and benefit from these sessions without the additional time and expense typically associated with traveling to such events.
Going Forward
Prospects for the 2012 legislative session foreshadow another difficult year. The state budget remains unbalanced, and revenue growth is unlikely to close the gap. Unemployment is projected to remain high. Another effort to craft an agreement on the budget that would include new revenue is expected. Various organizations are busy drafting initiatives for the November ballot, and implementation of two recently approved ballot measures addressing redistricting and primary elections will demonstrate whether these reforms improve the Legislature's operations.
The Supreme Court's decision on redevelopment and the Sacramento Superior Court's ruling in the VLF case will be critical for cities. Defending constitutional provisions that support the protection of local revenue is vital to cities' future and a fundamental reason for the League's existence. Whatever the courts decide, city officials can continue to count on the League to use every tool at its disposal to advance and protect local control.
Still, new opportunities to resolve these and other important policy issues may emerge. In such difficult times, the governor and legislators ought to realize the value of taking a more collaborative approach to working with cities in 2012. Such collaboration, after all, is in California's interest. As President Lincoln said, "A house divided against itself cannot stand."
---
League Honors Senators Bob Huff and Rod Wright
as 2011 Legislators of the Year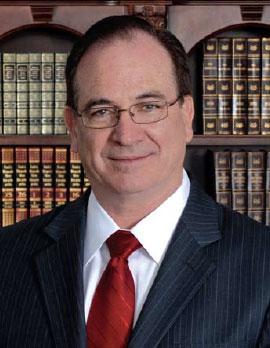 Senators Robert Huff (R-Diamond Bar) and Roderick Wright (D-Los Angeles) received the League of California Cities' 2011 Legislators of the Year award, which was announced at the League's 2011 Annual Conference & Expo. This honor was given to the senators in appreciation for their efforts to protect local redevelopment agencies during a tumultuous legislative session. Both senators saw the value of redevelopment as an effective tool to build infrastructure and affordable housing, clean up brownfields and create hundreds of thousands of jobs both in construction and the manufacturing, retail and service industries. Sens. Wright and Huff also voted against efforts to eliminate the agencies.
Sen. Wright stood out from his Democratic colleagues by refusing to vote for Gov. Jerry Brown's redevelopment elimination proposal in March, causing the proposal to stall for three months. He then worked with local agencies to develop a package of redevelopment reforms that contained SB 286, sponsored by the California Redevelopment Association and supported by the League and other organizations. Sen. Wright also authored SB 1X 24, an alternative redevelopment financing proposal that would have produced a positive outcome for local agencies and the state.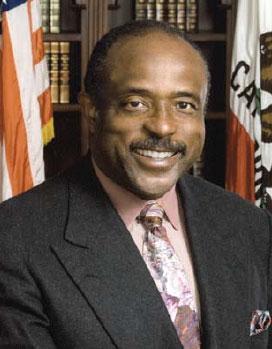 Upon receiving his award, Sen. Wright said, "I was proud to partner with the League of California Cities in the fight to save redevelopment. There is still much to do to ensure the continued good work of our redevelopment agencies to curb blight and establish quality low-income housing."
Sen. Huff was involved in countless meetings with his Senate Republican colleagues, and they sought to put together a larger budget agreement with Gov. Brown. Although the governor and Republicans did not ultimately reach agreement on a comprehensive budget package, Sen. Huff was intent on making sure that redevelopment was preserved.
"This recognition is a tremendous honor," said Sen. Huff. "Having served for nine years as mayor and council member of Diamond Bar, I view policy decisions not only through the eyes of the state Legislature, but through my city experience as well. It is my honor to represent the needs of cities in the state Legislature."
---
Sen. Dianne Feinstein Receives League's
Lifetime Achievement Award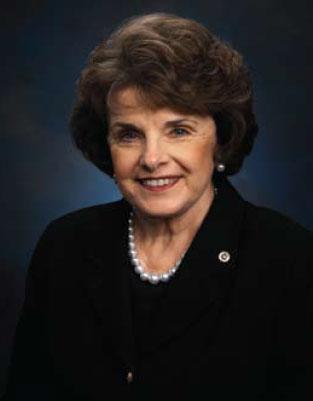 U.S. Senator Dianne Feinstein was recognized with the League's 2011 Past Presidents' Lifetime Achievement Award at the 2011 League of California Cities Annual Conference & Expo. Each year, the League's past presidents honor an individual for extraordinary contributions made during a lifetime of public service.
Sen. Dianne Feinstein has contributed tremendously to the health and sustainability of California cities and the people they serve. Elected to the U.S. Senate in 1992, San Francisco native Dianne Feinstein began her career in public service when she was elected to the San Francisco Board of Supervisors in 1969. She served two and a half terms as board president before becoming mayor in November 1978, following the assassination of Mayor George Moscone. She was subsequently elected for two more four-year terms. As mayor, she was active in the League and served on the League board of directors. In 1987, City and State magazine named her the nation's "Most Effective Mayor."
Judy Mitchell, Rolling Hills Estates council member and League past president, announced the award at the League conference. She said, "Sen. Feinstein was selected for this prestigious award because she reminds Washington that issues start at the local level. Our communities' vitality derives from the services and programs provided by the city. Sen. Feinstein has been a spokesperson for cities on Capitol Hill, and we appreciate her efforts."
---
This article appears in the January 2012 issue of Western City
Did you like what you read here? Subscribe to Western City
---