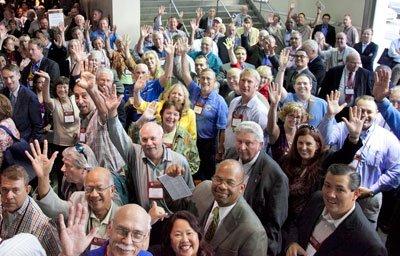 2014 Annual Conference & Expo Offers New Sessions and Exciting Additions
Anna Swanson is conference marketing coordinator for the League and can be reached at aswanson@cacities.org.
---
The 2014 League of California Cities Annual Conference & Expo will be held at the Los Angeles Convention Center, Wednesday, Sept. 3 through Friday, Sept. 5. The conference will include numerous new features. If you haven't yet registered for the conference, sign up online now at www.cacities.org/AC.
Keynote Speakers
Political theorist and author Benjamin R. Barber will open the conference with a thought-provoking discussion titled "If Mayors Ruled the World," which examines the benefits of collaborating and establishing support networks among city officials. You will leave the keynote address on Wednesday feeling inspired and ready to take advantage of the opportunities that this session-packed conference offers.
On Thursday, join keynote speaker Michael Pritchard to hear his talk on "TEAM: Together, Everyone and Anyone Matters." Pritchard will address how collaboration, cooperation and connectivity comprise the building blocks of a thriving community and workforce.
Tours Provide Insights Into City's Watershed, Transit and Emergency Operations Issues
Three unique tours will be offered from 9:00 a.m. to noon on Wednesday, Sept. 3, prior to the Opening General Session, to explore three completely different aspects of the City of Los Angeles.
"Explore the Historic Los Angeles River" allows attendees to examine some of the river's key restoration sites in a guided van and walking tour and experience a whole new side of Los Angeles.
"Blast Off With the Space Shuttle Endeavour" gives participants a look at the story behind the California Science Center. This tour (which is nearly sold out) also provides an opportunity to experience firsthand how more Angelenos get around by using the city's light-rail system.
The walking tour "Be Prepared at the Emergency Operations Center" showcases how LA's first responders work around the clock using the latest technology to ensure that the city is prepared for — and defended against — natural and manmade disasters.
Tours have limited space available. Register online at www.cacities.org/AC.
Pre-Conference Sessions
This year's conference registration will include the option of AB 1234 training for attendees. State law requires elected and appointed officials to receive training in specified ethics laws and principles every two years. Newly elected and appointed officials must receive this training within one year of becoming a public servant. This lively two-hour session offers real-life examples and practical advice on avoiding potential pitfalls associated with holding local office.
Prior to the Opening General Session, a number of sessions will be offered on topics such as sustainability and customer service. Look for more information on these sessions next month in Western City's annual conference preview.
Leadership Tracks
Your colleagues have developed leadership tracks to guarantee that sessions are tailored to the needs of various League professional departments. These tracks include content designed for city attorneys, fire chiefs and human resources professionals. In addition, the League Partners also offer a leadership track. Attendees are welcome to attend any professional track of interest, and no additional registration is required.
Stay Tuned for More Information
These new features will complement the many traditional aspects that city officials and staff value and anticipate at the 2014 League of California Cities Annual Conference & Expo.
Register online for the conference at www.cacities.org/AC, and watch for more details in the August issue of Western City.
---
This article appears in the July 2014 issue of Western City
Did you like what you read here? Subscribe to Western City
---