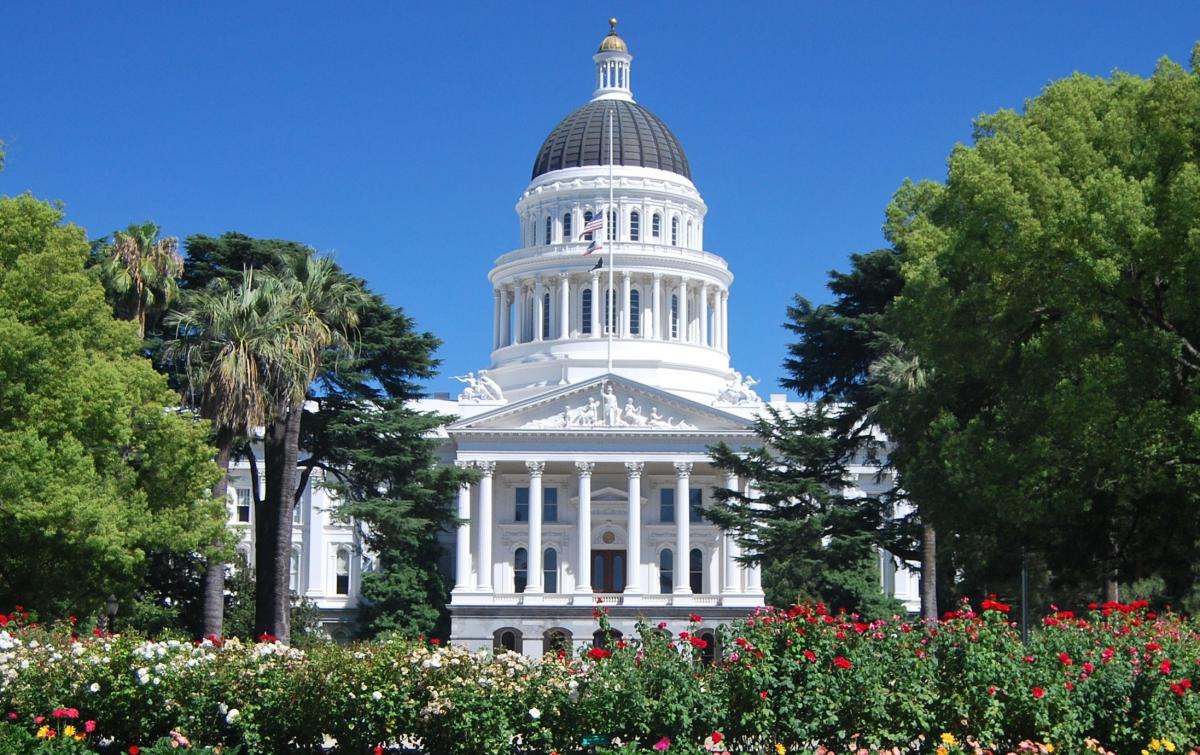 2020 Legislative year in review
Melanie M. Perron is Deputy Executive Director, Advocacy and Public Affairs for Cal Cities and can be reached at mperron@cacities.org.
---
The year 2020 was a year of many firsts. A global pandemic altered almost every facet of life for people around the globe. More Americans voted in the November general election than ever before. Californians were rocked by record heat waves, wildfires, and civil unrest. Many have called this year "unprecedented," but even that does not seem to capture the unequaled disruption that 2020 wrought upon us all, the California State Legislature included.
The last hours of the legislative session perfectly captured the mayhem of 2020 — a crying newborn, a cursing legislator, and bills that died as the clock ran out. During the previous weeks, COVID-19 outbreaks twice resulted in extended recesses to curb virus transmission among legislators and staff. This constricted the normal legislative calendar and created fierce debates over how to legislate during a pandemic. In the final days of official business, numerous caucuses, delays, and infighting between Senate and Assembly leadership resulted in high-profile bills failing to advance to Gov. Gavin Newsom's desk simply because the Legislature ran out of time, as they faced a constitutional deadline of midnight on Aug. 31.
In the end, the number of bills sent to the Governor's desk for his signature was a mere fraction of what the Legislature typically passes in a year. Of the nearly 2,200 bills introduced this year, 428 made it to the Governor's desk. In comparison, 1,217 bills were sent to the Governor in 2019. The tumultuous session concluded with the Governor signing 372 bills and vetoing 56.
It wasn't supposed to be this way
This was not the year anyone expected. For the seventh time in eight years, California's government was positioned to reap a sizable cash surplus projected in the Governor's $222 billion state budget submitted to the Legislature in January — even in the face of higher spending on K-12 education, services for low-income residents and those experiencing homelessness, and health care.
The Governor dedicated his entire State of the State address in February to curtailing California's homelessness crisis with fast and far-reaching action. At the beginning of the year, many policymakers joined in the Governor's calls, declaring 2020 to be "the year of housing production."
At the same time, lawmakers were urged to limit their requests for more spending in light of expectations that the state and national economies would grow more slowly in the immediate future. That argument would be prescient, as only two weeks later the Governor declared a statewide emergency in response to COVID-19, and his agenda and the economy crumbled in the face of what he described in May as a "radically changed world."
High-priority housing legislation failed to advance
The legislative year got off to a fast start on the housing and land use front with legislators introducing dozens of bills seeking to limit or outright restrict local control. Additionally, lawmakers were focused on moving bills that stalled in 2019. One of the most notable measures taken up in January was SB 50 (Wiener), which would have allowed developers of certain types of housing projects to override locally developed and adopted height limitations, housing densities, parking requirements, and limit design review standards. Cal Cities strongly opposed SB 50, as did many cities from around the state. Following a lengthy debate on the Senate floor, with Senators expressing concerns over a one-size fits all approach and potentially exasperating gentrification and displacement, SB 50 failed to advance.
On the heels of SB 50's defeat, Cal Cities teamed up with Sen. Jim Beall to reintroduce a measure, SB 795 (Beall) which would reengage the state in local efforts to finance affordable housing and infrastructure in a way that retained cities' decision-making power over development. The measure would have allocated $2 billion annually for five years to address homelessness, spur the construction of affordable housing, and jump starting local economies. Unfortunately, after a long battle, this measure was held in the Assembly Committee on Appropriations.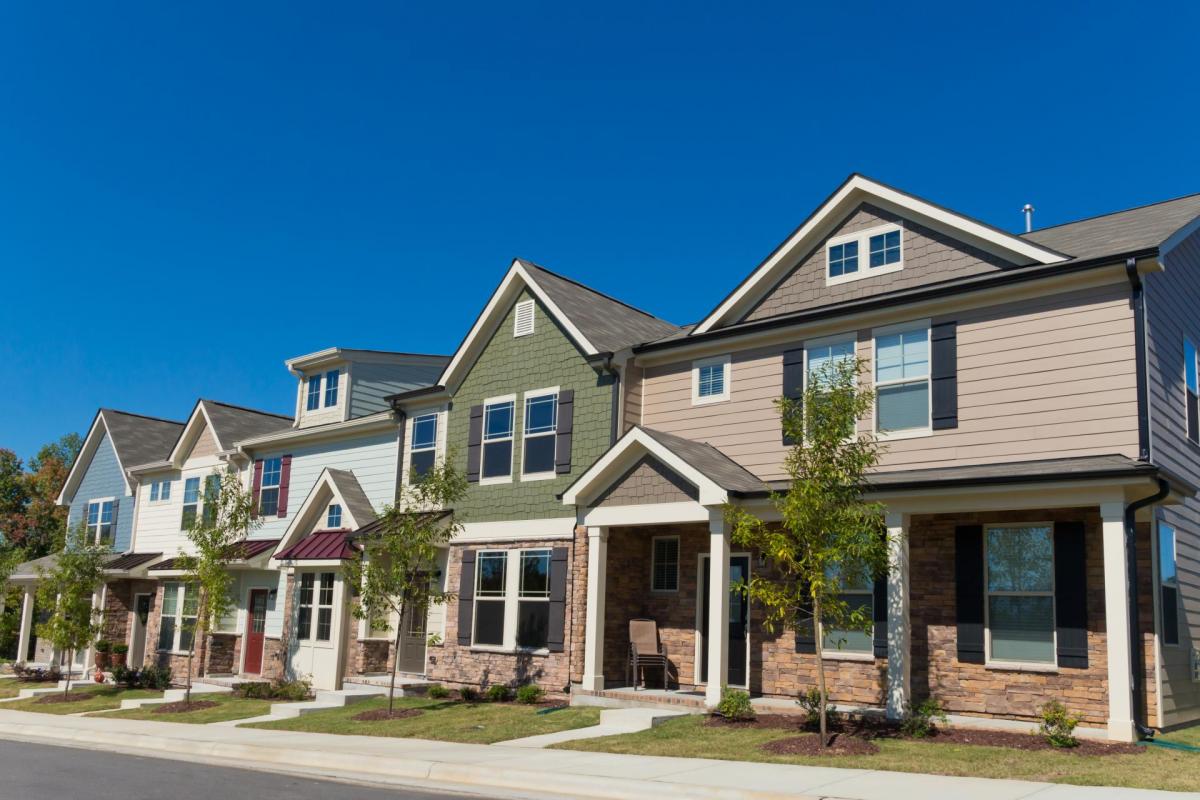 Cal Cities also mobilized an aggressive campaign and helped to successfully defeat an effort allowing developers to override local authority over housing development plans. Bills included SB 899 (Wiener) a measure that would have required local jurisdictions to approve, by right, housing developments on land owned by a religious institution or nonprofit college, regardless of the existing locally adopted zoning standards for housing plans, and AB 1279 (Bloom) a measure that would have required jurisdictions deemed "high opportunity areas" to allow multifamily housing projects in greater height and density than existing zoning and planning documents otherwise would allow in single-family zones.
Cal Cities worked with Senate President pro Tempore Atkins on SB 1120 (Atkins), which would have required cities to ministerially approve duplexes and lot splits that meet local zoning, environmental, and tenant displacement standards. SB 1120 was intended to be an alternative to SB 50 (Wiener). While SB 1120 was more considerate of locally adopted housing plans, the measure still forced cities to take actions that they may not have otherwise taken. After numerous meetings and the rejection of several amendments that would have addressed our concerns, Cal Cities was unable to support SB 1120, and while the bill passed through the Assembly in the final minutes of the legislative session, there was not enough time for the Senate to vote on the measure due to the constitutional Aug. 31 deadline.
A common sense housing bill became law
For years, the Legislature has focused on requiring local governments to streamline their housing approval processes, while failing to identify ways for the state to better align its housing programs. Therefore, Cal Cities strongly supported a common sense measure that would make it easier and more cost effective for cities to pursue state funding to help spur much needed housing construction. AB 434 (Daly) was signed into law by the Governor and combines six rental housing programs with the Multifamily Housing Program, which enables the state Department of Housing and Community Development to implement a single application and scoring system to make awards under all seven programs. The law goes into effect Jan. 1, 2022.
State Budget included resources to assist local homelessness efforts and pandemic response
While the state started off with a proposed $222 billion budget in January and a budget surplus, facing a $54 billion budget shortfall due to COVID-19, the Governor ultimately signed a more austere $202 billion budget.
Cal Cities worked during the legislative session to lay the groundwork for securing resources for cities to address homelessness in our communities. The Governor joined the Cal Cities February board meeting in Yountville, and agreed with board members on the critical role local governments play in addressing the state's homelessness crisis and the need to partner to forge strategies that would work. The Legislature included in the 2020-2021 State Budget $300 million to support local homelessness efforts and $550 million to support the acquisition of local motels and hotels for Project Roomkey and Homekey.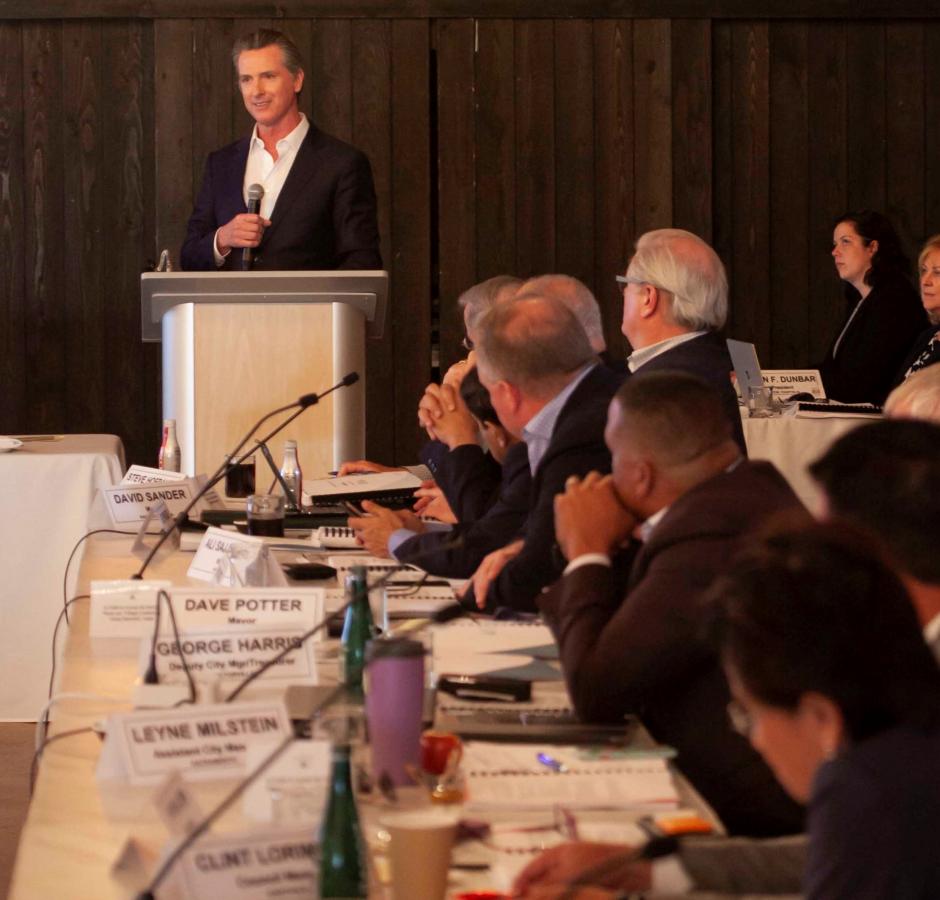 A Cal Cities fiscal analysis in April showed cities faced a $7 billion general revenue shortfall and significant increases in expenses due to COVID-19 and the related public health measures that shut down our local economies. Without direct and flexible funding from the state and federal governments, cities projected they would be forced to cut services, lay off workers, freeze hiring, and rollback capital projects.
Cal Cities moved quickly to launch the "Support Local Recovery" coalition to advocate for resources from the state and federal government to maintain local services during and after the pandemic and to jump-start local economic recovery.
Nearly 400 organization and individuals, including city officials, small businesses, labor, firefighters, and community service organizations joined Cal Cities in fighting for state and federal assistance to help cities address and recover from the pandemic.
Our efforts successfully convinced the Legislature and the Governor to set aside $500 million from the state's Coronavirus Aid, Relief, and Economic Security (CARES) Act funds, so that every California city, not just those with populations over 500,000, had access to resources to offset unplanned and unbudgeted COVID-19 expenses.
However, given the pandemic's impacts on local economies and the fact that CARES Act dollars were restricted to direct COVID-19-related expenses, this is nowhere near the financial aid cities need to protect essential city services and safely reopen our local economies.
For these reasons, Cal Cities and the Support Local Recovery coalition continue to urge the federal government to support state and local government aid in the next economic recovery relief package.
Cal Cities protected utility users tax on prepaid mobile wireless products and services
In the area of revenue and tax, Cal Cities partnered with Sen. Mike McGuire to pass SB 1441 (McGuire), which extends the sunset date on the Local Prepaid Mobile Telephony Services Surcharge Collections Act beyond Jan. 1, 2020 and supports local governments' ability to collect taxes on sales of prepaid wireless products and services. In partnership with Sen. McGuire, Cal Cities protected the collection mechanism of the utility users tax on prepaid mobile wireless products and services sold at various retailers across the state. Annual statewide collections on prepaid wireless surpass several million dollars a year to over one hundred cities. As COVID-19 continues to negatively impact local revenues, the measure was critical to prevent further losses. Despite the challenges presented by COVID-19, Cal Cities supported the successful extension of the collections program to 2026.
Few disaster preparedness and resiliency bills made it to Governor's desk
Given the widespread use of utility-initiated power shutoffs at the end of 2019, the beginning of this legislative session saw a slew of bills related to strengthening utility-infrastructure safety to reduce wildfire risk and strengthen local emergency preparedness. SB 378 (Wiener) was introduced to hold investor-owned utility companies fiscally responsible for the costs incurred by local governments when the power was turned off. Similarly, SB 862 (Dodd) and AB 2178 (Levine) both sought to give local governments more authority to declare a planned power shutoff event a "disaster" under state law. SB 1312 (McGuire) would have also helped local governments mitigate against wildfires by requiring the California Public Utilities Commission to allow wildfire mitigation as an eligible use for the Rule 20 undergrounding program. Unfortunately, none of these bills moved forward.
One of the few disaster preparedness bills that was signed into law this year was AB 2213 (Limón), which was supported by Cal Cities and will direct the California Office of Emergency Services and California Volunteers to develop guidelines to help connect volunteers and donation resources that can aid during an emergency. As communities respond to ever worsening disasters, leveraging all available resources is critical.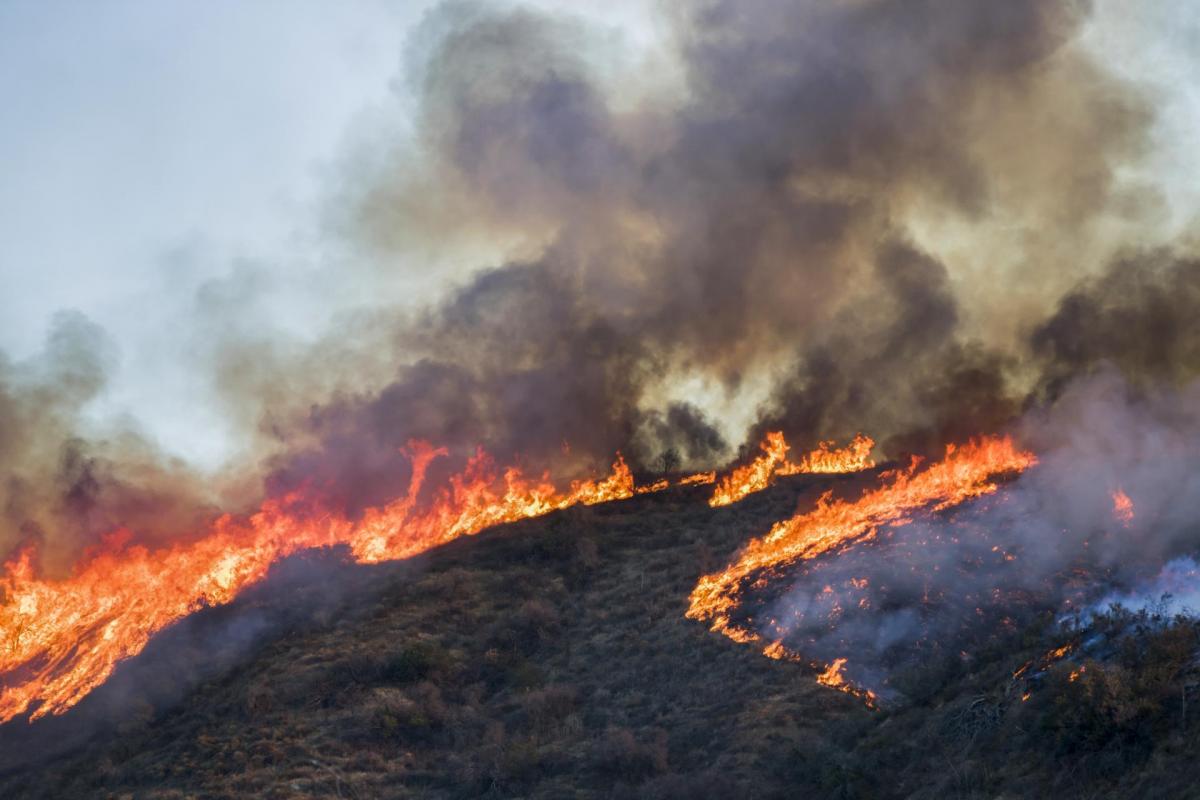 As for wildfire-related funding proposals, the Legislature considered two similar bond measures, SB 45 (Allen) and AB 3256 (E. Garcia), which sought to allocate more funding to wildfire preparedness and prevention, along with safe drinking water, drought preparation, and flood protection. Cal Cities advocated to the authors' offices about putting in additional items to address organic waste and recycling infrastructure. Neither of these bond proposals advanced given the magnitude of the fiscal impact of the COVID-19 pandemic on the state budget. However, after the demise of these proposals, there was an effort at the end of the legislative session to pass a $500 million wildfire prevention funding proposal. Due to differing opinions on this proposal between the two legislative houses, neither the Assembly nor the Senate formally considered it. Given the lack of action on wildfire funding and the major wildfires that ravaged the state this fall, there will undoubtedly be more wildfire funding proposals introduced in 2021.
Public safety: most police reform bills stalled
Following the death of George Floyd and the demonstrations throughout the state and across the country, police reform became a high priority of the Legislature in summer 2020. While AB 392 (Weber) and SB 230 (Caballero), which addressed use of force, were enacted last year, additional police reform bills were introduced or amended late in the session. Among the bills Cal Cities opposed were SB 731 (Bradford), which sought to remove immunity protections for all public employees and establish a decertification process for peace officers, and SB 776 (Skinner), which would have made personnel records for every use of force incidents subject to disclosure, including records for non-sustained or exonerated cases. SB 776 would have also mandated the retention of all complaints received by law enforcement agencies, removing the existing five-year limitation. Both measures failed to advance. Cal Cities supported Proposition 20, regarding criminal justice reform, which the voters defeated in the November 2020 election.
A Cal Cities-supported police reform bill, AB 1775 (Jones-Sawyer), which increases the penalties for knowingly using the 911 emergency system for harassing another person based on perceived characteristics of a protected class, became law. This measure allows for civil action against persons who make false police reports or claims, regardless of discriminatory motive, and classifies blatantly false reports to law enforcement as a form of intimidation.
Cal Cities supported another measure signed into law that enables state and local law enforcement to enforce restraining orders to help protect the public. Under AB 2617 (Gabriel), individuals who own or possess firearms or ammunition, with the knowledge they are prohibited from doing so because of a valid out-of-state jurisdiction gun violence restraining order, can be charged with a misdemeanor.
Local governance: social media and elections changes
The Cal Cities-sponsored AB 992 (Mullin) was signed by the Governor after stalling last year in the Assembly. This measure authorizes, until 2026, that members of a local legislative body may use social media to communicate with the public, solicit feedback, and provide information without triggering a Brown Act violation. However, members of a local legislative body may not communicate amongst themselves regarding an issue before or within the subject matter jurisdiction of the legislative body. This measure resolves the difficulty local elected officials faced in engaging with their constituents using social media without worrying about running afoul of the Brown Act.
AB 1276 (Bonta) resolves outstanding issues from Cal Cities' negotiations a year ago over the Fair Maps Act which made changes to the districting and districting process at the local level. This measure makes technical, clarifying, and conforming changes to procedures and criteria pursuant to which counties, general law cities, and charter cities adopt supervisorial and council district boundaries for the purpose of electing members of a county's board of supervisors or a city's council. Cal Cities worked collaboratively with Common Cause and Asian Americans Advancing Justice – Asian Law Caucus to ensure our negotiated language was fully implemented, and successfully advanced this legislation into law.
Labor bills: A mixed bag for cities
Action on labor-related measures was a mixed bag for cities. Cal Cities and local government advocates were able to advance an improvement to the AB 5 (Gonzalez, 2019) employment statute through AB 2257 (Gonzalez). This measure provides that public agencies may engage in bona fide business-to-business relationships without having the contracted business be classified as employees under the AB 5 employment test. The relationship must meet certain criteria outlined in statute in order to avoid an AB 5 employment claim from being made.
Three labor bills, all opposed by Cal Cities, were signed into law. The highest profile labor-related bill that the Governor signed was SB 1383 (Jackson), which requires any employer, public or private, with five or more employees, to provide 12 weeks of protected leave each year, and creates a cause of action against employers for any unintentional mistake.
The Governor also signed AB 685 (Reyes), which creates an onerous and comprehensive set of reporting requirements for all California employers when an employee is exposed to COVID-19. Cal Cities successfully coordinated with a workers compensation coalition to reduce the impact of the bill as originally drafted and continues to engage with the author's office and labor advocates on how to further improve the measure next year to ensure its requirements protect workers without draining city resources.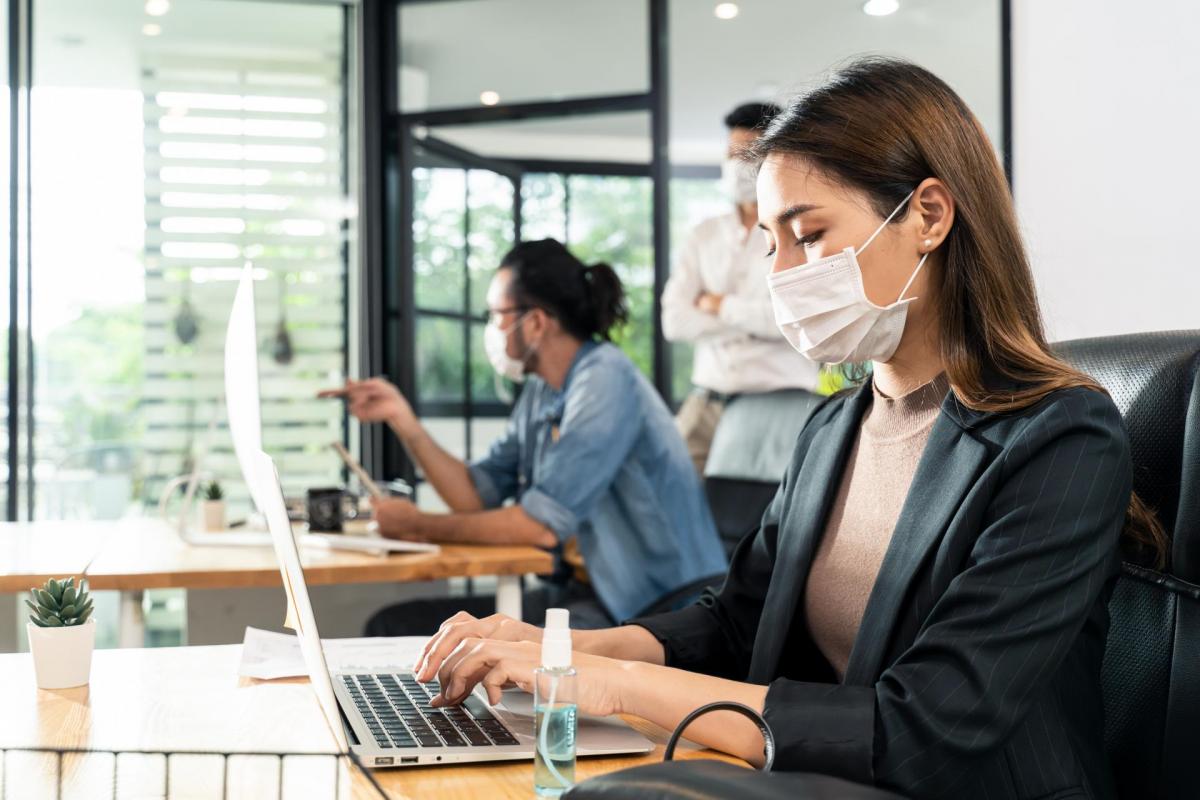 Additionally, the Governor signed SB 1159 (Hill) which establishes a presumption for police, fire, and health workers in the workers' compensation system and establishes a threshold of four individuals or 4 percent (based on whether the entity has more or less than 100 employees) for establishing a presumption for all other employees. This year saw multiple workers' compensation measures introduced that would have destabilized the system and sent costs soaring for public and private employers. Cal Cities was successful in limiting the scope of the presumption and ensuring that it was subject to reasonable cost-saving measures available for other presumptions in the workers' compensation system.
Solid waste and recycling bills failed again
Two identical high-profile recycling bills, SB 54 (Allen) and AB 1080 (Gonzalez), failed to be considered for a final vote for the second year in a row. These bills would have simplified the plastic waste stream by reducing the amount and types of single use plastic waste available in California. Cal Cities played a lead role in advocating for these measures and worked closely with a broad coalition of local government, waste haulers, and non-profit organizations. The local government voice was instrumental in elevating these bills to the level of serious consideration they received. With the cost of recycling increasing due to the collapse of the international commodities markets, state action is needed to ensure that recycling costs do not explode for local governments. Additionally, new regulations from CalRecycle to divert 75 percent of organic waste from landfills will also come with a large price tag for local governments that will need to be addressed.
A win for water quality
An important water quality-related bill, SB 1044 (Allen) was signed into law that will ban the manufacture, sale and use of specific firefighting foam that intentionally adds per- and polyfluoroalkyl (PFAS) chemicals. These "forever chemicals" not only cause health issues for firefighters, but by removing these chemicals from firefighting foam, it will help stem the tide of these chemicals entering into the groundwater. Cal Cities and a broad coalition of public safety and environmental groups supported this bill.
Broadband proposals failed despite strong support
As local governments mobilized to address the spread of COVID-19, the lack of access to reliable and affordable broadband service was especially highlighted, as unserved and underserved communities struggled to stay connected to the new digital environment. In an effort to close the digital divide, Cal Cities supported SB 1130 (Gonzalez), which would have made it easier for local governments to compete for California Advanced Services Fund (CASF) infrastructure grants, and required state broadband funding to support high-capacity, future proof infrastructure. Despite the increased attention to broadband in light of COVID-19, this measure, along with other high-profile broadband policy proposals, also fell victim to the legislative calendar.
Cities prevailed in scooter legislation
The Governor signed Cal Cities-sponsored AB 1286 (Muratsuchi), which requires micromobility (scooter) providers to obtain local approval before deploying their vehicles. AB 1286 will also require the industry to maintain general liability insurance coverage, ensuring uniform protections to safeguard users' safety given the prevalence of these devices on California's sidewalks and streets. This two-year bill was a vital win for cities throughout the state, as the unannounced arrival of these devices on city streets has too often left local governments scrambling to establish their own regulations to address concerns regarding safety, enforcement, and equitable distribution of services.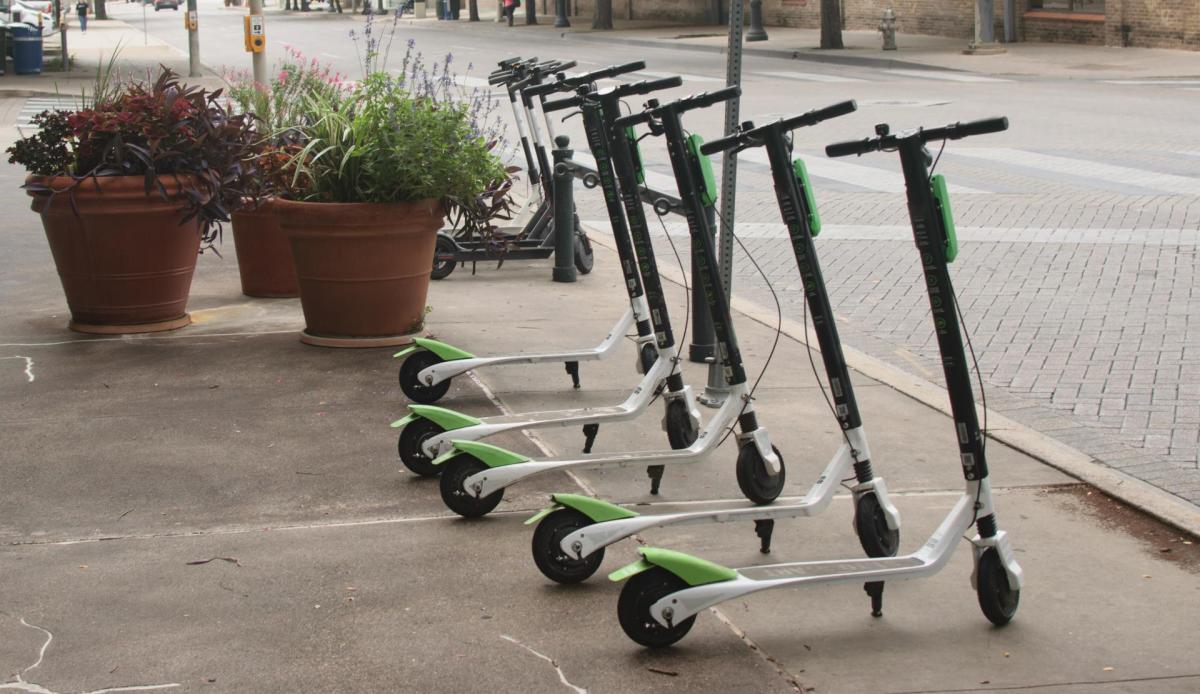 Cal Cities also opposed numerous micromobility-related bills, which sought to undermine local control. Cal Cities is pleased that none of these attempts to undermine local authority were successful, and that AB 1286, which was signed into law, supports the safe and responsible deployment of shared mobility devices statewide.
Outlook for 2021
Overall, this year left many good and bad legislative proposals undone. The truncated legislative timeline did not yield the amount of time and consideration needed for the typical volume of legislative proposals. However, as the Legislature adapts to "the new normal" and the challenges of meeting during COVID-19 are ameliorated, there will undoubtedly be a number of legislative proposals introduced next year that are repeats of bills that died this year. Although this legislative year was unlike any other, Cal Cities continued to be the trusted voice of city officials to our lawmakers in Sacramento and in Washington, D.C.
The disjointed nature of this legislative session will most certainly influence the next session. A new legislative delegation will be sworn in on Dec. 7, and many issues from 2020 will resurface in 2021 including housing, homelessness, police reform, wildfire preparedness and assistance, and additional COVID-19 resource needs. Cities will continue to feel the fiscal impacts of the pandemic and the related economic fallout daily.
Cal Cities has never been more committed to promoting and protecting the common interests of California cities. Onward to a future for California cities that is more connected and stronger than ever before.