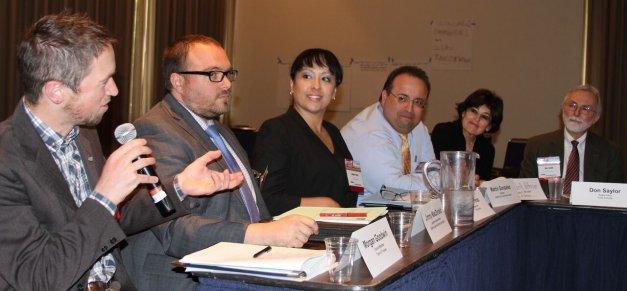 Advancing Climate Action, Sustainability and Community Well-Being
In his inaugural address, Governor Jerry Brown laid out an ambitious agenda to address climate change. As California prepares to accelerate programs and efforts to reduce greenhouse gas emissions and increase energy efficiency, state officials can benefit from learning about cities' successful projects and work in these areas.
ILG Convenes Local and State Leaders to Discuss Climate Change and More
To foster collaboration on these issues among California's decision-makers, the Institute for Local Government (ILG) convened local and state leaders at a half-day Climate Leadership Symposium in conjunction with the Green California Summit. The symposium featured a leadership dialogue where participants explored opportunities to create and strengthen partnerships and accelerate sustainability activities in California.
Participants included Secretary Anna Caballero, Business, Consumer Services and Housing Agency; Secretary Brian Kelly, California State Transportation Agency; Secretary John Laird, Natural Resources Agency; Secretary Matt Rodriguez, California Environmental Protection Agency; and Commissioner David Hochschild, California Energy Commission. These state agency representatives engaged in a lively discussion with local leaders to understand how experiences at the local level can help the state design effective climate, energy and sustainability programs.
Elected leaders from Arcata, Benicia, Claremont, Richmond, Truckee, Kern County and Yolo County offered local perspectives and information about community sustainability efforts. The executive directors of the League and California State Association of Counties and senior management from the California Special Districts Association (CSDA) and ILG also weighed in.
The symposium was designed to help inform policy decisions at the local and state levels. ILG anticipates this conversation will be part of an ongoing dialogue between the state and local governments as communities throughout California implement sustainability policies and practices and work to combat climate change.
ILG synthesized key themes from this discussion into an easy-to-read booklet, which is posted at www.ca-ilg.org/climatesymposium.
Cap-and-Trade Resource Center Offers Helpful Information
In conjunction with the Climate Leadership Symposium, ILG developed a Cap-and-Trade Resource Center (www.ca-ilg.org/cap-and-trade-resource-center) that provides an overview of cap and trade and the funding available to local governments through the Greenhouse Gas Reduction Fund.
---
Is Your City Implementing Sustainability Best Practices and Activities?
ILG's Beacon Program honors local governments' voluntary efforts to reduce greenhouse gas emissions, save energy and adopt policies and programs that promote sustainability. It also provides a framework to share best practices that create healthier, more efficient and vibrant communities. Find more information at www.ca-ilg.org/beaconaward.
---
ILG Launches Survey on Public Engagement
Does your city experience public engagement challenges? The Institute for Local Government (ILG) has launched a survey to gather feedback from local elected officials and staff about the value of ILG resources and assistance to California communities over the past 10 years. Help ILG understand your city's community engagement experiences and needs by taking the survey, online at bit.ly/1ch26p5. Deadline to respond: July 31, 2015.
---
Photo credit: Courtesy of the Institute for Local Government
---
This article appears in the July 2015 issue of Western City
Did you like what you read here? Subscribe to Western City
---