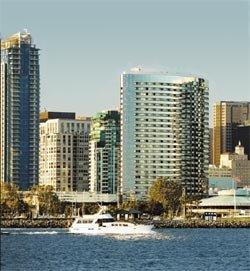 All Politics Is Local
Tracy Petrillo is director of education and conferences for the League and can be reached at tpetrillo@cacities.org.
---
Attend the League's 108th Annual Conference and learn alongside more than 2,000 peers, colleagues and friends. Join us in shaping policies that affect cities and experience renewed excitement for your role in municipal government. Registration is available onsite.
Each year, key sessions are offered in the priority areas of the League's strategic plan, including housing, redevelopment and infrastructure. At this year's conference, subthemes have been developed to encourage elected officials and city staff from various departments to learn and discuss issues together in one venue. Some of these subthemes include:
Our Environment — Hear from experts about flood control, stormwater issues, waste management, the California Environmental Quality Act and energy conservation.
Our Future — From finance and revenue generation to e-government and new technology, learn to plan now for what tomorrow will bring to your city.
Where We Live — California boasts dynamic cities, small towns, booming housing, sprawling mansions and increasing density. We serve growing populations with diverse ages, incomes and needs in our communities. How will your city plans meet the needs of your current and future residents?
How We Govern — Practical, thoughtful sessions and discussion forums will address key skills, including running effective council meetings and implementing code enforcement and disaster recovery efforts.
The People We Serve — The cities of today and tomorrow will face issues and crises including education, homelessness, day labor, refugees and obesity. Do your city's goals and strategic plan address the needs of your people?
Call for Education Session Ideas for the 2007 League of California Cities Annual Conference
September 5–8, 2007, Sacramento Convention Center
Do you have a great idea for a session or speaker for the 2007 League of California Cities Annual Conference? Who are the thinkers and leaders that understand municipal government and the issues our cities face on a daily basis? What are the vital issues that our membership must learn about to succeed beyond 2007?
Here's an exciting opportunity to share your ideas, knowledge and expertise with local government staff, elected officials and decision-makers. The League's 2006 strategic goals include infrastructure, housing and redevelopment, but ideas and submissions in any topic area are welcome.
Session proposal forms are available on-line at www.cacities.org/ac and must be submitted for consideration by the 2007 Annual Conference Program Planning Advisory Committee by Friday, Jan. 19, 2007. Any individual, group, business or organization may submit full proposal suggestions.
Annually, the conference hosts 1,800–2,200 attendees, including mayors, council members, city attorneys, city managers, city clerks, municipal assistants, public works officers, planners and planning commissioners, fiscal officers and staff related to many critical city departments (fire, police, parks and recreation, community services and personnel). The annual Exposition showcases more than 250 vendors offering services and products tailored to municipal needs.
Topic Considerations
What is new and critical for the future in local government?
What topic will draw a wide audience?
Will this issue stimulate action and further important discussion?
Sessions may not include sales or product promotion of any kind.
Preferred Speaker Qualifications
Five or more years of public presentation experience;
Two or more years of experience related to working in or presenting on the topic of the proposal; and
More than two successful speaking engagements to large audiences at a regional or state level in the past two years.
---
"How to Talk About Government"
The Institute for Local Government's Second Annual Luncheon Symposium
Thursday, Sept. 7, 2006
11:15 a.m.–12:45 p.m.
Room 30A/B/C at the
San Diego Convention Center
---
Speakers from the Demos Center for the Public Sector and the FrameWorks Institute will present current research on the public's often skeptical attitudes about government, and discuss how local officials can enhance trust and confidence through more effective communication with constituents about the public purposes of government.
The cost for this special luncheon symposium is $40. Registration must be made on the annual conference registration form or online at www.cacities.org/ac.
A later afternoon session, "Communicating the Government's Role to the Public: A Post-Symposium Discussion," will provide an additional forum for discussing the public's view of government and how effective communication about government can be integrated into public officials' daily work to promote greater public confidence and effective policy-making.
Pick Up "Career-Saving Tips" — Free!
A reprint of the article "Everyday Ethics for Local Officials: Career-Saving Tips on Mass Mailings" will be available free to city officials at the conference, courtesy of Western City magazine. The article, which appeared in the February 2006 issue, is of particular interest to mayors, city council members, city managers and public information officers. It includes a handy flow chart to help you navigate the complex regulations governing mass mailings. The publication will be available in the Press Room (27A/B) in the San Diego Convention Center. (The location is tentative and subject to change; check your conference program for the latest information.)
---
A Special Thank You
Special thanks to the 2006 Annual Conference Program Planning Advisory Committee:
Michele Beal Bagneris, City Attorney, City of Pasadena
Rebekah Burr-Siegel, Arts Manager, City of Brentwood
Robert Combs, Planning Commissioner, Danville Planning Commission
Marc Fox, Director of Human Resources, City of Pittsburg
Curt Hagman, Council Member, City of Chino Hills
Lesa Heebner, Deputy Mayor, City of Solana Beach
Richard "Duke" Martin, Mayor Pro Tem, City of Ridgecrest
Lisa Rapp, Director of Public Works, City of Lakewood
Shalice Reynoso, City Clerk, City of Buena Park
Don Saylor, Council Member, City of Davis
Demetrious Shaffer, Fire Chief, City of Newark
Ron Swegles, Mayor, City of Sunnyvale
Don Szerlip, Council Member, City of Redondo Beach
Cheryl Wegman, Council Member, City of Wasco
---
This article appears in the September 2006 issue of Western City
Did you like what you read here? Subscribe to Western City
---