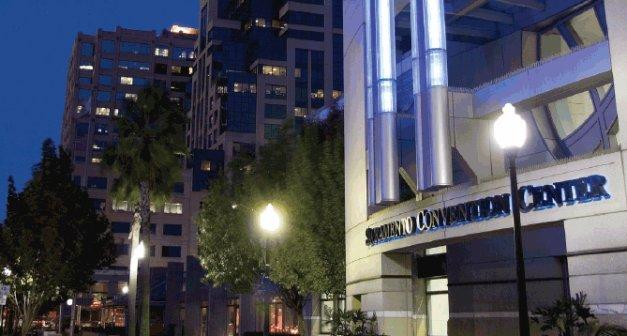 Annual Conference Preview
League of California Cities 2013 Annual Conference & Expo Sacramento Convention Center, Sept. 18-20
Anna Swanson is conference marketing coordinator for the League and can be reached at aswanson@cacities.org.
---
Join participants from nearly 400 cities throughout the state at the League's largest conference of the year. Meet with approximately 2,000 elected officials and staff in more than 35 break-out sessions and CityTalks designed to educate and inform. Watch for sessions of special interest to city attorneys, fire chiefs and human resources professionals, which offer a more personalized professional development experience.
While the number of sessions may seem overwhelming to a newcomer, an orientation for first-time attendees held on the first day of the conference provides background on the League and helps participants derive the greatest benefit from attending the conference.
Wednesday, Sept. 18
This year's conference kicks off Wednesday, Sept. 18 with registration beginning at 9:00 a.m. and policy committee meetings in the morning, followed by the First-Time Attendee Orientation at 1:00 p.m. The Opening General Session commences at 3:00 p.m. with the League's annual report, announcement of the Helen Putnam Award for Excellence winners, presentation of the Past Presidents' Lifetime Achievement Award and a keynote address from Erik Wahl.
The Grand Opening of the Expo Hall follows the Opening General Session. Enjoy Sacramento's bounty at the Host City Reception with the theme "I Dig Sacramento, Farm-to-Fork Capital of America" from 5:00 to 7:00 p.m. The CitiPAC Eighth Annual Leadership Gala Casino Night will be held following the Expo and Host City Reception.
Thursday, Sept. 19
A full day of educational opportunities launches with a General Session featuring the keynote speaker, futurist Lowell Catlett, at 8:00 a.m. A variety of traditional sessions as well as the increasingly popular CityTalks, which use a 20-minute session format with one speaker, will be conducted throughout the afternoon. Attendees are encouraged to visit the Expo between 10:00 a.m. and 3:00 p.m. Lunch in the Expo Hall provides an opportunity for attendees to meet with exhibitors between 11:00 a.m. and 1:00 p.m. exclusively without missing any sessions or meetings.
Thursday afternoon's educational sessions will cover topics including the Affordable Care Act and city responsibilities, revitalizing communities, creative placemaking and infrastructure financing. The evening will provide abundant networking opportunities at various receptions held by the League's diversity caucuses, which comprise the:
African American Caucus;
Asian-Pacific Islander Caucus;
Gay, Lesbian, Bisexual and Transgender Local Officials' Caucus;
Latino Caucus; and
Women's Caucus.
Friday, Sept. 20
The final day of the conference offers attendees more networking and professional development events. Check with your regional public affairs manager for division event times, dates and applicable costs. Educational sessions resume at 9:00 a.m., covering topics that include emergency preparedness, new legislation and court rulings that affect city finance, economic development strategies related to retail — and much more.
The closing luncheon will begin at noon on Friday. Its program includes the swearing in of the 2013–14 League board of directors as well as the General Assembly and Annual Business Meeting, where city delegates vote on policy resolutions to be implemented in the coming year. Each city should designate at least one voting delegate at the conference to represent its position on issues under consideration at this meeting. Voting delegates must be registered for the conference to participate in the General Assembly and Annual Business Meeting.
---
About the Conference Logo

This year's conference logo was designed by Gary Kelly of Redwood City. His artwork was selected from a number of logos submitted by cities throughout the state.

Kelly, a community development specialist who has worked for Redwood City for 13 years, provides support for new business signage, city public events advertising and city website graphics. The idea for the logo came to him with relative ease after reading the contest guidelines. "The first thing I thought of was a gold coin or medallion, because of the immediate connotation of value or quality," he says. "It made for a clean, simple design."

Kelly received complimentary registration to the annual conference, a $100 American Express gift card, a conference shirt and official bragging rights.

Keynote Speakers

Opening General Session keynote speaker Erik Wahl is an internationally recognized artist, entrepreneur and philanthropist. Author of Unthink: Rediscover Your Creative Genius, Wahl uses art as a means to inspire professionals to achieve greater levels of performance.

Thursday's General Session features keynote speaker Lowell Catlett, a futurist who works nationally and internationally with organizations and corporations on planning related to the impacts of technology on careers and the economy. Catlett is a professor and dean of the College of Agriculture, Consumer and Environmental Sciences at New Mexico State University.
---
This article appears in the August 2013 issue of Western City
Did you like what you read here? Subscribe to Western City
---