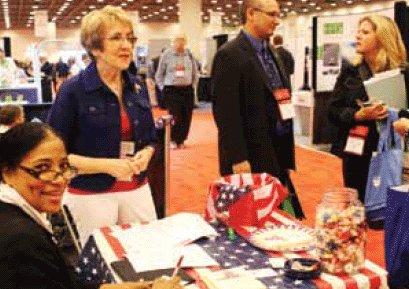 Annual Conference Preview Exposition Exhibitors
New Expo Hours!
The Grand Opening of the Expo Hall is being held in conjunction with the Host City Reception on Wednesday, Sept. 5, from 6:00 to 8:00 p.m. Meet with exhibitors who may have just the product or service your city needs. The Expo offers the opportunity to explore ways to do things more efficiently with an eye toward reducing costs.
The League Partner Village in the Expo Hall houses the League Partner Speaker Theater and the Helen Putnam Award for Excellence city exhibits. Check your conference program for additional education opportunities offered by the Speaker Theater presentations.
The Expo concludes on Thursday at 4:00 p.m.
---
A. Y. McDonald Mfg. Co.
AAA Flag & Banner
ABM2
AECOM
AHA Consulting
AP Wireless
AT&T2
Charles Abbott Associates2
AbTech Industries, Inc.
Academy of Model Aeronautics
Aclara
Adams Ashby Group
AIRCON ENERGY
AIRVAC
Alvarez-Glasman & Colvin2
American Fidelity Assurance Company
Americans Protecting Property Rights
AmeriNational Community Services, Inc.
Ralph Andersen and Associates
AndersonPenna Partners, Inc.
Asphalt Zipper
Association of California Water Agencies (ACWA)
Atkins
Avery Associates2
Badger Meter, Inc.
Dave Bang Associates, Inc.
Bank of America Merrill Lynch
Belgard Hardscapes
Best Best & Krieger, LLP1
Big League Dreams
BigBelly Solar
Blais & Associates
BonTerra Consulting
Brown Armstrong CPAs
Bureau Veritas
Burke, Williams & Sorensen, LLP1,2
Burrtec Waste Industries, Inc.2
Buxton
CH2M HILL
CMB Regional Centers
CRW Systems, Inc.
CSAC Excess Insurance Authority
CSG Consultants, Inc.
California Association of Code Enforcement Officers
California Building Officials
California Communities/U.S. Communities
California Consulting, LLC
California Contract Cities Association
California Department of General Services/Cal-Card
California Department of Housing & Community Development
California Department of Insurance
California Department of Water Resources
California Fuel Cell Partnership
California Housing Finance Agency
California Infrastructure and Economic Development Bank (I-Bank)
California Joint Powers Insurance Authority
California Prison Industry Authority (CALPIA)
California Product Stewardship Council
California State Board of Equalization
CalPERS
CalTRUST
CalVet – California Dept. of Veterans Affairs
Cardiac Science Corp.
Carollo Engineers
Caselle Software
Chevron Energy Solutions
Citrus Pest & Disease Prevention Program
City Ventures
CleanFleets.net
CleanStreet
Climatec BTG
Comcate, Inc.
Cooper Streetworks
Coplogic, Inc.
Credit Bureau Associates
Crown Disposal Co. & Community Recycling
DN Tanks
D R Consultants & Designers, Inc.
Dapeer, Rosenblit & Litvak, LLP
Dart Container Corporation
De La Rosa & Co.
Delphi Solutions
Dokken Engineering2
DriWater Inc.
Dudek
EDI VRAD© Process
EPS Industry Alliance
Earth Systems
eCivis
Emergency Services Consulting International
FacilityDude
FedBid, Inc.
First Investors Corporation
FirstSouthwest
GHD Inc.
Go Green Lighting
GovDeals, Inc.
Graphic Solutions
Greenhouse GO
GreenTraks
Griffin Structures
H & M Gopher Control
HdL Companies
HEAL Cities Campaign
HF&H Consultants, LLC
HMC+Beverly Prior Architects
HR Green, Inc.
Harris & Associates
HydroPoint Data Systems
ING
ITEM, Ltd.
Impact Plastics
In God We Trust – America, Inc.
Independent Cities Risk Management Authority
Information Display Company
International Parking Design
Itron, Inc.
JT2 Integrated Resources
Jamboree Housing Corporation
Jones & Mayer
Kaiser Permanente
KASDAN SIMONDS WEBER & VAUGHAN LLP
Keenan & Associates
KemperSports Management, Inc.
Keyser Marston Associates, Inc.
Kimley-Horn and Associates, Inc.
Kramer Telecom Law Firm P.C.
LINC Housing
LPA, Inc.
LSA Associates, Inc.
Laserfiche
Leotek Electronics USA Corp.
Library Systems & Services
Liebert Cassidy Whitmore1
MCE Corporation
Macias Gini & O'Connell (MGO)
MAINTSTAR
Matrix Consulting Group
Jere Melo Foundation
Meyers Nave1,2
MuniServices
Bob Murray & Associates
NBS
National Community Renaissance
National Industries for the Blind (NIB)
Nationwide Payment Solutions – MuniciPAY
Newport Pacific Capital/Modular Lifestyles
Nextdoor
Northern California Carpenters Regional Council
Omni-Means, Ltd.
Otto Environmental Systems North America, Inc.
Overland, Pacific & Cutler, Inc.
PARS
PERC Water
PLI Global
Pacific Gas and Electric Company2
Paragon Partners Ltd.
Parkmobile USA, Inc.
PetData
Philips Hadco
Piper Jaffray
Public Agency Risk Sharing Authority of California (PARSAC)
Public Financial Management, Inc.
Public Restroom Company
PublicStuff
PureForge
Q-STAR Technology
Quad Knopf2
RBF Consulting, a company of Michael Baker Corporation
RJM Design Group, Inc.
RKA Consulting Group
Radio Satellite Integrators, Inc.
Rain Bird Corporation
RedFlex Traffic Systems
Renne Sloan Holtzman Sakai LLP (Public Law Group)1
Republic Services2
SCS Engineers
SSA Landscape Architects, Inc.
SWARCO Traffic Americas
Safeguard Properties
Schaefer Systems International, Inc.
Schneider Electric
R. Schumacher & Associates, Inc.
SERVPRO
Severn Trent Services
Sharp Electronics Corporation
Siemens
SmartCitiesPrevail.org
SolarCity
Solid Terrain Modeling, Inc.
Southern CA Concrete Producers
Southern California Edison1,2
Southern California Gas Company
SouthTech Systems
SouthWest Water Company2
Sportsplex USA
State Board of Equalization
Stone & Youngberg LLC
SyTech Solutions
TNT Fireworks
David Taussig & Associates, Inc.
TOTER WASTEQUIP
TRAMUTOLA
TRANE2
Transtech Engineers, Inc.
Tribal Alliance of Sovereign Indian Nations2
USA North
USC Price School of Public Policy
U.S. Bank
United Storm Water, Inc.
University of La Verne
Up-Rite Tree Support Systems
Vali Cooper & Associates, Inc.
Valley Vista Services, Inc.
Vanir Construction Management, Inc.
Veolia Water North America
Vortex Western Sales & Support Office
WLC Architects
Walker Parking Consultants/Engineers Inc.
Carl Warren & Company
West Coast Arborists, Inc.
Westpac (LED) Lighting Inc.
Willdan2
Ygrene Energy Fund
---
Footnotes:
[1] Institute for Local Government Partner
[2] – CITIPAC supporter
List current as of July 16, 2012.
Visit us at www.cacities.org/expo.
---
This article appears in the August 2012 issue of Western City
Did you like what you read here? Subscribe to Western City
---