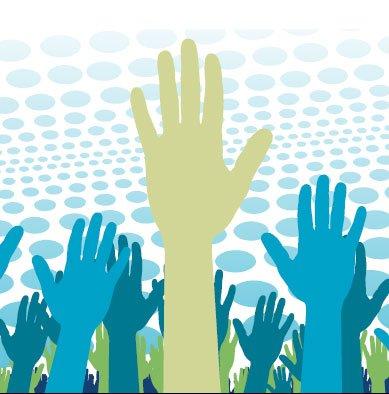 Annual Conference Sessions Focus on Harnessing Community Resources to Address Current Challenges
Facing numerous challenges, often with fewer dollars, California's cities are finding ways to draw on the full resources of their communities to meet local needs. This includes creating unique multi-sector partnerships, harnessing the power of volunteers and engaging a diverse range of city residents. Come hear from local officials and community leaders spearheading these innovative efforts at two concurrent sessions, organized by the Institute for Local Government (ILG), at the League of California Cities 2011 Annual Conference & Expo in San Francisco.
Cities are home to an increasing number of recent immigrants and their families. Despite these changing demographics, newer residents are often not as fully integrated into the community or as likely to participate in local public engagement opportunities as other community members. Also, the relationships between newer and older residents may not be optimal, and this can hinder a city's efforts to address and solve problems together. How can local agencies more effectively involve their immigrant residents in the civic and political life of their community?
Plan to attend "Approaches to Immigrant Integration in California Cities: Opportunities for Local Officials," 8:00–9:30 a.m., Thursday, Sept. 22. At this interactive session you will learn how to build relationships between foreign-born and native-born populations, promote inclusive public engagement and support citizenship and participation by eligible legal residents. Find additional resources on immigrant engagement and integration online at www.ca-ilg.org/immigrantengagement.
The second ILG session will offer participants best practices that support the strategic use of volunteers to augment city services in challenging economic times. Make a note to attend "Turning Civic Passions Into Action: Volunteers as Strategic Resources for Cities," 3:15–4:45 p.m., Thursday, Sept. 22. Topics include the different roles that volunteers can play, the importance of city leadership and overall strategy required for success, approaches to building service partnerships with community organizations, and information on funding sources to support these programs.
New Public Engagement Assessment Tool For Local Officials
While local agencies are increasingly engaging the public, few practical tools exist to measure the success of these approaches. Recognizing this, ILG has created Assessing Public Engagement Effectiveness: Rapid Review Worksheets (online at www.ca-ilg.org/rapidreview) to help local officials gauge the relative success of these processes and improve future activities. By using these worksheets, a local agency that has sponsored, organized and/or convened a public engagement process or activity can collect information from both participants and local officials.
Although the goal is to assess the relative success of the process just completed and to guide improvements to future engagement activities, these Rapid Review Worksheets can also be useful in the planning stage. An early review of the questions in the worksheets can help guide planning and design of the engagement process as well as ensure that the design and purposes of the process match up with what the agency plans to evaluate.
Evaluating local agency-sponsored public engagement enables local officials and others to gauge participant satisfaction, identify lessons learned and make refinements and improvements in future efforts.
Find additional information and resources related to public engagement for local officials at www.ca-ilg.org/engagement.
---
This article appears in the September 2011 issue of Western City
Did you like what you read here? Subscribe to Western City
---