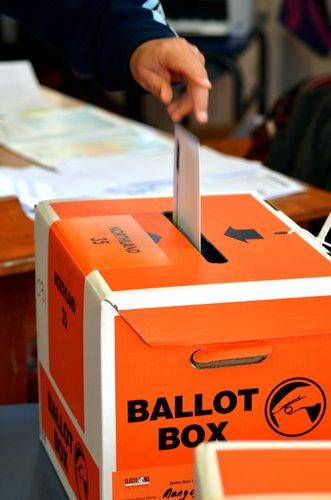 The Balanced Triangle and the City Clerk's Role in Local Government
Lee Price is certified as a master municipal clerk (MMC). She retired as the San Jose city clerk in 2010. Price now serves as a special adviser with Management Partners, provides municipal clerk training and consulting services and is a member of the Institute for Local Government Public Engagement Panel of Advisors. She can be reached at flprice@gmail.com.
---
Like most working professionals, when I'm introduced to someone new at a community event or social gathering, I'm often asked, "What do you do?" When I tell them, "I'm a city clerk," I usually get a blank stare, followed by a brief, awkward pause in the conversation. That's when I realize that my new acquaintance has no idea what a city clerk is or does. In fact, most people — unless they are very active in local government — don't understand the city clerk's role. Even though the city clerk's profession is one of the oldest in local government, elected and appointed leaders may not fully understand its importance. This may be in part because clerks typically work behind the scenes and generally prefer to stay out of the limelight.
The clerk's profession took a hit earlier in 2014 after a Northern California city received some negative media coverage about an elected city clerk who failed to meet the statutory requirement to produce council meeting minutes. Numerous articles appeared in the local press, and uninformed opinions were expressed in blogs about it. This incident suggested a need for more public education about the role of the clerk. In a discussion of the situation with my friend and colleague Berkeley City Clerk Mark Numainville, he offered this football analogy: "You never notice the snapper and the holder for a field goal when they do their job well, but you sure notice it when they do their job poorly."
Defining the Role
As an active member of the City Clerks Association of California (CCAC) and a technical trainer for clerks, I work with other clerks in the state to facilitate CCAC's mission, which is to promote the city clerk's profession through education, support and communication. In response to the media attention given to the city clerk who didn't produce council meeting minutes and to set the record straight, I wrote an article for the CCAC monthly publication, the Official Word. This excerpt documents the clerk's responsibility to produce minutes:
As municipal clerks, we are bound by a professional code of ethics, which includes tenets to be neutral and impartial, and to record that which is true. It has been suggested that the act of recording and preparing minutes is no longer needed or is too expensive given other demands on local government, especially in light of today's technology, which includes online access to agendas and video archives. The California Government Code requires: 1) that the "council shall cause the clerk to keep a correct record of its proceedings" (Gov't. Code Section 36814); and 2) that the "clerk shall keep an accurate record of the proceedings of the legislative body" (Gov't. Code Section 40801). Even though many agencies are using webpages to post meeting agendas and host video archiving, this technology does not eliminate the statutory requirement for cities to produce an agenda and post it pursuant to the Brown Act, nor does it eliminate the state law mandate that formal, written minutes be prepared to accurately record the actions of the legislative bodies.
Of course, preparing minutes is not the city clerk's only duty. Numerous others are mandated by state law, a city's charter and/or other policies. Conducting municipal elections, complying with the Political Reform Act, the Brown Act and the California Public Records Act as well as managing a variety of other ceremonial and official functions are a few of the city clerk's typical responsibilities.
The Public Policy Triangle
Buena Park City Clerk Shalice Tilton, MMC, provides public policy training in Orange County. In her sessions, she illustrates the importance of the city clerk's role with the Public Policy Triangle (see graphic at right).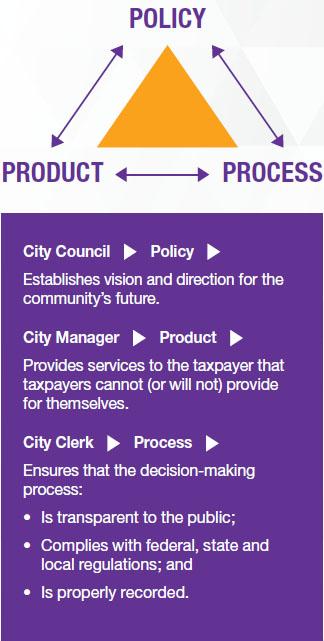 In a municipality where the city council, city clerk, city manager and city attorney understand and respect each other's roles and share in the obligation to maintain this balance, successful public service is achieved. The clerk's role is to ensure proper process and open, transparent government. As professional managers, clerks are uniquely qualified to do just that.
Attention to Detail
Amy Holt and Abraham David Benavides wrote about the city clerk-city manager relationship in an article titled "The Top Five Things to Know About the Municipal Clerk Position," published in the International City/County Management Association's PM Magazine:
Clerks are selected for their attention to detail, as well as their ability to be forward-thinking and to anticipate problems. … A strong, positive professional relationship between the clerk and the manager is important for effective service delivery to residents.
Clerks are knowledgeable professionals and public servants who wear many hats and switch gears constantly. City councils, city managers and city attorneys rely on the clerk not only to ensure transparency but also to comply with a multitude of laws and regulations and deal with numerous processes.
Acknowledging a Job Well Done
Vallejo City Manager Daniel Keen offers some observations about the clerk's role, based on his experience working with Vallejo City Clerk Dawn Abrahamson, MMC. "Having a professional city clerk like Dawn is so important these days," says Keen. "Whether she is dealing with the intricacies of election laws, conflict-of-interest reporting or public records, there's no substitute for the knowledge that a great city clerk like Dawn provides to the public and staff. We live in an age when the public demands much higher levels of transparency and access to city records, and Dawn has helped restore the faith of our community in its local government. Her willingness to assist our residents has also instilled greater confidence in the city."
There is no greater compliment than an elected official's expression of appreciation for a job well done by the city clerk. The Rancho Cordova City Council nominated City Clerk Mindy Cuppy, MMC, as City Clerk of the Year for 2014, and then-CCAC President Nanci Lima presented her with the title in April. In his letter nominating Cuppy, Mayor Dan Skoglund referred to her as a "relationship builder and super clerk" and described her leadership abilities, various achievements and many contributions to the City of Rancho Cordova. Several city clerks were nominated for this honor by their city managers or city councils, who noted the nominees' hard work, dedication, professionalism and the ability to "go above and beyond."
Supporting Transparency and Open Government
City clerks respond to numerous requests for access to public records and work closely with city attorneys to ensure compliance with the California Public Records Act. In addition, as the local elections official, a clerk also provides information to the public on candidates and local ballot measures. Neutrality and impartiality are absolutely key when responding to requests for records or when answering questions about the initiative, referendum or recall processes.
The city clerk's office is best suited for disseminating information to residents and the media about local elections, including measures qualified for the ballot. It is especially important that this information be communicated without any appearance of bias or advocacy. This is best accomplished when there is a clear understanding of the clerk's role in these critical processes, and good communication among core managers and between city hall and local residents.
---
Photo credit: ChameleonsEye/Shutterstock.com
---
This article appears in the November 2014 issue of Western City
Did you like what you read here? Subscribe to Western City
---