Benicia Turns Green Laws Into Greenbacks for Local Businesses
The City of Benicia won the Award for Excellence in the League Partners Award for Excellence in City-Business Relations category of the 2014 Helen Putnam for Excellence Award program. For more information about the award program, visit www.helenputnam.org.
---
In response to the state's greenhouse gas (GHG) reduction laws, in 2009 the City of Benicia adopted a Climate Action Plan that set an overarching goal of slowing the increase in GHG emissions and reducing emission levels by 10 percent in 10 years.
Identifying Opportunities and Developing a Strategy
The Benicia Industrial Park presented the most significant area of opportunity to address GHG emissions. The largest development of its type in Solano County, the park encompasses over 7 million square feet of space on 3,000 acres and was generating nearly 50 percent of the city's General Fund revenue. The Great Recession, however, delayed efforts to reduce GHG emissions. Vacancy rates in the park increased to an all-time high of nearly 20 percent in 2009. Sales and property taxes decreased dramatically, along with the number of jobs and businesses.
Following thoughtful discussions with the local business community, Benicia initiated an update to its economic development strategy that would support its two highest priorities: supporting the local economy and improving the local environment.
The cornerstone of Benicia's economic strategy is a program that provides industrial park businesses free energy and water usage assessments as well as recommendations to increase efficiency in these areas. The city provides grant funding and/or zero- or low-interest loans to businesses to implement the recommendations of the assessments. The concept for this program came from input and support from the Benicia Industrial Park Association, Benicia Chamber of Commerce, Solano Economic Development Corporation, Solano County Green Business Program and Pacific Gas and Electric.
Funding Partner Makes Project Viable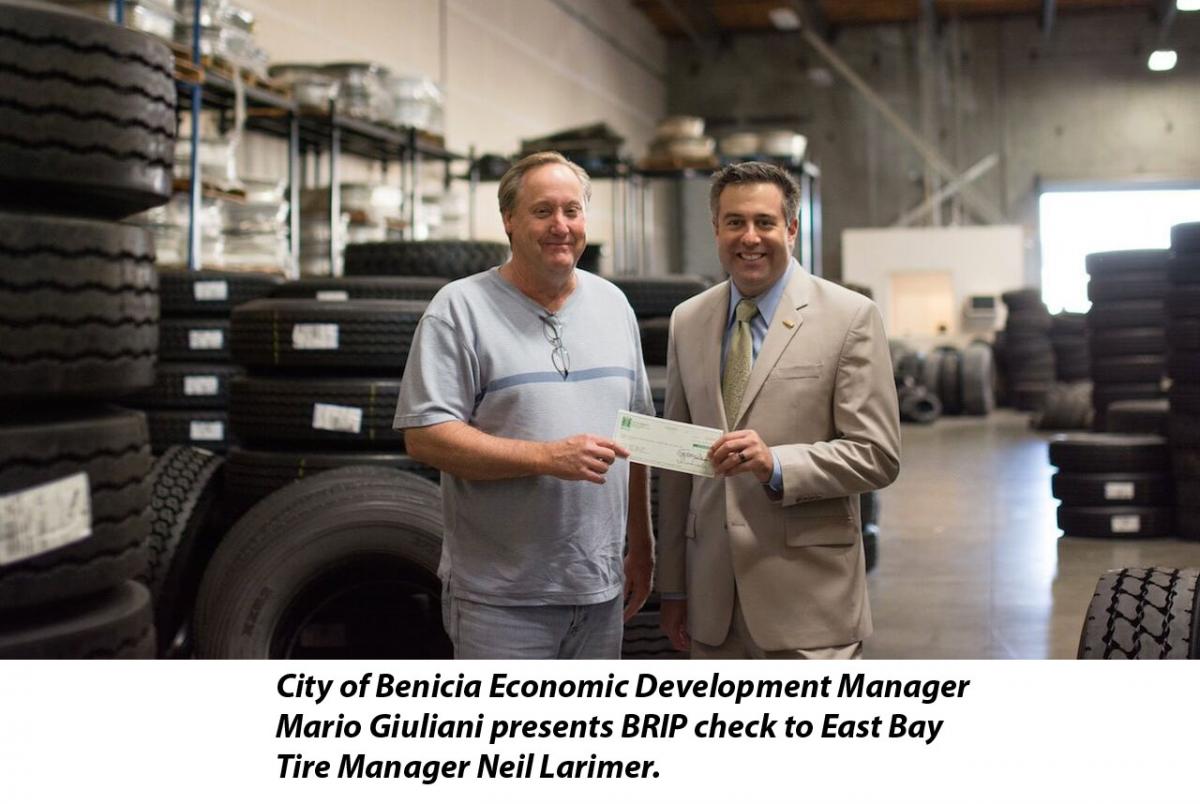 With the city's General Fund already stretched thin trying to maintain essential city services, finding financial resources to support a new business retention program presented a challenge. Undaunted, city officials, community stakeholders and business leaders sought a funding partner and identified the Valero Benicia Refinery as the strongest prospect. Valero entrusted the City of Benicia with funds to implement local water and energy conservation programs. With a funding source securely in place, city staff moved forward to implement the Business Resource Incentive Program (BRIP), which combines economic development and environmental sustainability.
Local Companies Reap Benefits
The BRIP began in earnest in 2013 and achieved immediate GHG emission reductions for the city and financial savings for businesses. One of the first Benicia businesses to participate in BRIP was Dunlop Manufacturing, makers of supplies for the music industry including guitar picks. The results of its resource assessment identified significant leakage in their air compressor system, which powers some 50 small industrial machines. Modifications to this system significantly increased efficiency and reduced electrical use, netting Dunlop an annual savings of almost $26,000. This also reduces the company's GHG emissions by 15.2 metric tons annually. The BRIP provided a $10,000 grant. Dunlop financed the remaining cost of their project with PG&E's On-Bill Financing, which enables a business to utilize its energy cost savings to repay the cost of improvements.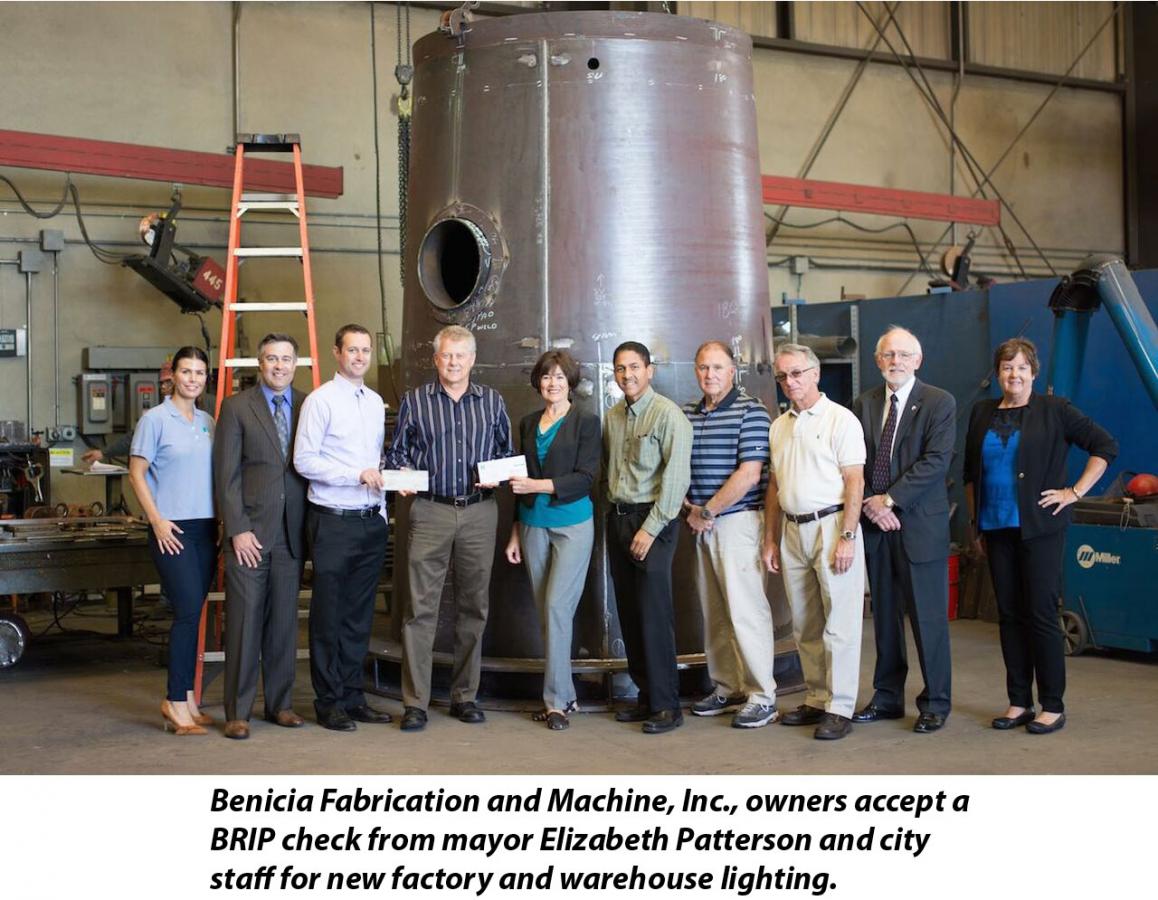 Another participant, Alfred Conhagen, Inc. of California, provides rotating equipment repairs, engineering services, industrial fabrication, pump upgrades, field service and structural assemblies for power plants, refineries, chemical plants, sugar mills, agriculture facilities and water and sewer plants worldwide. The firm proved an excellent candidate for BRIP services. "The City of Benicia's Business Resource Incentive Program gave us the financial encouragement to do what needed to be done," says Herb Forthuber, general manager of Conhagen's Benicia facility. "I'm a hero to my employees for installing new, bright warehouse lighting that comes on quickly. And our monthly utility bill is significantly less, which makes me a hero at our corporate headquarters."
Other industrial park businesses had similar experiences. Since its implementation two and a half years ago, 29 businesses are saving an estimated $225,000 each year and the city is reducing GHG emissions by over 500 metric tons annually; this is equivalent to 56,000 gallons of gas. This program proves that economic development can partner with sustainability to create prosperity.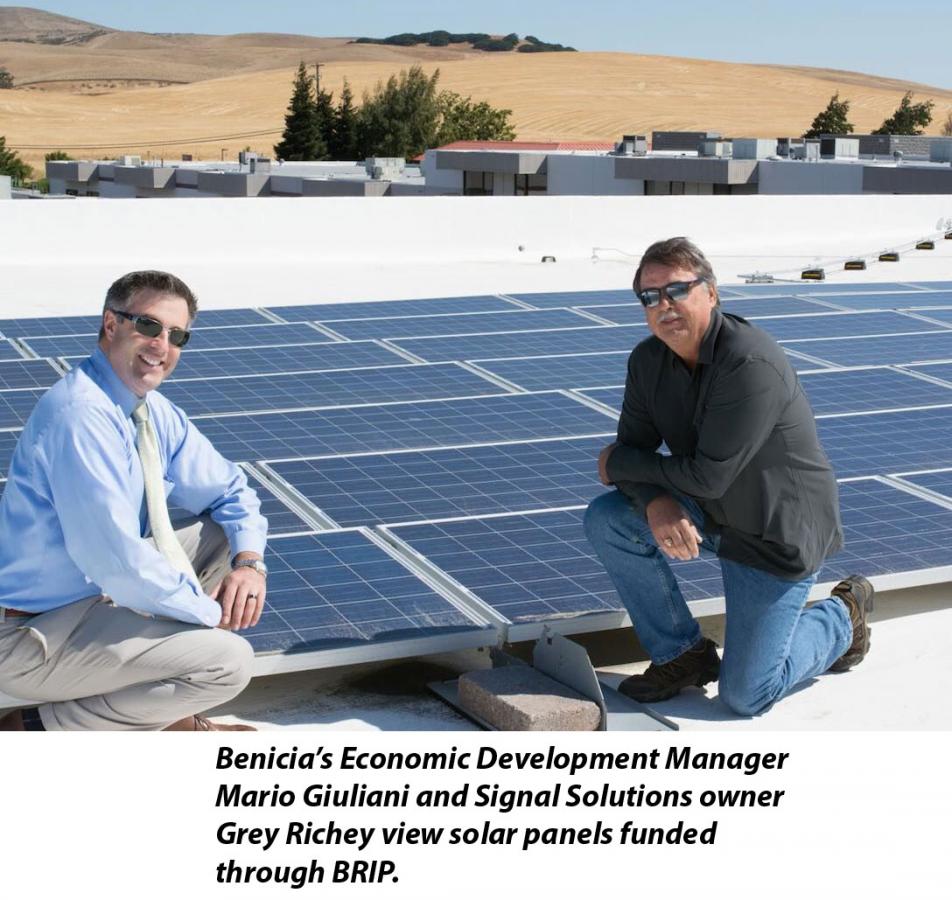 Signal Solutions, a small data and audio-video installation business located in Benicia, used a BRIP grant and loan to install new factory and warehouse lighting and a 13.2 kW roof-mounted solar system. Signal Solutions will save just under $5,000 per year in utility costs, and the City of Benicia will reduce GHG emissions by another 4.28 metric tons each year. Signal Solutions was eligible for federal tax credits for the solar portion and $1,292 in PG&E rebates for the lighting portion of its project.
This concept of offering assessments in conjunction with capital for business improvements earned kudos for Benicia in 2012 when it won the International Economic Development Council Gold Award for the program.
Program Anticipates Continuing Expansion
With the governor's recent mandate to reduce water use by 25 percent, Benicia's economic development staff is focusing on water reduction and reuse projects. The owner of a large office complex proposes to use a $25,000 BRIP grant to cover the cost of removing all the existing grass and replacing it with drought-tolerant plants and other landscape materials. Another industrial park business is exploring the option of reusing water in several of its manufacturing operations.
"Our program shows that partnering with the business community can create cooperative solutions to the tough problems we face and build a reputation as a business-friendly and sustainable community," says Benicia Mayor Elizabeth Patterson.
Contact: Mario Giuliani, economic development manager, City of Benicia; phone: (707) 746-4289; email: mgiuliani@ci.benicia.ca.us.
---
Photo credits: Courtesy of the League of California Cities and City of Benicia
---
This article appears in the July 2015 issue of Western City
Did you like what you read here? Subscribe to Western City
---