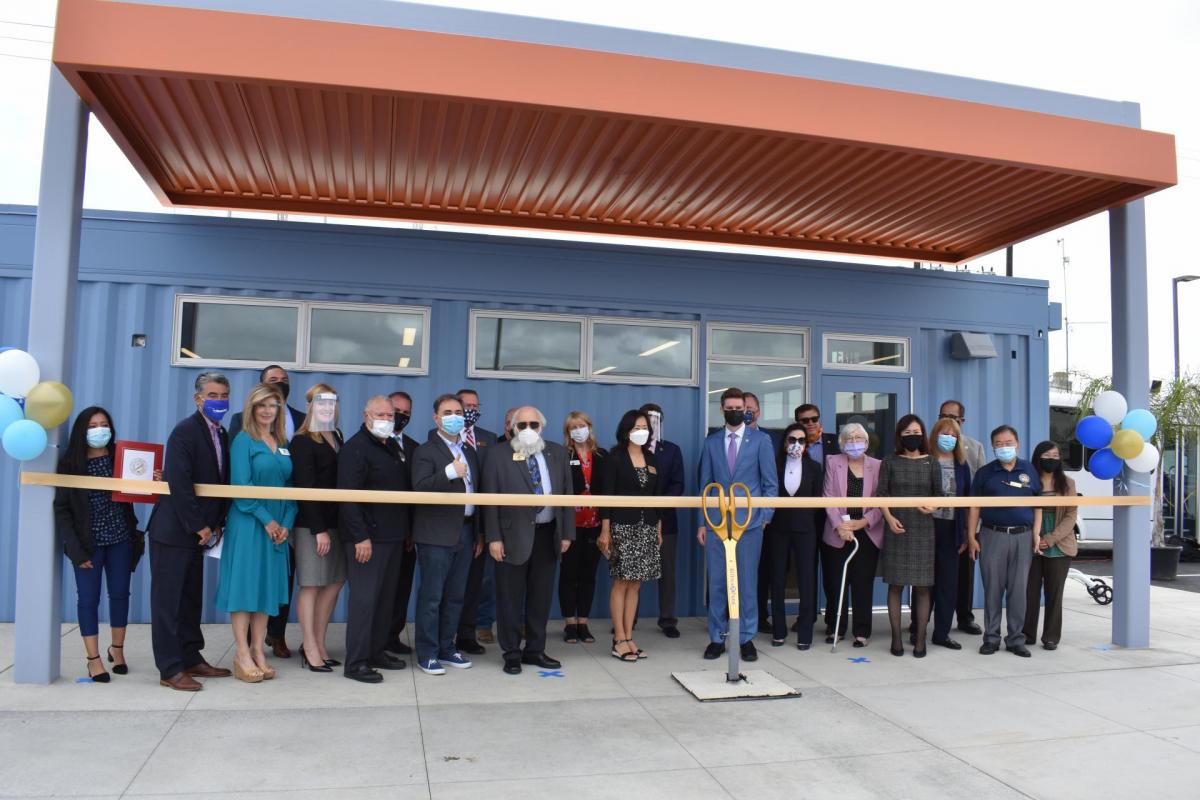 Buena Park Navigation Center transforms shipping containers into new possibilities for unhoused residents
The city of Buena Park won the Award for Excellence in the Housing Programs and Innovations category of the 2021 Helen Putnam Award for Excellence Program. For more information about the award program, visit www.helenputnam.org.
---
Known as the "Center of the Southland," the city of Buena Park — population 84,188 — is no stranger to the nationwide homelessness crisis. According to the 2019 Orange County Point in Time Count Report, 6,860 people in Orange County were homeless, a 43% increase from 2017. Of these, more than 3,900 had no shelter and were battling hunger, adverse environmental elements, and other dangers.
The report also found that roughly 52% of those experiencing homeless were attending or had attended school in Orange County and 72% were working or had worked in Orange County, dispelling a long-standing assumption that most homeless people migrate from other locations.
"The startling and saddening homelessness statistics show that accelerated efforts to support those in need are crucial to our community," said Buena Park Mayor Pro Tem Arthur C. Brown. "Living on the street, in cars, and in unsafe encampments is not okay. We had to provide a comprehensive approach to address this pressing issue."
So that's what Buena Park and its neighboring cities set out to do. Thanks to a collaborative, regional effort, the city is now part of an effective, cost-efficient solution that looks to permanently break the cycle of homelessness.
The beginning of a regional effort
Following a 2018 court ruling that divided Orange County into three service planning areas, Buena Park and the cities of Anaheim, Brea, Cypress, Fullerton, La Habra, La Palma, Los Alamitos, Orange, Placentia, Station, Villa Park, and Yorba Linda began devising a safe, regional method for moving people out of local homeless encampments and into more stable housing.
After studying the costs of land acquisition, construction, and facility management, the cities decided that two regional facilities would be the best solution. Since the navigation centers would be managed by multiple cities, a memorandum of understanding was created, detailing each city's roles, responsibilities, and costs.
This cost-sharing method resulted in a multifaceted funding structure that included grant funds, Orange County general fund money, Housing Successor Agency funds, Permanent Local Housing Allocation funds, and other individual city contributions. The majority of the funding — $6.4 million — came from the state's Homeless Emergency Aid Program.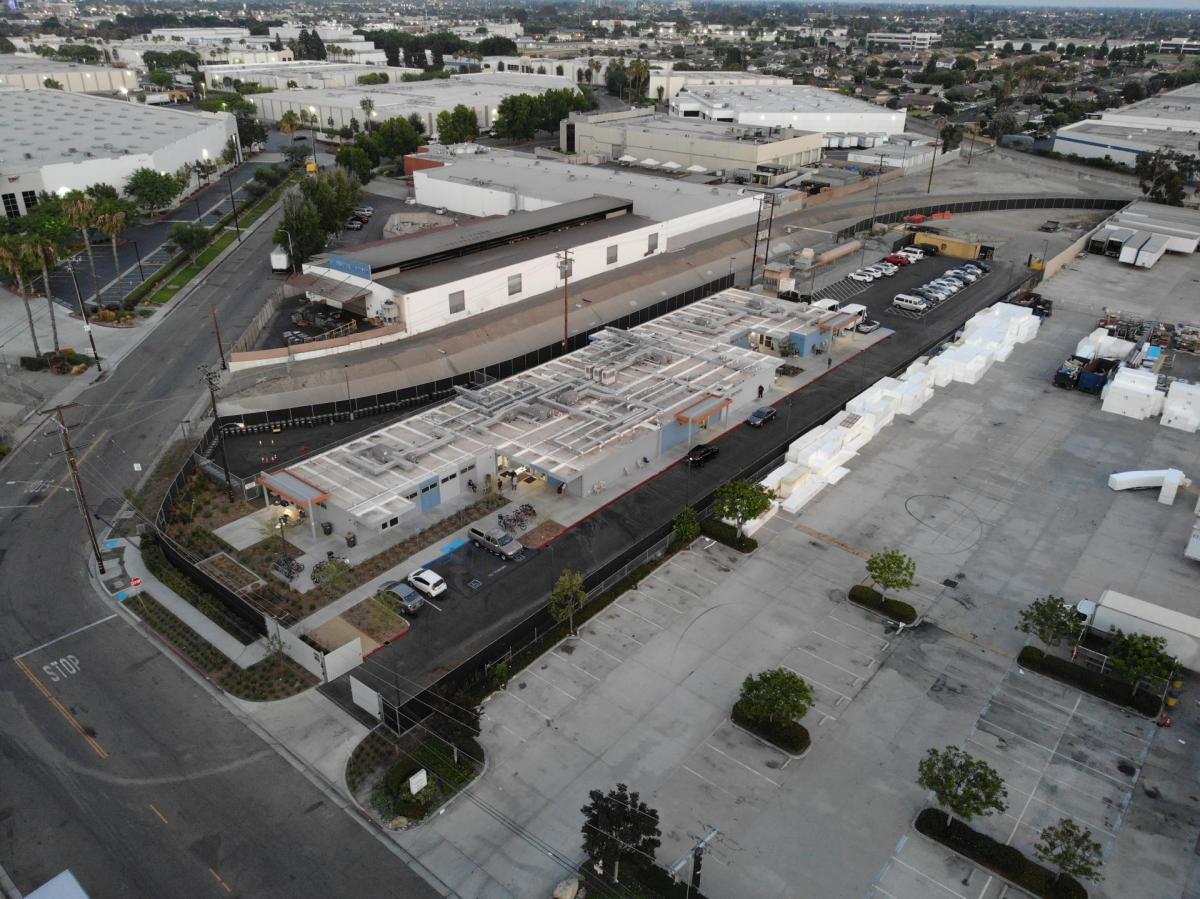 Buena Park staff identified a vacant, city-owned site that was previously used for storage and project staging as the future home of a navigation center. In summer 2019, the city began constructing a navigation center that could house 150 unsheltered individuals. Instead of using traditional construction methods, the city repurposed one-way, international freight shipping containers that would have otherwise been discarded.
Construction began with the demolition of the existing infrastructure, followed by a rough grading of the property to accommodate the new building. While construction of the building foundation occurred, the shipping containers were stripped down and pre-fabricated at a separate location. This process included remodeling containers so that they could connect to each other and form the facility's main structure.
The containers were then delivered to the site, set on the foundation, and welded together to create a 15,000-square foot building, which contains large dormitories, meeting spaces, restrooms, a kitchen, and a medical clinic. This method allowed the project to be completed at a much faster rate than a construction process utilizing timber or concrete. It also extended the life of steel shipping containers that would have otherwise been disposed of.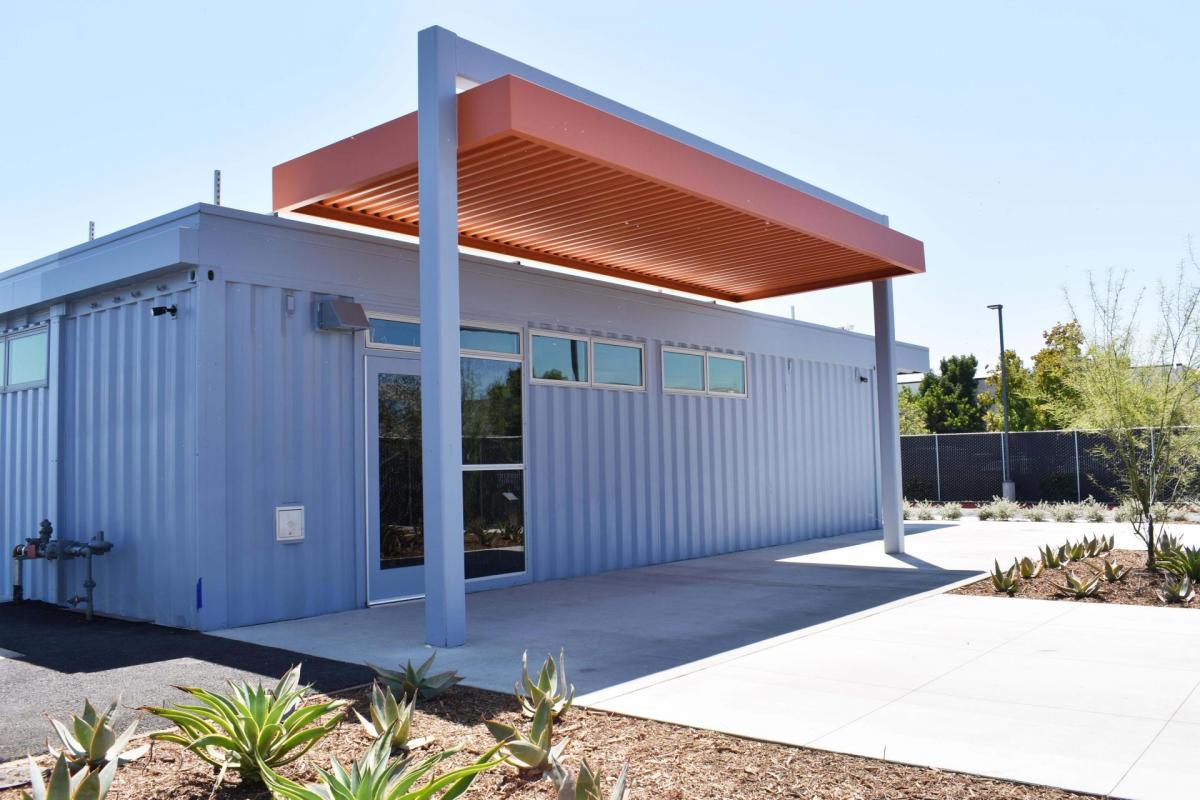 Opening the door to new possibilities
In July 2020, the 15,000-square-foot Buena Park Navigation Center proudly opened its doors to a limited number of clients due to COVID-19 protocols. Currently, the facility welcomes clients who are referred by local police departments and outreach workers from Buena Park and other nearby cities.
Mercy House, a third-party operator, manages the facility on behalf of the service area and works with KCS Health Center, a community health clinic, to provide medical services. Several local agencies, including the Buena Park Library District, local charities, and the surrounding community regularly donate items to the center.
"Providing individualized wraparound services to each resident is vital to the success of the center," said Mercy House CEO Larry Haynes. "Every person who enters the center has different needs and challenges. By developing a customized housing plan and needs assessment, staff can create a comprehensive road map for housing referrals and supportive services that will best help each client on their journey to a better life."
The center is already having a transformative effect on people's lives. One of the navigation center's first clients was Alan — not his real name. An Orange County native, Alan was homeless for three years while battling depression and physical disabilities before being referred to the Buena Park Navigation Center.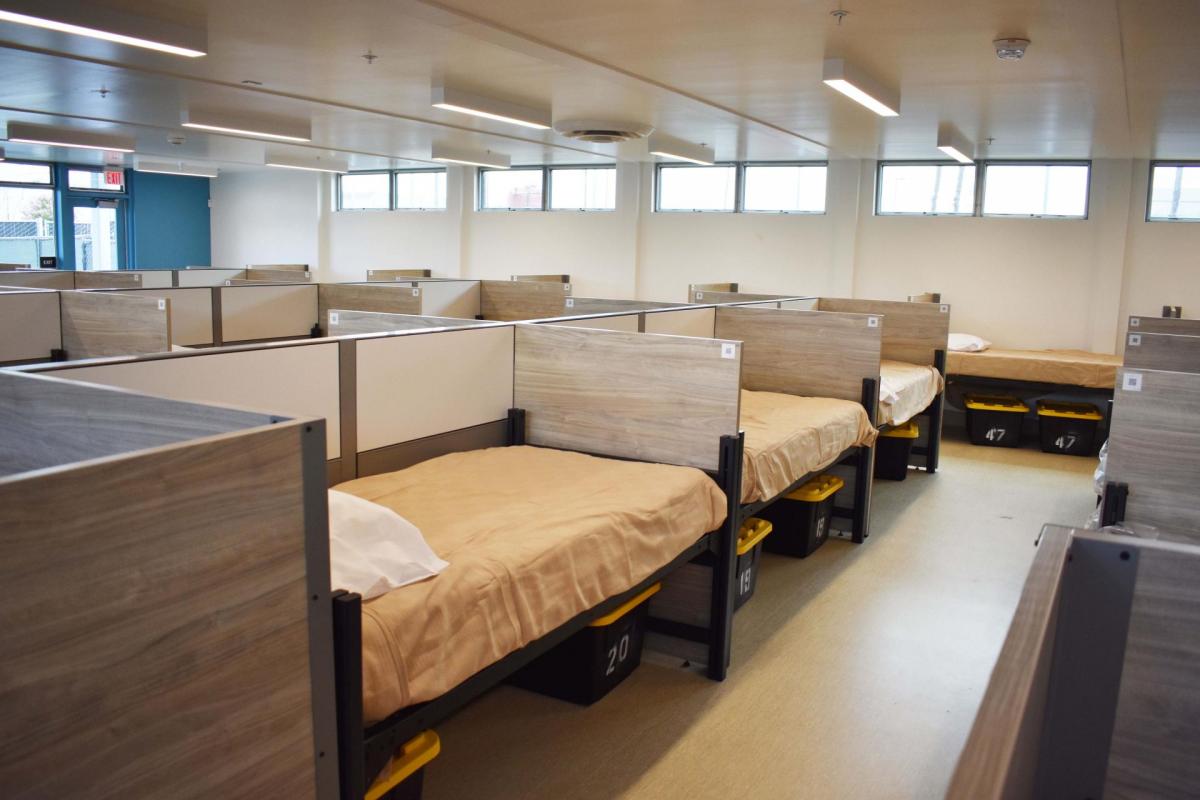 Once under the guidance of a skilled caseworker, Alan received comprehensive wraparound services, such as mental health care, and began receiving his Social Security Disability Insurance — his only source of income due to disabilities that limit employment. Today, he is renting a one-bedroom unit with limited assistance, something he could not have done without the support of a skilled caseworker from the center. Alan's story is one of many success stories that are a direct result of the navigation center.
To date, the Buena Park Navigation Center has assisted more than 450 people with wraparound services. Numerous clients like Alan have successfully moved into transitional and permanent housing. The success of the Buena Park Navigation Center demonstrates that a regional approach to a complex issue like homelessness is attainable with the right partnerships, communication, and resources.
"Taking a regional approach has been instrumental in overcoming the compromising factors involved in reducing homeless," said Buena Park City Mayor Sunny Park. "This methodology consolidates costs while serving one common goal: to help transition the less fortunate into permanent, supportive housing."
Eddie Fenton is the assistant city manager for the city of Buena Park. He can be reached at (714) 562-3513 or efenton@buenapark.com. Watch this brief video about the center.