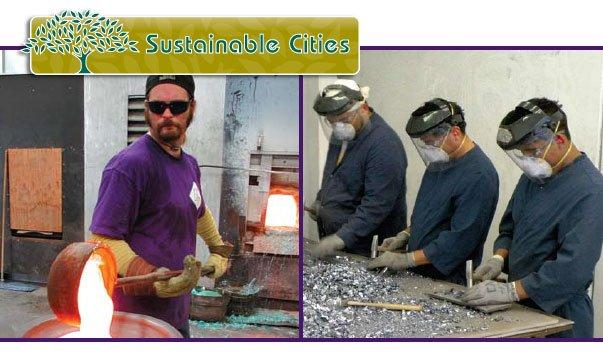 Building a Green Economy: The Recycled Market Development Zone Program Provides Help and Resources
Margo Reid Brown is chairperson of the California Integrated Waste Management Board (CIWMB), which is the state agency designated to oversee, manage and track the 92 million tons of waste generated each year in California. CIWMB promotes reducing waste whenever possible and protecting public health and safety and the environment. For more information, visit www.ciwmb.ca.gov.
---
A Chinese proverb advises, "Give a man a fish and you feed him for a day. Teach a man to fish and you feed him for a lifetime." At the heart of California's successful recycling industry is an innovative program drawn from similar inspiration and administered by the California Integrated Waste Management Board.
The Recycled Market Development Zone (RMDZ) program (online at www.ciwmb.ca.gov/RMDZ) offers manufacturers a helping hand rather than a handout by providing affordable loans and technical assistance that can help a manufacturing business through the challenging formative stages of developing new recycled-materials products. The end result is a thriving, ongoing commercial enterprise.
In California, recycling has evolved into a growth industry that rivals the size of the motion picture industry. More than 5,300 recycling-related companies are doing business in the state. They employ more than 85,000 people, account for $4 billion in wages and salaries and generate $10 billion worth of goods and services annually.
Success Stories
The RMDZ program plays a key role for many businesses looking to expand.
One of these is Fire & Light Originals Inc. of Arcata, which turns recycled household glass into premium dinnerware and glassware. Fire & Light was formed in 1995 as a partnership between the Arcata Community Recycling Center and a group of investors who saw opportunities for creating higher value products and diverting about 170 tons of glass from landfills every year. Six years later, with the help of an $850,000 RMDZ loan, the company acquired a new facility, increased its manufacturing floor space more than tenfold and added 20 new jobs. Today, its elegant glassware is sold in specialty stores and galleries in all 50 states and overseas.
RMDZ loans often help fill the void when conventional business financing is hard to come by. Fire & Light co-founder John McClurg says the favorable loan rates offered through RMDZ gave his company more options for its expansion. "The lower interest rate allowed us to do some things we couldn't do through conventional financing," he explains.
Another company that has benefited from an RMDZ loan is ersol Silicon. Based in Camarillo, ersol Silicon processes fallout materials from the semi-conductor industry and recycles them for use in the solar industry. CEO Rob Bushman, who started out in recycling with his father in 1974, realized that these materials could be recycled and started washing them, but could not get them clean enough for the solar panel industry. Conventional banks were reluctant to approve a loan for such a novel business venture. However, a $1.6 million low-interest RMDZ loan allowed him to buy the equipment necessary to purify the material for solar buyers. Today, ersol Silicon is a recognized industry leader, and its products are in demand worldwide.
"The whole RMDZ program was helpful — lending me the money and believing in an idea and a concept that the banks and traditional lenders just didn't believe in," Bushman says. He calls the RMDZ loan "the turning point in my life and my business career."
Laying a Foundation for Success
The RMDZ program provides low-cost loans with payback periods ranging from five to 15 years, depending on how the loan will be used. Businesses have used RMDZ loans for site acquisition, working capital, machinery/equipment purchases and refinancing high-interest loans. Prohibited uses include research and development, hazardous waste cleanup, demonstration projects, matching funds for other California Integrated Waste Management Board grants, and payments to business owners/investors.
The RMDZ program also offers technical assistance with a variety of related tasks, such as developing a business plan, navigating the regulatory maze when establishing or expanding a manufacturing venture, redesigning a website to help attract new markets, and identifying reliable, ongoing sources of recycled materials.
The California Integrated Waste Management Board also helps these businesses by stimulating consumer demand for recycled-content products; it hosts a free RecycleStore website (online at www.ciwmb.ca.gov/RecycleStore) and offers a Recycled-Content Product Directory, which lists thousands of products available for sale.
Looney Bins, an award-winning and rapidly growing construction and demolition debris waste-hauling and recycling company in Los Angeles, credits support from RMDZ for its early growth and ongoing success. The company was founded in 1986 and carved out a niche in the recycling industry by contracting with Hollywood studios to deconstruct movie lot sets, finding new uses for the lumber, cardboard, metal, plastic and other salvageable components. It was acquired last summer by Waste Management Inc.
RMDZ issued its first loan to Looney Bins in 1999 for $500,000 to purchase equipment and provide working capital. This enabled the company to begin grinding wood and drywall into mulch. In 2003, Looney Bins used an additional RMDZ loan to finance a new business venture, Downtown Diversion, which recycles construction and demolition debris. By 2006, Downtown Diversion had become the nation's top recycler of construction and demolition debris, diverting as much as 50,000 tons of materials away from California landfills annually.
Turning Trash Into Cash
The success of companies like these exemplifies the notion of turning trash into cash, which is the RMDZ program's goal and a central component of the campaign to recycle more waste and foster sustainable markets.
The Earthworm Soil Factory's wiggly workers munch their way through discarded food and garden waste — material that otherwise would have ended up in a Butte County landfill — and turn ordinary soil into a rich, nutrient-loaded product that is sold to nurseries, landscaping companies, organic farmers and consumers.
Conventional banks were hesitant to back owner Larry Royal's venture in 2003, but a $300,000 low-interest loan from RMDZ helped turn a business plan into a green business trailblazer.
"I didn't go to RMDZ at first because I thought it was going to be a really bureaucratic government process," says Royal. "But the staff at RMDZ, as well as my zone administrator, made things easy for me. They helped us set up meetings, coordinate with the county and prepare for hearings about land-use issues." He adds, "Without RMDZ my business wouldn't be here."
Program's Economic Impact Is Broad and Lasting
In fall 2008, the RMDZ program topped the $100 million mark in loans approved since its inception 15 years earlier. The RMDZ program offers business support as part of its ongoing effort to make California the national leader in sustainability and waste reduction. Recycled-content businesses that have received loans and technical assistance from RMDZ annually divert about 7 million tons of solid waste that otherwise would be headed to California landfills; they've also added 8,800 new jobs to the state's work force.
Local contact with manufacturing businesses is the cornerstone of the RMDZ program's success. RMDZ zone administrators generally are employed in the public works or economic development offices at the city or county level. They work to attract new and expanding manufacturing businesses to their regions by offering an array of incentives, which can range from less stringent building codes and zoning laws to streamlined permit review processes and reduced taxes and license fees. The payoff for local governments comes in the form of new or expanding businesses that create jobs, conserve natural resources and generate tax revenue.
For More Information
Local agencies interested in learning more about how the RMDZ program can help businesses in their area can find more detailed information online at www.ciwmb.ca.gov/RMDZ/ZoneAdmin and www.ciwmb.ca.gov/RMDZ/EconDevelop.
---
This article appears in the May 2009 issue of Western City
Did you like what you read here? Subscribe to Western City
---