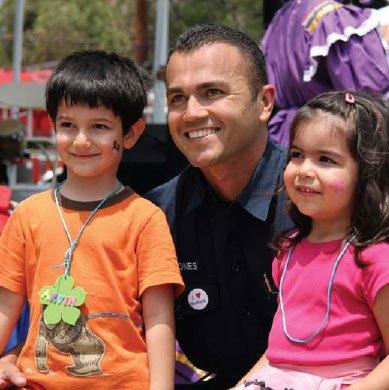 Burbank Helps Residents Connect With Their Community
The City of Burbank won the Award for Excellence in the Enhancing Public Trust, Ethics and Community Involvement category of the 2009 Helen Putnam Award for Excellence program. For more information about the program, visit www.cacities.org/helenputnam.
---
Located in the San Fernando Valley, the City of Burbank (pop. 108,082) is a municipality with a small-town feel. But in the mid-1990s, the city's Elmwood neighborhood was one of its most problematic areas and a prime example of an underserved pocket of the community. Gang activity and physical deterioration created a dangerous environment with a noticeable imbalance in quality-of-life standards compared to the rest of the city.
Burbank's Community Development Department identified this and four other distressed areas as "focus neighborhoods" that needed help. These five areas shared several characteristics, including higher densities, dilapidation and deferred maintenance, lower income levels, increased gang activity and higher crime rates, and limited resident access to key services such as parks, open space and community programs. In 1997, as part of an effort to address these problems, the city's Redevelopment Agency purchased and rehabilitated nine multifamily rental buildings on a cul-de-sac in the Elmwood neighborhood.
Creating Positive Change in Troubled Areas
The city partners with the Burbank Housing Corporation, a private nonprofit housing developer, to administer the operations of the neighborhoods' affordable housing units. During the early stages of revitalization, the focus neighborhoods' physical isolation and limited input from residents made it difficult to engage residents in the civic life of their community. Language barriers and culturally based distrust of government also added to the complexity of neighborhood issues.
In 2004, the Community Development Department created a community resources coordinator position with the goal of connecting residents to available resources and developing educational opportunities in focus neighborhoods. A year later, the City of Burbank crafted a comprehensive outreach program called Connect With Your Community to address social equity issues. Spearheaded by the community resources coordinator, the program's goal is to build community in focus neighborhoods by facilitating partnerships, engaging residents and inspiring leadership through action.
Connect With Your Community coordinates annual outreach events that provide unique opportunities for elected officials, businesses, service clubs and nonprofits in Burbank's focus neighborhoods to share information and foster relationships with residents. Staff also brings community partners to neighborhood activity centers to present workshops on a variety of topics that range from parenting and health to financial literacy and English as a second language. The program publishes a quarterly bilingual newsletter as well, which highlights resources, programs and events.
"The Connect With Your Community program has allowed members of our congregation to put the mission of our church into action," says volunteer Robin Hatcher, outreach director for the Media City Church. "Events such as the Golden State BBQ, Earth Day and the Fall Festival allowed members of Media City Church to serve our community and interact with our neighbors. This program is a wonderful example of how cities can partner with different organizations to strengthen their community."
The Burbank City Council set a goal of increasing volunteerism, and in 2007 the city created an employee volunteer program titled CONNECT. The following year, CONNECT inspired 86 city employees to contribute more than 500 hours of service at focus neighborhood events and through other service opportunities. Despite a tough economic climate, 94 residents and business employees also invested more than 350 hours — not including a four-month volunteer and supply drive for the city's Winter Shelter Program. Financial support for Connect With Your Community programming comes primarily from Burbank businesses, service clubs and studios, which sponsor events and also donate funds and necessary items.
"Burbank is a city that believes in the power of partnerships," says Burbank City Manager Mike Flad. "Whether it's the physical improvement of our community or important social outreach like our Youth Employment Program and Connect With Your Community, we are enhancing the quality of life in neighborhoods throughout the city. We now have new platforms for change that impact our residents, employees and businesses in a way that uniquely inspires them to pay it forward for generations to come. Connect With Your Community has created valuable opportunities for all the people of Burbank to work together, use resources wisely and make a lasting difference."
The city partnered with the Burbank Unified School District and Leadership Burbank in 2008 and launched a grassroots Neighborhood Leadership Program to:
Make residents resource experts;
Increase neighborhood ownership; and
Inspire leadership by engaging residents to actively develop and promote community programs.
The first class of 12 adults from the focus neighborhoods and Burbank Adult School learned about topics including education, diversity, the environment and social responsibility. Program graduate Magda Sellon says, "My most rewarding experience as a volunteer for Connect With Your Community and a student in the Leadership Program was acquiring the priceless tools of resource information and community organizing. These programs are a great part of Burbank's core. Seeing the passion and dedication in people and their willingness to help the community was the best motivation for me to succeed in this program." She adds, "My commitment as a leader is to teach others about the experiences and resources that exist around us and that are available for everyone."
Jaime Keyser, community relations senior representative for the Walt Disney Company, serves as chairperson of Leadership Burbank. Keyser explains, "As chair of the Leadership Burbank Board of Directors, I was at the table for one of the very first planning sessions. To see the immediate success of the program and its impact on the class participants and community is more than anyone could have hoped for in Year One. I believe this program will continue to grow and flourish, and a new group of leaders will emerge and engage the community in a way that has never been done before."
Building Trust and Neighborhood Capacity
Connect With Your Community and its Burbank partners have engaged and strengthened once-isolated focus neighborhoods through outreach and education over a period of four years. Community trust is building as residents are increasingly involved in program efforts, provide meaningful input to community project designs and requirements, participate in formal dialogue about important equity issues, and experience the city's willingness to invest in much-needed infrastructure enhancements. Moreover, the Redevelopment Agency's actual money spent in the area of nonprofit facility partnership includes $1.3 million for the Boys & Girls Club of the East San Fernando Valley and $549,624 for the Family Service Agency of Burbank. The agency invested more than $1.5 million for the focus neighborhood activity centers and $5.7 million for two child care partnership projects with the Burbank Housing Corporation (BHC).
Since the city and BHC have established housing programs, activity centers and Connect With Your Community in the focus neighborhoods, a growing number of the participating youth are college bound. The city supports fundraising efforts for the Al Cottriel Scholarship, which is given to accomplished scholars in focus neighborhoods who wish to continue their education. This increase in college-bound youth is a key measure of success and a good indicator that building healthy communities is a long-term investment in the future. The real change in Burbank, however, is driven by focus neighborhood residents who have established a representative voice for their communities and now serve as examples to others. Ultimately, the goal is for residents to independently create, empower and sustain focus neighborhoods with the valuable tools and support they have acquired.
Contact: Gabriela Flores, deputy director of recreation services, City of Burbank; phone: (818) 238-5271; e-mail: GFlores@ci.burbank.ca.us.
---
This article appears in the December 2009 issue of Western City
Did you like what you read here? Subscribe to Western City
---