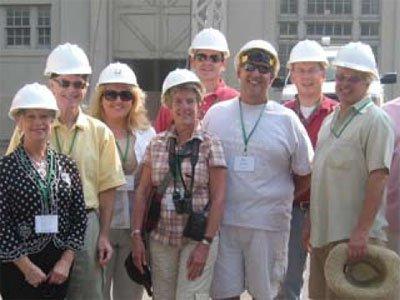 California Civic Leadership Institute Expands to Engage More Local Leaders
Samantha Caygill is public affairs program manager for the League and can be reached at scaygill@cacities.org.
---
Twenty-six local government elected officials from throughout the state graduated in 2011 from the California Civic Leadership InstituteSM (CCLI), an educational program sponsored by the League Partners and designed for local officials interested in running for the state Legislature.
The League established this program in 2005 when it became apparent that term limits had produced a lack of institutional knowledge in the Legislature. Now in its eighth year, CCLI gives local leaders an in-depth understanding of the critical and complex issues affecting the state, including water, transportation, energy and housing. The program includes sessions that explore the tools needed to succeed in the Legislature. It also provides a forum where California's rising leaders can connect and form lasting bonds.
"Legislators face numerous challenges throughout their careers, and it's our goal to help them get ahead of the curve. Our program delves into high-level policy issues and covers political realities that members would not otherwise be exposed to before entering office," says League Executive Director Chris McKenzie.
Program Expands to Larger Field of Potential Candidates
The League, working in conjunction with the leadership of the League Partners, expanded the program in 2011. Until then, CCLI was open only to elected city officials. Now CCLI welcomes all local government elected officials who are considering a state legislative run.
The Sacramento session in October 2011 comprised two days of educational programming led by some of the brightest minds in state politics. Participants engaged in discussions on the current political climate in Sacramento and the realities of serving in the Legislature. Participants heard from former Senate Republican leader Jim Brulte as well as Garry South, Susan Kennedy and Dan Schnur, who served as top advisors to former governors. Other speakers included Assembly Member Luis Alejo, former Assembly Members Anna Caballero and Roger Niello, Board of Equalization Member Betty Yee and former state Finance Director Mike Genest, along with a number of policy experts and lobbyists.
The Sacramento session followed a two-day session in July, when the class met at Southern California Edison's Big Creek hydroelectric facility and focused on substantive statewide issues such as water and energy. Former Assembly Member Fred Keeley kicked off the program with a discussion of governance issues in the state. Former Secretary of Natural Resources Lester Snow and Latino Water Coalition Director Mario Santoyo made presentations on water to the group.
In the eight years since its inception, 85 participants have graduated from CCLI, including Senator Alex Padilla and Assembly Members Fiona Ma and Curt Hagman.
For more information, contact Samantha Caygill, public affairs program manager; phone: (916) 658-8204; e-mail: scaygill@cacities.org.
---
Congratulations to the California Civic
Leadership InstituteSM Class of 2011
These local officials completed the California Civic Leadership InstituteSM program in 2011:
Mayor Pete Aguilar, Redlands;
Mayor Luis Ayala, Alhambra;
Mayor Richard Bloom, Santa Monica;
Vice Mayor Rob Bonta, Alameda;
Council Member Rick Bosetti, Redding;
Mayor Pro Tem Ling-Ling Chang, Diamond Bar;
Council Member Damon Connolly, San Rafael;
Council Member Ken Cooley, Rancho Cordova;
Mayor Jim Frazier, Oakley;
Mayor Laurie Gallian, Sonoma;
Mayor Carmelita Garcia, Pacific Grove;
Mayor Pro Tem Glenda Hill, Orange Cove;
Vice Mayor Mike Hudson, Suisun City;
Mayor Bill Jahn, Big Bear Lake;
Mayor Madeline Kellner, Novato;
Council Member Rob Klotz, Live Oak;
Mayor Randon Lane, Murrieta;
Council Member Marc Levine, San Rafael;
Council Member Scott Matas, Desert Hot Springs;
Vice Mayor Christopher Mateo, Lathrop;
Mayor Kevin Mullin, South San Francisco;
Board Trustee Mark Orozco, Beaumont Unified School District;
Former Council Member Lesa Rasmussen, Atwater;
Council Member Rudy Salas, Bakersfield;
Council Member Mike Van Winkle, Waterford; and
Mayor Gilbert Wong, Cupertino.
---
This article appears in the January 2012 issue of Western City
Did you like what you read here? Subscribe to Western City
---