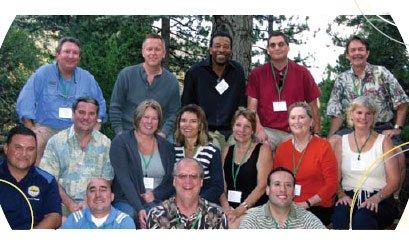 California Civic Leadership Institute Prepares Local Leaders With Legislative Aspirations
Samantha Caygill is public affairs program manager for the League and can be reached at scaygill@cacities.org.
---
Twenty-two city officials from throughout the state graduated in 2009 from the California Civic Leadership Institute (CCLI), an educational program sponsored by the League Partners for mayors and council members interested in running for the state Legislature.
Now in its fifth year, CCLI is designed to give local leaders an in-depth understanding of the critical and complex issues affecting the state, including water, transportation, energy and housing. CCLI's program includes sessions that explore the tools needed to succeed in the Legislature. CCLI also provides a forum where lasting bonds can be created among California's rising leaders.
In July 2009, participants attended CCLI sessions covering water, transportation and energy issues. Former Assembly Speaker Pro Tem Fred Keeley kicked off the session with a discussion in Fresno on governance issues and ideas for reform in the state. Participants also heard from transportation experts Steve Schnaidt of Schnaidt & Associates and Mark Watts of Smith, Watts & Company, who addressed California's transportation infrastructure needs. Water issues were discussed by Dee Zinke, external affairs and legislative services manager, Metropolitan Water District of Southern California, and Mario Santoyo, assistant general manager, Friant Water Authority. Hal Conklin, executive director of local public affairs for Southern California Edison, provided perspectives on energy and facilitated tours of the Big Creek hydroelectric facility.
The class convened again in August to learn more about the political climate in Sacramento and prospects for state governance and fiscal reform. Assembly Member Curt Hagman (R-60) and Assembly Member Anthony Portantino (D-44), both CCLI graduates and former local elected officials, discussed reform and politics with participants. Other speakers included former Senate Republican Leader Jim Brulte, former Assembly Speaker Bob Hertzberg and political consultants Garry South and Dan Schnur.
A total of 80 participants have graduated from CCLI since its inception in 2005. The League congratulates CCLI's Class of 2009:
Council Member John Allard, Roseville;
Vice Mayor Janet Arbuckle, Grass Valley;
City Clerk Carmen Avalos, South Gate;
Council Member Luis Ayala, Alhambra;
Vice Mayor Don Callison, American Canyon;
Mayor Pro Tem Angel Carrillo, Azusa;
Mayor Pro Tem Pat Gilbreath, Redlands;
Mayor Susan Gorin, Santa Rosa;
Council Member Erin Hannigan, Vallejo;
Mayor Roger Hernandez, West Covina;
Council Member Mike Ioakimedes, Benicia;
Council Member Yoriko Kishimoto, Palo Alto;
Vice Mayor Evan Low, Campbell;
Council Member Luis Marquez, Downey;
Council Member Doug McAllister, Murrieta;
Council Member Cliff Numark, Torrance;
Council Member Jacque Robinson, Pasadena;
Council Member Joanne Sanders, Sonoma;
Mayor Craig Vejvoda, Tulare;
Mayor Pro Tem Mitch Ward, Manhattan Beach;
Mayor Pro Tem Acquanetta Warren, Fontana; and
Council Member Michael Wilson, Vallejo.
For more information about CCLI, including how to nominate a city elected official for this year's program, contact Samantha Caygill, public affairs program manager for the League; phone: (916) 658-8204; e-mail: scaygill@cacities.org.
---
This article appears in the February 2010 issue of Western City
Did you like what you read here? Subscribe to Western City
---