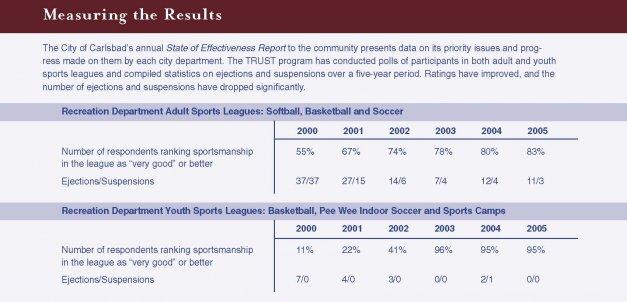 Carlsbad Makes Sportsmanship a Priority
Poor sportsmanship creates an unpleasant environment, impacts safety and results in huge declines in participation across many types of activities. In celebration of its mission to promote respect, unity, safety, enrichment, encouragement and teamwork, the City of Carlsbad's Recreation Department pioneered a local solution. The Teaching Respect, Unity and Sportsmanship through Teamwork (TRUST) program integrates the value of good sportsmanship at all levels — including city leadership, staff, parents, children and volunteers — through a comprehensive training and communications program that has significantly increased satisfaction among the participants.
Taking Proactive Steps to Meet a Universal Challenge
In 1999, the Recreation Department committed to addressing key target issues, including creating safe places to gather for all who live, work and recreate in Carlsbad. Around the same time, the Parks and Recreation Commission expressed its concern about low levels of sportsmanship, negative attitudes and disruptive behavior witnessed nationwide. Nationally, poor sportsmanship has resulted in huge declines in participation, especially among kids. In fact, 70 percent of all youth drop out of organized sports by the age of 12 due to a bad experience.
The potential for physically and/or psychologically damaging violence was alarming.The serious incidents that were making headlines across the nation convinced recreation officials that they needed to become energetically proactive.
Setting the Standards
Through the TRUST program, Carlsbad's Recreation Department developed a set of community expectations that "require its staff, participants, spectators and neighbors to recognize the following expectations in order to maintain a healthy community:
We TRUST that you will maintain a safe and positive environment.
We TRUST that you will treat every individual with courtesy and respect.
We TRUST that you will honor the rules established for each activity.
We TRUST that you will demonstrate fair play and sportsmanship at all times."
A TRUST committee comprising programming staff across all divisions:
Committed to extending the program to sports and non-sports recreation activities;
Determined that the code of conduct would serve as the backbone of all activities in Carlsbad;
Added sportsmanship as a city goal, ensuring buy-in by the entire city organization;
Solicited corporate and community donations to support program promotion;
Created a TRUST logo that is displayed prominently at all city facilities; and
Emblazoned the TRUST logo on items given to participants who demonstrate a high level of sportsmanship as an incentive and reward.
The department then partnered with the National Alliance for Youth Sports to create a training foundation for TRUST. After completing extensive training, staff conducted separate training seminars for coaches, officials and parents, each of whom must sign a code of conduct before the season begins. Anyone participating in any recreation program must also sign the code of conduct printed on every registration form.
TRUST is widely promoted in informational publications, city newsletters, the city's Community Services Guide, the annual Carlsbad Calendar, Community Update videos, Carlsbad Citizens' Academy and on the city website.
Results Beyond the Playing Field
To date, TRUST has reached 10,000 youths, 23,000 adults, 700 referees and 860 coaches. Statistics culled from the City of Carlsbad's annual State of Effectiveness Report show that approval ratings have greatly increased, and the number of problematic behaviors has decreased since 2001 when the TRUST program was implemented and expanded (see chart below). The jump in youth activities was monumental: Attendance increased, drop-offs decreased and positive perceptions doubled in the first year of implementation. In addition, approval ratings soared to 95 percent.
TRUST also offers an opportunity for teens to consider making critical changes in the direction of their life. In one successful example, a young basketball player had become extremely belligerent on the court, inciting her teammates to be disrespectful and causing games to be lost and parents to be frustrated. Since graduating from the TRUST program, this teenager has become a high school varsity basketball player with outstanding grades who plans to attend college.
Connecting Community, Place and Spirit Through TRUST
The Recreation Department-led TRUST program dovetails synergistically with Carlsbad's ongoing Connecting Community, Place and Spirit (CCPS) effort to envision and create a sustainable future for Carlsbad residents. The Carlsbad Parks and Recreation Commission, city council, city leadership team and the en-tire city organization are knowledgeable about and supportive of TRUST.
Awareness of the TRUST program has created a climate of camaraderie and civic pride. Residents say they are happy to live in a community that feels so strongly about preserving safety and promoting good sportsmanship, and to know that rude or aggressive conduct will never be tolerated in the City of Carlsbad in any way, at any level. One parent related, "I grew up playing soccer in Colombia and watching European matches. I saw sportsmanship at the professional level decline. It sets a bad example. This program [TRUST] sets a very good example."
We live in a time of sensationalism in which violence, real and contrived, is very often apparent on TV, in movies, newspapers and in video games and on our roadways. Unsportsmanlike behavior is distressing in youth sports; parents screaming at coaches, players and even their own children set a troubling example for kids who should be enjoying what is supposed to be a game.
To counteract this ominous trend, the TRUST program preserves safety and also instills a high level of decorum and decency among citizens. TRUST teaches people that having fun while participating in a friendly, non-violent way makes everyone a winner.
Contact: Sue Spickard, recreation services manager, City of Carlsbad Recreation Department; phone: (760) 434-2858; e-mail: sspic@ci.carlsbad.ca.us.
The City of Carlsbad won the Grand Prize in the Enhancing Public Trust, Ethics and Community Involvement category of the 2006 California Cities Helen Putnam Award for Excellence program. For more information about the awards program, visit www.cacities.org/helenputnam.
---
This article appears in the December 2006 issue of Western City
Did you like what you read here? Subscribe to Western City
---