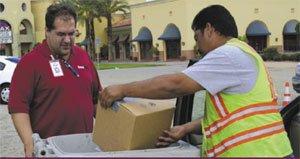 Cathedral City Launches "Stop Identity Theft" Program
Identity theft is one of the fastest growing crimes in the United States. According to the Federal Trade Commission (FTC), approximately 10 million people are victims of identity theft each year. Each victim spends an average of $1,500 and 175 hours to recover a portion of their losses.
Dumpster diving, picking pockets and invading homes are three ways that thieves steal personal and confidential information. Under SB 168 (Bowen), which took effect in 2002, citizens can freeze their credit reports so that thieves can no longer get loans or credit in the victim's name. However, according to the FTC, it takes approximately 12 months for a victim of identity theft to notice the crime. By that time, the victim has already incurred a devastating loss of finances and personal safety.
Preventive Measures Needed
Cathedral City, although safe and friendly, is a prime location for identity theft. As the third largest city in the Coachella Valley in population, retail sales and total taxable sales, it is an ideal location for expanding and relocating businesses. In addition, Cathedral City offers a peaceful lifestyle. As a result, retirees constitute a healthy portion of the population, and the city houses 10 senior communities. Unfortunately, small business owners, busy shoppers and seniors are very often the unsuspecting targets of identity thieves. Cathedral City recognized the need to take preventive measures to protect its residents from identity theft before the crime occurs.
City hall and the Police Department were already safeguarding their sensitive materials from identity theft through the services of a shredding company. The city staff asked ShredForce to host a pilot event where residents were encouraged to bring personal documents for shredding free of charge. The ShredForce truck, parked at a public lot, was filled within two hours. The overwhelming success of the event inspired the staff to create and administer the Stop Identity Theft program.
The main purpose of the program is to reduce the number of identity thefts in Cathedral City, with particular emphasis placed on the city's seniors. In the process, the city also diverts paper from the landfills by recycling shredded documents. The two main components of the program are document shredding events and distribution of identity theft educational materials.
Free On-Site Shredding
Twice a year, the city provides on-site shredding to all Cathedral City residents. Stationed at a parking lot near city hall, the shredding truck is parked in a highly accessible and convenient area. Any resident of the city can bring an unlimited number of documents, and there is no need to remove staples, paper clips or re-port covers. In fact, documents can even be shredded directly from file boxes. All shredding takes place on-site so residents can witness the process as it occurs. When the truck is full, the event ends. The service is free to all residents of Cathedral City, which covers the cost of advertising and the service fee for the ShredForce truck. To promote the event, the Environmental Conservation Department sends out postcards two to three weeks in advance.
Crime Prevention for Seniors
To further assist the senior population, once a year on a predetermined Monday, the shredding truck travels to each of the city's 10 senior communities. At each location, the truck is available for two hours.
In addition, a city council member personally donates free PVC pipe to seniors to secure windows and sliding doors against intruders. Informed of the instructions in advance by postcard, seniors bring the specific measurements of their windows and/or sliding doors to these events. Volunteers cut and distribute up to four pieces of PVC pipe per person. Because the truck travels to the seniors, the program is a convenient and hassle-free way to ensure the physical and emotional safety of seniors from burglary and home invasion.
Brochure Educates Residents
At every shredding event, a city-developed identity theft brochure is handed out to participants. Extremely detailed and well researched, this 10-page educational pamphlet explains how identity thieves obtain information through dumpster diving, skimming, stealing from homes and other methods. It provides step-by-step instructions on what to do if you become a victim of identity theft. Finally, it helps residents minimize their risks of identity theft by instructing them on measures they can take to safeguard personal information.
Community Responds Positively
More than 400 residents have attended the six shredding events to date. By the end of each event, shredding trucks have been filled to the top and in the process, more than 7,000 pounds of waste paper have been diverted from landfills and recycled for future use. Deanna Pressgrove, the environmental conservation manager, receives frequent calls from residents requesting the dates of upcoming shred-ding events. The enthusiasm and participation of the people of Cathedral City have been remarkable.
Because identity theft is a nationwide threat, the plan is easily transferable to other communities. Two local cities, Palm Springs and Indian Wells, now sponsor shredding events as well. Nationwide, cities can easily and economically adopt a similar system to deter identity theft and fraudulent crimes.
Stop Identity Theft is an extremely effective public safety and crime prevention program. Through action and education, individuals are empowered with the means to protect their personal and confidential information from falling into the hands of identity thieves. If one does fall victim, a detailed crisis response program is outlined. All aspects of identity theft are addressed in the program, from prevention to recovery. With ongoing diligence, Cathedral City residents can actively protect their privacy, finances and physical well-being.
Contact: Deanna Pressgrove, manager, Environmental Conservation Dept.; phone: (760) 770-0369; e-mail: dpressgrove@cathedralcity.gov.
---
This article appears in the October 2006 issue of Western City
Did you like what you read here? Subscribe to Western City
---