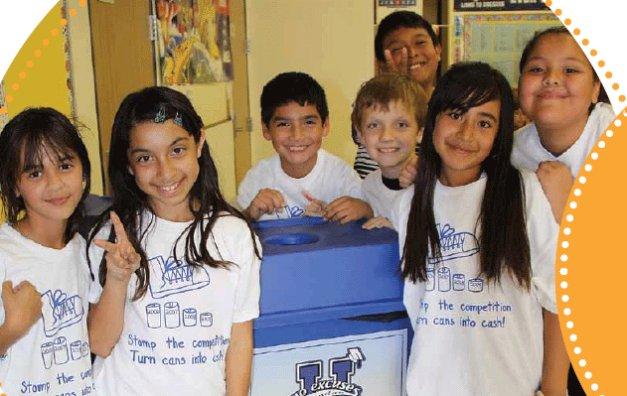 Cathedral City Partnership Program Focuses on Schools
Cathedral City won a Ruth Vreeland Award for Engaging Youth in City Government in the 2011 Helen Putnam Award for Excellence program. For more about the award program, visit www.HelenPutnam.org.
---
The Cathedral City Environmental Conservation Division (ECD) and Cathedral City Elementary Schools Partnership Program began with a series of activities focused on children's recycling and conservation projects in local neighborhoods. Today it has blossomed into a burgeoning element of the city's environmental and beautification program.
Located in Southern California's Coachella Valley, Cathedral City is home to a large number of outdoor enthusiasts. Most residents, ranging in age from young adults to retirees, share a passion for preserving the environment. For more than a decade, the ECD has been creating and implementing a variety of refuse and recycling programs. Local adults wholeheartedly participate in citywide recycling.
A community forum held in 2006 revealed that schoolchildren were tossing cans, bottles and trash on the ground on 30th Avenue next to the James Workman Middle School. Along this path and citywide, children were also stealing trash receptacles and vandalizing them with graffiti. "We needed to find a creative solution to raise awareness of the need to recycle and be responsible," says Brad Sauer, the school's principal.
Thus began the ECD and Cathedral City Elementary Schools Partnership Program. "In the past, we've found that when kids actively participate in a project they take pride in their work and are invested in the success of the program," says Deanna Pressgrove, environmental conservation manager for Cathedral City. One such project was the year 2000 revitalization of the Dinah Shore Bridge. Aided by the ECD and the nonprofit Student Creative Recycle Art Program (SCRAP) Gallery, Agua Caliente Elementary School students designed and created colorful panels to cover the bridge using recycled materials. The kids were thrilled to see their artwork displayed in the community.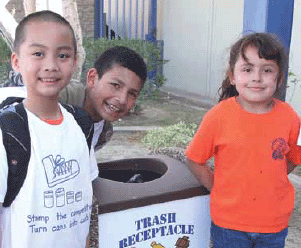 Building on Success
Based on the successful principles of the bridge project, the city developed a trash can decorating project to help discourage youth from littering and defacing garbage receptacles. Students draw pictures with environmental themes, including globes, trees and wildlife, that are placed on trash cans with slogans such as "A Clean Planet Is a Happy Planet." First implemented at the James Workman Middle School, this program has been extremely popular with schoolchildren. More than 100 of these decorated trash receptacles can be seen at city parks, squares and schools.
The trash can project's success inspired local kids and school administrators to seek help from the ECD to design an in-school recycling program run entirely by students. Recycling bins are provided, and kids separate their recyclable items into one of four bins. All Cathedral City elementary and middle schools now have a recycling program, launched with the 2010–11 school year.
Another partnership program that unites the ECD and local elementary schoolchildren is the Community Garden and Beautification Project, launched in 2010. Using recycled materials and paints, elementary students refurbish community buildings and revitalize neglected school gardens. Rio Vista Elementary School students were the first to beautify their garden using recycled materials to create tiles that adorn garden beds. New desert plants and recycled glass were added to the interior of the garden. The students named the project Crystal's Garden in honor of a schoolmate who was the victim of a fatal hit-and-run accident. The garden stands today as a symbol of the healing power of friendship and community.
Fostering a Passion for Community Service
"The Partnership Program brings youth and city government together to solve community issues," says Deanna Pressgrove. A few years ago, a car accident destroyed the Rio Vista Welcome sign and surrounding landscape. With help from SCRAP Gallery artists, Rio Vista students designed an orb-shaped bollard made from recycled tiles. By replacing the landscaping around the bollard and throughout the median with decomposed granite and recycled glass, the city saves an estimated 43,800 gallons of water and $3,120 in maintenance costs annually.
The ECD and Cathedral City Elementary Schools Partnership Program works to create a strong bond between city youth and local government. Through action and education, kids and teens can have a positive impact on the environment and develop a passion for community service.
Contact: Deanna Pressgrove, environmental conservation manager, Cathedral City; phone: (760) 770-0369; email: dpressgrove@cathedralcity.gov.
---
This article appears in the September 2012 issue of Western City
Did you like what you read here? Subscribe to Western City
---