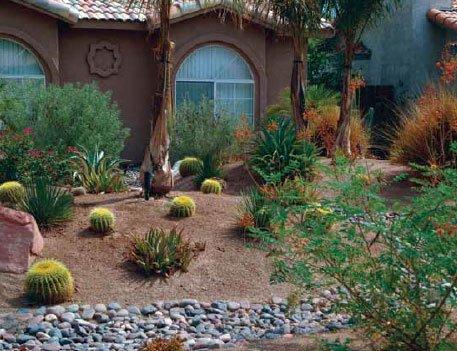 Cathedral City Takes a Smart Approach to Water
Cathedral City won the Award for Excellence in the Housing Programs and Innovations category of the 2011 Helen Putnam Award for Excellence program.
---
Cathedral City (pop. 52,841) is nestled in the heart of the Coachella Valley and named for nearby canyons that early explorers thought resembled cathedrals. The city encompasses a diverse group of residents ranging from young families and singles to empty nesters and retirees. Many residents consider biking, hiking and gardening integral to their Southern California lifestyle.
In the 1980s and 1990s, Cathedral City residents landscaped their lawns with lush green grass, vibrant plants and decorative shrubbery. By 2004, homeowners in Panorama, a neighborhood of 600 homes and one of the first housing developments in the city, were noticing problems with green waste and inefficient, excessive watering associated with home landscape maintenance. The homeowners were concerned about the environmental impact of these wasted resources.
First, city staff and local volunteers assessed some of the inherent problems with Panorama's homeowners' garden and lawn maintenance routines and water irrigation systems. Research revealed that in Coachella Valley's residential areas almost 25 percent of the water supply was being used for landscape watering. Many sprinkler systems in the Panorama neighborhood were deteriorating and in need of replacement or repair. These inefficient systems produced excess water that ran into the streets, resulting in nuisance water and cracked sidewalks and roads. In addition, homeowners were suffering from skyrocketing water bills and excessive costs associated with their lawn care.
Cathedral City devised an alternative landscaping plan in 2004 that alleviated the economic and financial strain of water-intensive landscaping. Spearheaded by the Environmental Conservation Division, the city created the WaterSmart Landscape Grant Program to help homeowners eliminate their thirsty landscaping and instead use a drought-tolerant xeriscape approach. Xeriscape replaces water-intensive grass varieties and plants with blue grama and buffalo grass as well as cacti, decorative stones and other attractive drought-tolerant plants and shrubbery. Another benefit of xeriscape is that it greatly reduces the initial creation and total volume of green waste.
The Panorama homeowners were the first participants in the pilot program. Since 2004, the program has expanded to encompass all residents and areas of Cathedral City. Interested parties are required to submit an application. Program participants must sign a contract with the city, submit receipts for materials as well as "before" and "after" photos of their landscaping projects, complete a survey for up to 14 months after program implementation and maintain xeriscape landscaping for 10 years after the initial planting season. If the applicant meets all the requirements, the city awards matching grants of up to $500 per recipient for converting traditional landscaping to xeriscape. The city uses appropriated environmental funds to finance the program.
One in three residents has shown interest in the WaterSmart Landscape Grant Program. The city council approved an annual budget of $30,000 for the program. Since 2004, the city has awarded $145,000 to residents who have converted their lawns. "I joined the program because I was concerned about wasting water, which is such a precious resource here in the desert," says longtime resident Pat Hammers.
Tremendous Savings in Water and Costs
Program participants are very enthusiastic about the attractiveness and low maintenance of their xeriscaping as well as the savings on water and supplies. According to the Coachella Valley Water District, a home with a grass yard uses 701,624 gallons of water and costs $600 per year. A lush yet water-efficient xeriscape uses 165,308 gallons of water and costs just $141 per year.
This program provides residents the opportunity to make a personal contribution to environmental preservation and water conservation. "It's a great way to protect our environment and save money at the same time," says Deanna Pressgrove, the city's environmental conservation manager. The city also benefits through a significant reduction in run-off and nuisance water, resulting in fewer costly street repairs and smoother, more attractive streets and roads.
Encouraged by the positive response to this environmental initiative, Cathedral City implemented the Smart Controller Program in partnership with the local water companies, the Desert Water Agency (DWA) and Coachella Valley Water District (CVWD). Smart controllers are irrigation devices that self-adjust to changing weather to reduce water use. Cathedral City, DWA and CVWD share the cost of the controllers and installation. There is no cost to the resident. Since the program was launched in April 2009, 171 controllers have been distributed, saving more than 1 million gallons of water in the city.
"These programs are wonderful examples of how our city staff and the community partner to address environmental and neighborhood issues," says Cathedral City Mayor Kathleen J. DeRosa.
Contact: Deanna Pressgrove, environmental conservation manager, Cathedral City; phone: (760) 770-0369; email: dpressgrove@cathedralcity.gov.
---
This article appears in the February 2012 issue of Western City
Did you like what you read here? Subscribe to Western City
---