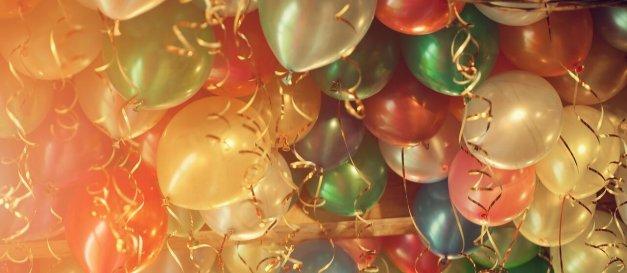 Celebrating 60 Years of Service to California's Local Governments
This year the Institute for Local Government (ILG) celebrates its 60th anniversary. The occasion offers a chance to reflect on ILG's history of promoting good government at the local level and look to its future in helping create opportunities and establish partnerships that support the work of local agencies throughout California.
Addressing Issues of Concern
The League founded ILG in 1955, with the support of a Ford Foundation grant, to promote inter-jurisdictional cooperation among local agencies. The idea was to create an organization, separate from League legislative advocacy activities, to conduct applied research and generate practical information that cities could use to improve local services or solve problems.
In the mid-1960s, as local agencies were beginning to recognize the need for cities and counties to cooperate on regional issues, ILG responded with its first publication offering a practical how-to guide on effective collaboration that included examples from the San Francisco Bay Area, Southern California and Maricopa County, Arizona.
ILG has addressed issues of concern for cities throughout its history. For example, during the gasoline crisis in the late 1970s and early 1980s, ILG published Local Contingency Planning for Gasoline Shortages. Following the passage of Proposition 13 in 1978, ILG focused on public-private partnerships in a series of booklets and workshops. From 1965 to 2000, ILG produced more than 100 publications on urgent public policy issues.
Throughout its 60 years, ILG has been served by eight executive directors and a board of directors comprising dedicated local elected officials and community leaders. Over time, its programs and focus areas have evolved — from telecommunications, water issues and school curriculum in the 1980s and land use, ethics and fiscal issues in the 1990s to the current focus on collaboration, ethics, local government basics, public engagement and sustainable communities. But ILG's fundamental purpose has not changed: to promote good government at the local level by creating practical, impartial and easy-to-use resources for California communities.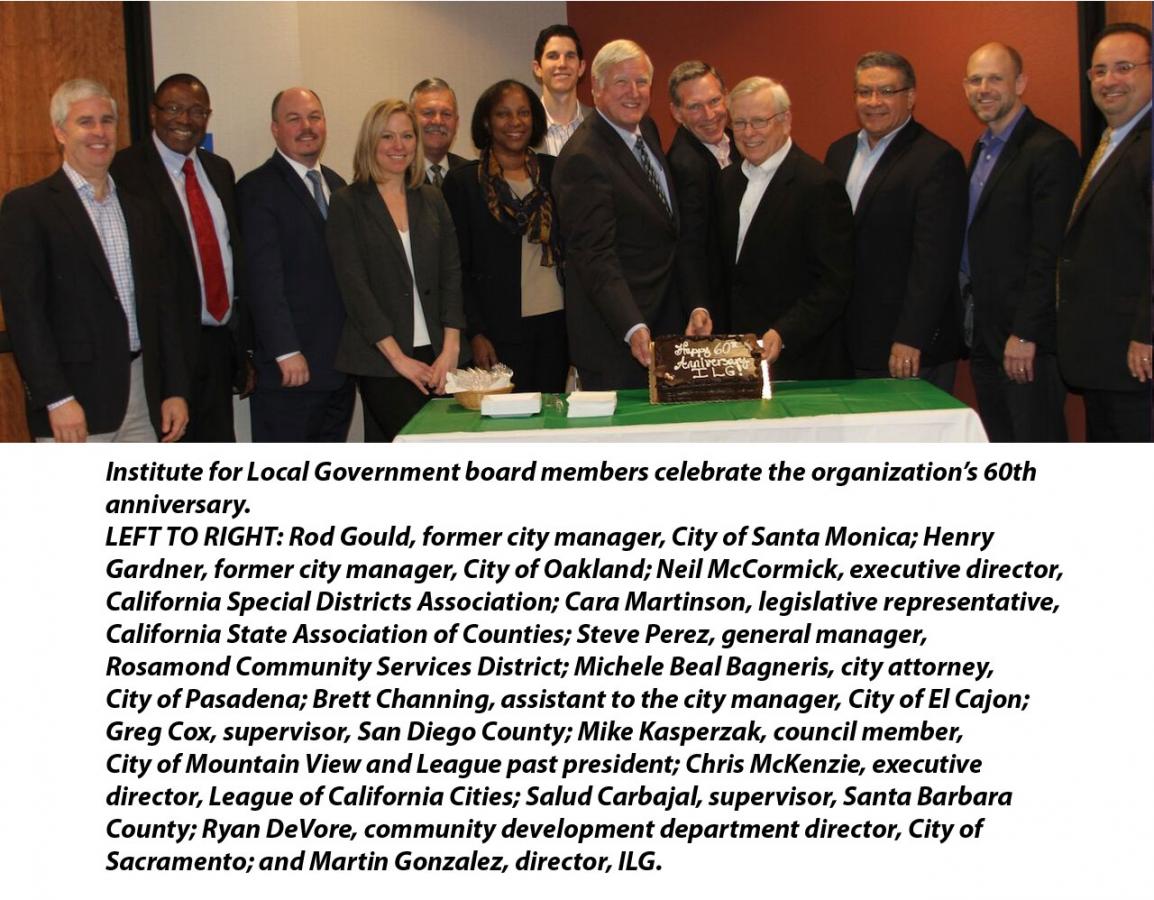 A Catalyst for Progress
ILG became an affiliate of the California Special Districts Association (CSDA) this year, complementing its ties with the League and the California State Association of Counties (CSAC), which affiliated with ILG in 2006.
The leaders of these three local government organizations came together at ILG's request in May 2015 to share priorities and discuss the current and emerging issues impacting cities, counties and special districts. This meeting set the groundwork for further collaboration in addressing today's communitywide challenges.
"The ILG team is dedicated to serving local governments throughout California," says ILG Director Martin Gonzalez. "ILG's relationship with the League, CSAC and CSDA helps us to better understand the critical issues facing local governments and provide tools, training and other resources to support them."
By creating opportunities for elected and appointed officials to discuss complex issues, ILG acts as a catalyst for progress. A 2015 ILG symposium titled "Advancing Climate Action, Sustainability and Community Well-Being" drew state and local leaders, including four cabinet secretaries. Symposium participants discussed a variety of topics, including how local governments and the state can work together to ensure that California communities benefit from the state's investment in cap and trade and the Greenhouse Gas Reduction Fund.
Local officials from communities participating in ILG's Beacon Program also joined the discussion. ILG created the Beacon Program in 2009 to mobilize cities and counties in addressing climate change by saving energy, implementing sustainability best practices and reducing greenhouse gas emissions. Currently 75 cities and counties, representing over 25 percent of the state's population, are engaged in the program. Eight regional organizations serve as champions to support and encourage the activities of cities and counties that participate in the Beacon Program or are considering doing so.
"ILG is in the unique position of being able to bring together representatives of different levels of government to discuss and address issues that impact all Californians — issues that are bigger than one city, one county or one special district," says League Executive Director Chris McKenzie.
ILG has expanded its Collaborations and Partnerships Program to help local governments work together more effectively to maximize human and financial resources and efficiently deliver services and support to children and families in California communities. The program now includes:
The Cities Counties Schools Partnership, which is dedicated to improving the conditions of children, families and communities at the local level by promoting and encouraging coordination, integration and increased efficiency of local services and joint facilities use among cities, counties and schools in all California communities; and
The California Summer Meal Coalition, a statewide network united to combat hunger and obesity by helping California's children in need access free, healthy meals through the USDA's summer nutrition programs.
Resources and Technical Assistance
In addition to fostering collaboration through discussions, resources and practical programs, ILG now offers technical assistance, using its resources and expertise, for local agencies statewide. Among other projects, ILG has worked with the City of Turlock on its civic engagement and education effort surrounding the transition from at-large to district elections and partnered with the Town of Paradise on a series of workshops soliciting public input from residents on a sales tax measure. Such projects allow ILG to deepen its understanding of local agencies' informational needs and the challenges that local officials are facing.
"ILG continues to be a great resource for cities throughout California," says Mike Kasperzak, a Mountain View City Council member and ILG board member. "Its work has expanded from the flagship ethics program to include resources and direct assistance to encourage inclusive public engagement and innovative programs that foster the development of sustainable cities and a culture of collaborative governance."
Looking Ahead
As ILG embarks on new endeavors it remains committed to a foundation of promoting good government at the local level and generating practical information that local agencies can use to improve local services or solve problems.
"We look forward to continuing to work with and be a resource for local governments in California for years to come," says Gonzalez. "Together we can create vibrant and sustainable communities."
To learn more about ILG's work, visit www.ca-ilg.org.
---
Help Support the Institute for Local Government
The Institute for Local Government (ILG) relies on the generosity of individuals, organizations and businesses to continue its work of promoting good government at the local level and serving local governments and their communities. For more information on how to support the work of ILG, visit www.ca-ilg.org/donate.
---
Photo credit: Courtesy of the Institute for Local Government
---
This article appears in the August 2015 issue of Western City
Did you like what you read here? Subscribe to Western City
---