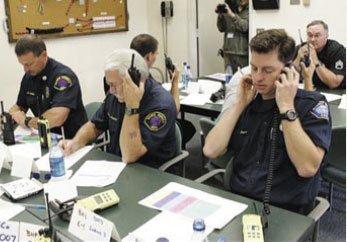 Cities of Los Angeles County Form Interagency Communications System
Before Sept.11, 2001, most public safety agencies lacked the resources to communicate directly with one another via radio. In some cases, even police officers and firefighters within the same city were unable to communicate over radio. Add the inability of public works crews to communicate with first responders, and the end result was a generally less-than-efficient emergency response.
The public safety communications systems of most cities in Los Angeles County still function as "islands." When police or fire personnel leave their home jurisdiction, radio contact with their dispatch center diminishes rapidly or disappears altogether, and they are unable to directly communicate with neighboring jurisdictions.
In 2001, several cities within Los Angeles County realized it was time to replace their aging, hard-to-maintain radio systems. Working together, they explored technical approaches that would not only provide them with a modern radio system but would permit interoperability as well. They agreed to replace their old systems with ultra-high frequency (UHF), mixed-mode (digital and analog), trunked radio systems. This technology was selected because it met the region's current and future communications needs and allowed a network to be created by interconnecting the individual city systems and sharing communications resources. By leveraging each city's radio infrastructure investment, an affordable and technologically advanced system that the cities could rely on was created.
Overcoming Challenges
In 2003, the Interagency Communications Interoperability System (ICIS) was formed. A regional joint powers authority (JPA), ICIS was established to build, manage and maintain an interoperable communications network. Current ICIS member cities include Beverly Hills, Bur-bank, Culver City, Glendale, Pomona and Montebello.
The construction and expansion of ICIS are the direct result of regional cooperation, intergovernmental relations and effective advocacy. ICIS member cities made a commitment to improving communications in the region and as a result, a number of challenges have been overcome.
Previously, agencies would make radio system replacement decisions independently, resulting in a patchwork of separate, incompatible systems. The JPA solved this problem by establishing a coalition of agencies that agreed to work together through an integrated system.
Obstacles to regional cooperation were also overcome as each of the cities and numerous private, county, state and federal partners worked jointly to implement the new system and facilitate construction of the radio infrastructure. Persuasive and successful advocacy for the project has resulted in support from the Los Angeles County Sheriff, Los Angeles Area Fire Chiefs, Los Angeles County Police Chiefs Association and state and federal elected representatives.
Because of the coordinated efforts of the ICIS cities, millions in grant funds were secured to expand ICIS. It received $500,000 in the FY 2005 Federal Appropriations Bill, and an additional $2 million was secured through the Urban Area Security Initiative grant program. As a result, the program has alleviated some of its financial constraints, making it possible for several radio system additions to get under way.
The JPA has expanded the number of system users and its infrastructure in the past couple of years. Successful collaboration and outreach efforts resulted in the addition of the newest ICIS member, Culver City, which joined in 2005. There are also a number of system subscribers, including the San Fernando Police Department, San Marino Police Department and Glendale Community College District. The County Department of Health Services is currently participating in a pilot project. And the Verdugo Communications System, which provides emergency dispatch services for 11 cities in the metropolitan area of Los Angeles and serves more than 800,000 residents, is also preparing to join the ICIS network. In addition, discussions have been initiated with the Bob Hope Airport Authority and other municipal and private agencies, while other cities and agencies have expressed interest and are in various states of becoming ICIS members or subscriber agencies.
Each city has appointed a city council member to serve as an ICIS liaison and participate in advocacy programs at the state and federal level. They also serve as ICIS ambassadors.
The JPA is managing an operational system. In three years, an interoperable network has been constructed, with more than 2,000 radios operating on the system in Burbank, Glendale and Pomona. Radio reception covers more than a third of the Los Angeles region. Other member cities will soon complete construction, and more than 7,000 radios will be operating on the system. Consequently, enhanced security will be provided to more than 1.5 million residents.
A Creative Solution to a Common Problem
The overall objective was to provide participating agencies with the benefits of wide area, interoperable communications infrastructure as economically as possible. Agencies participating in the system enjoy wide area coverage — at a much lower cost than if they'd gone it alone. By sharing each city's system, users are able to roam from system to system without user intervention or the expense of constructing additional infrastructure.
ICIS provides a fully interoperable communications platform, enabling local government to establish true 24-hour, "all hazards" multi-agency and multi-discipline capabilities for response, coordination and control of virtually any incident. Most importantly, ICIS demonstrates that through the use of innovative technology, effective advocacy, intergovernmental relations and regional cooperation, cities faced with a common problem can find creative solutions if they work together.
Contact: Don Wright, ICIS executive director, Glendale Fire Department; phone: (818) 548-6415; e-mail: DWright@ci.glendale.ca.us.
---
This article appears in the October 2006 issue of Western City
Did you like what you read here? Subscribe to Western City
---