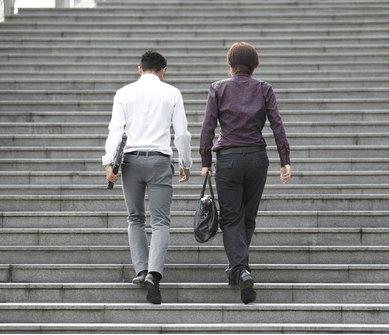 Cities for Workforce Health: New League Partner Program Helps Cities Build Wellness Culture
Charlotte Dickson is campaign director for the Healthy Eating Active Living (HEAL) Cities Campaign and can be reached at cd@publichealthadvocacy.org. Tim Crawford is vice president of marketing for Keenan & Associates and can be reached at TCrawford@Keenan.com.
---
Cities have limited options for reducing or moderating health-care cost trends using traditional underwriting, plan design or funding-contribution approaches. Instead, keeping costs down requires finding ways to improve workforce health through wellness and disease management programs.
The League Partner program launched a new initiative in January, called improve workforce health to support League cities in improving employee wellness. Cities for Workforce Health is a collaboration of Kaiser Permanente, Keenan & Associates and the Healthy Eating Active Living (HEAL) Cities Campaign.
According to studies published in the Harvard Business Review, employers investing in effective employee wellness programs experience a 3-to-1 return in both reduced medical and absenteeism costs. The Journal of Occupational and Environmental Medicine found that robust wellness programs improved employee health and productivity, with 37 percent fewer days of unplanned absences. The HEAL Cities Campaign staff asked more than 200 local officials in 2008 for their priorities related to addressing obesity and chronic disease. Employee wellness policies ranked among the top three priorities.
Key Components
Cities for Workforce Health is designed to help cities build a stronger wellness culture over time and engage their employees in healthier lifestyles. Tier 1 of the program, available free to all League member cities, provides online tools to help build a successful program. The online resources include:
Case-making content to get leadership buy-in;
Toolkits with step-by-step instructions on implementing a policy or a program and communicating with employees; and
Testimonials about successful programs.
Tiers 2 and 3 will be introduced in the next few months. These additional components will include a series of educational webinars and one-on-one engagement for select League cities that achieve the needed level of readiness. The Cities for Workforce Health program and the Partners Program Committee will offer five League cities each a $5,000 grant to use toward workforce health program implementation in 2013.
Cities throughout the state have already demonstrated that they can achieve employee wellness results and generate a positive return on the investment. They are designing and implementing worksite wellness programs to improve productivity and morale, decrease absenteeism and, in the long term, stabilize health-care costs. While their programs vary in complexity, depth of services and cost, they all have a commitment from their city council and city manager, a lead staff person and a mechanism for gathering employee feedback.
Examples of Successful Programs
The City of Mountain View initiated its wellness program after its health-care premiums doubled over a 10-year period. The city manager surveyed department managers and employees and secured a $40,000 grant from the YMCA of Silicon Valley to implement the program. The city council has since adopted policies establishing nutritional standards for food and beverages served in municipal settings, smoke-free areas in city parks and open spaces and a suicide prevention policy.
The City of Riverside introduced a wellness program in 2009 to address increases in health-care costs. Serving more than 2,000 employees, the program offers healthy living workshops and fitness activities. Preliminary data suggest that the program has decreased absenteeism and life insurance utilization. The American Heart Association recognized Riverside for its program in 2012.
The City of Thousand Oaks runs a substantive wellness program on a shoestring budget. A part-time management analyst coordinates nutrition and exercise classes, educational workshops on health and work-life balance topics, and a website. The program keeps costs down by inviting community partners such as the local hospital, YMCA and health-care providers to run the activities. Thousand Oaks has won the California Fit Business Award in multiple years.
How to Get Started
Cities for Workforce Health expands on lessons learned from these municipal wellness programs to help other cities throughout California achieve similar success. Visit www.cacities.org/CitiesForWorkforceHealth to find out how you can start promoting a healthier workforce in your city.
---
This article appears in the April 2013 issue of Western City
Did you like what you read here? Subscribe to Western City
---