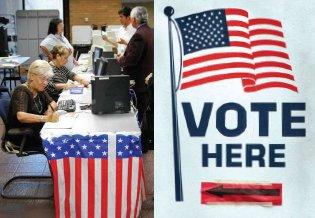 City Clerks Focus on Ethics and Elections
In August 2009, 47 city clerks gathered in Santa Clara to examine their role in promoting good government through their administration of the elections process. Topics included codes of ethics, campaign finance reform, ethics commissions and community- and voter-outreach programs.
The meeting was hosted by the City of Santa Clara and its City Clerk Rod Dir-idon Jr., who also serves as chair of the California Ethics Project. In partnership with local communities, city councils, city managers and the City Clerks Association of California, the California Ethics Project explores the city clerk's role in fostering codes of values and ethics and other good-government programs.
Attendees heard from nine speakers and participated in four sessions, two panel discussions and two group exercises. A unique element of the program featured information shared by professional political consultants.
City clerks, who also serve as elections officers, play an impartial role in election preparation and execution. In fact, impartiality is a core element of the International Institute of Municipal Clerks Code of Ethics (online at www.iimc.com/Member_Services/Ethical_Standards.shtml). Conversely, political consultants are inherently partial because their job is to get their clients elected.
"The California Ethics Summit presented a fantastic opportunity for city clerks to learn about the behind-the-scene workings of political campaigning," said Maureen Kane, who is the California institute director for the International Institute of Municipal Clerks and serves as executive director of Continuing Education for Public Officials, Inc., a nonprofit organization dedicated to leadership training for public service professionals. "This valuable information will help them advocate for ethical campaigns in the municipal election process," Kane added.
"The conversation was frank and engaging and the information truly enlightening," said Colleen Nicol, city clerk of Riverside and incoming president of the International Institute of City Clerks. "Participants left with practical application tools in hand that are perfect for immediate implementation in our communities," she added.
Clerks in 17 cities have committed to initiatives to advance ethics in their work. These cities include Atascadero, Beverly Hills, Elk Grove, Galt, Gilroy, Glendora, Huntington Beach, Los Altos, Los Gatos, Orinda, Riverbank, Riverside, Santa Clara, Santa Fe Springs, Stockton, Torrance and West Sacramento. Their efforts are supported by the California Ethics Project.
Diridon observed, "The unbiased nature of the city clerk/elections official is unique and provides a license to implement good-government programs in a manner that is beyond reproach." The California Ethics Project's goals are to engage city clerks in an effort to:
Foster Educated Voter Turnout — Help voters to become more savvy, make it easy for them to engage and provide the tools to make thoughtful judgments about candidates;
Bridge the Voter Gap — Increase voter turnout and overcome voter apathy by engaging people who have been traditionally left out of direct mail and political campaigns;
Build Public Trust and Involvement — Engage the public in government and elections that are open, fair and honest, thereby increasing community trust, pride and involvement;
Improve the Elections Process — Positively influence the public engagement, the caliber of debate and level of service at the municipal government level; and
Offer a Higher Level of Service — Provide an incentive for staff, commissioners, candidates and elected officials to serve at their best and hold themselves accountable to perform at a higher level.
Diridon added that the California Ethics Project (www.CaliforniaEthicsProject.org) is working to provide tools California's voters can use to more effectively evaluate candidates, raise the caliber of debate and increase their involvement in local democracy.
---
City Attorneys Reflect on Their Role In Preventing Questionable Conduct
The Municipal Law Institute of the League's City Attorneys Department recently focused on the role that government lawyers play in either enabling or preventing legally questionable conduct. The October 2009 program, a collaborative effort with the University of California Hastings Center for State and Local Government Law, assembled some of the country's leading thinkers on attorney professional responsibility. For more information, visit www.uchastings.edu/centers/state-local-gov/index.html/.
---
More on Ethics Codes
To learn more about codes of ethics and ethics in campaigning, see "Building Public Trust in Local Government" on page 3 and visit www.ca-ilg.org/ethicscodes.
---
This article appears in the December 2009 issue of Western City
Did you like what you read here? Subscribe to Western City
---