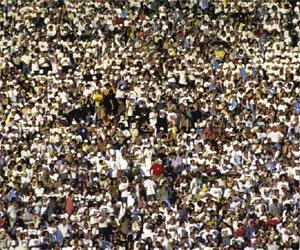 Community Service Providers: Plan Now — The Boomers Are Coming!
Richard James is director of community services for the City of Palo Alto and can be reached at Richard.James@CityofPaloAlto.org. Lisa Hendrickson of Avenidas Adult Services also contributed to this article and the original report for Palo Alto.
---
It's no secret that California is graying. Newspaper, television, government and scholarly reports tell us that the first wave of the Baby Boom generation is now entering into their retirement
years and we are on the threshold of a major shift in demographic characteristics. In the next
30 years, our state's "senior" population will double due to the sheer size of the Boomer group and — thanks to medical and health advancements — live longer than any previous generation.
The City of Palo Alto's Community Services Department recognized the importance of this demographic "tsunami" through research it was doing for a strategic planning effort. A number of questions arose during the process, including:
What will the impacts be to the city's community and social service delivery systems?
Does Palo Alto need to prepare for these impacts now, and if so, what do we need to prepare for?
Can Palo Alto be an "elder friendly" community?
These questions and others prompted a nine-month examination of the issue by a task force of city and nonprofit community and social service providers. The study was not intended to be scientific or scholarly. Instead, it was a surface exploration of the issues and a call to action proclaiming that now is the time to understand and plan for the inevitable.
What was discovered in many ways mirrors the national landscape. Boomers will live longer, be more active, have more money to spend and hold great political clout. Our future elder population model will not only be older; it will think differently than past generations. If anything, Boomers will be more socially and culturally diverse and engaged, live healthier lives, have increased mobility and be more independent.
Although much information has been disseminated on the demographics and characteristics of Boomers on a national and state scale, there is relatively little information describing the characteristics of Boomers in specific geographic areas. In order to gauge the needs and concerns of Palo Alto's Boomer population, two methods of collecting information were used. First a community visioning meeting was held, where residents of Boomer age were asked to participate in a two-hour, interactive discussion led by noted facilitator Diana Schlott. The public meeting was designed to give participants an opportunity to share their perspectives on aging in an open and engaging environment.
The second technique used to collect data was a survey, which was not of scientific design, but was meant to build upon and test the information gathered at the community visioning meeting. The survey was made available in hard copy and on the Internet. The survey was advertised to Boomers through newspapers, e-mail "blasts" and newsletters to the constituents of the participating task force organizations. Almost 400 completed surveys were received over a six-week period.
The survey asked a number of questions, but two of the most revealing were:
On what services do you currently depend? and
What new services are needed?
As shown in the chart at right, when asked to look at their lifestyle needs today and begin to project their needs into the near-term future, four themes were clear priorities for Boomers. The data suggest that Boomers are presently engaged in and will continue to find a priority in leisure activities, health and fitness activities, parks and recreation facilities, and lifelong learning and library-based services. This does not come as a surprise; Boomers are individualistic, look for new experiences and want to be fit and healthy enough to experience them.
In asking the question, "What services will be required to allow you to age well?" participants were compelled to think about their future. Here the mindset is indeed different than the pronounced themes from the previous question. Instead of education and socializing being a top priority, when Boomers contemplate the idea of "getting old" they are more interested in better forms of transportation and staying healthy. Many consider the ability to drive as the last vestige of independence, and the survey confirms that Boomers want to continue their independence, car or no car. The survey also implies that the need for more health and fitness programs, continued opportunities for socialization and education, and the ability to age in their own homes are priorities for this population.
Another significant finding unearthed by the survey was that 80 percent of Palo Alto's Boomers plan to stay in Palo Alto through their retirement years. If true, given the fact that Palo Alto is generally considered residentially "built-out," in the next 20 years the older adult population will outpace all other demographic segments, creating a scenario where upward of 40 percent of Palo Alto's projected population of 68,000 will be 55 years of age or older.
Consequently, service delivery requirements will be greatly impacted, especially considering that the fastest growing segment of the population will be those age 85 and older (see chart on pages 52–53). Boomers will live longer and remain in their homes longer, and as they approach the "old-old" stage of life, the demand in programs will shift to supportive services such as in-home care, practical help, transportation alternatives and assisted living. As Boomers become elders, they will require an unprecedented level of support services, placing great demand on public and private community and social service providers.
Although a great deal of information came from the study, the key findings were:
Boomers want to live independently as they age, and the concept of a "senior friendly" environment, especially with regard to mobility, is paramount.
There is a deep desire to be engaged in community and social activities, including having a variety of learning opportunities.
Boomers want to stay involved, for either lifestyle or financial reasons, through volunteerism or continued part- or full-time employment.
Palo Alto Boomers want to remain physically and mentally active and healthy well into their elder years.
Boomers do not want to be pigeonholed into senior programs, but would like to pick and chose what they participate in without the boundaries of age.
Of course, with change comes opportunity. By all accounts, Boomers will possess the highest educational level of any past generation. As revealed through this and other surveys, they want to continue to work and volunteer in the community. With appropriate training and through creating policies and education to end age discrimination, harnessing this intellectual and skilled labor force could truly be beneficial not only for Palo Alto, but for all communities trying to fill the anticipated labor gap as Boomers head for retirement.
Where we go from here is up to each individual community, and over the next few years the government, nonprofit and business sectors will need to better understand and plan for the unique needs of this aging but vital generation. Palo Alto, along with all California communities, must begin to find answers soon because the inevitable and dramatic demographic changes are happening — now.
The full survey is available online at www.cityofpaloalto.org/community-services/documents/PA-Boomer-Study-102506.pdf.
---
This article appears in the April 2007 issue of Western City
Did you like what you read here? Subscribe to Western City
---