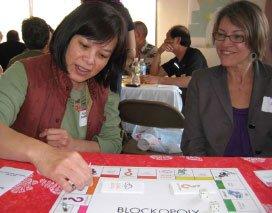 Cupertino Builds Community One Block at a Time
The City of Cupertino won the Award for Excellence for this project in the Enhancing Public Trust, Ethics and Community Involvement category of the 2010 Helen Putnam Award for Excellence program. For more about the awards program, visit www.cacities.org/helenputnam.
---
Cupertino has been a community of immigrants since the Spanish arrived in 1776. During the mid-1980s, European immigrants comprised 74 percent of this Silicon Valley city of 54,000. Today, Asians represent more than half the population. Though newcomers held the same core values — education, business opportunity and safe neighborhoods — as earlier immigrants, a challenge emerged. Long-time residents felt disconnected from and uncomfortable with the growing Asian population. Cupertino had to find a way to show residents how they could work together on issues of mutual concern.
Bringing People Together
Cupertino created the Block Leader Program in February 2002 to bridge cultural divides, provide easy access to city services and enlist residents as partners in public safety. The program returns responsibility for solving neighborhood problems to individuals and neighbors and develops active connections among residents so they can work together on common concerns, such as traffic, public safety and emergency preparedness.
Cupertino's block leaders serve not only as the voices of their neighbors but also as a channel through which the city communicates, plans and works with neighborhoods. By organizing at the block level, neighbors quickly discover what they have in common and learn to depend on each other to reduce crime and respond to emergencies. The city's relationship with block leaders functions as a platform for collaboration and civic engagement.
Cupertino conducts four trainings each year where block leaders learn about programs and strategies to acquaint neighbors and strengthen relationships. During these sessions, participants also train each other by exchanging success stories and organization tips.
Residents Accept Responsibility for Each Other
Cross-cultural understanding plays a central role in this program. Experienced block leaders deliver presentations about how to communicate with neighbors from around the globe. These sessions provide quick insights to cultural practices and help participants become more sensitive to cultural differences. Identifying shared values, such as education and safety, that transcend these differences leads to acceptance and mutual respect.
Cupertino uses the program to target municipal information in a focused manner. Block leaders are the first people notified of street closures, development activities and building permits issued in their neighborhoods, and then they tell their neighbors. This process has paved the way for block leaders to have improved access to city services and meetings with staff to tackle neighborhood issues.
City staff facilitates, manages and organizes the Block Leader Program with an operating budget of just $81,000. This low-cost investment has significantly enhanced Cupertino's problem-solving capacity. Among its successes, the city is now called upon to respond to more crucial service needs rather than neighbors' lifestyle differences. In an emergency, Cupertino can rely on block leaders to communicate with neighbors who will serve as first responders when other government resources are overwhelmed.
Block leaders determine the activities and number of homes to coordinate. They develop rosters, organize block parties, plan Neighborhood Watch meetings, facilitate discussions on shared interests and spearhead beautification projects. The city supplies them with binders and CDs and also uses its website to share sample materials, articles and tips on cross-cultural communication and neighborhood organization. Much of the material was written by block leaders.
Building Community Benefits
Twenty-seven residents attended the first block leader training. Today, nearly 350 Cupertino residents volunteer as block leaders. A related benefit is reflected by the increased Neighborhood Watch participation, which soared from 16 groups in 2002 to more than 200 in 2010.
Block leaders played a critical role in Cupertino's first citywide earthquake exercise in October 2009. More than 70 block leaders reached 52 percent of 7,700 homes during the drill. Cupertino's diverse block leaders also replaced the city's contracted services for mandatory cultural sensitivity training for employees. This change saved money and generated richer learning experiences for city staff.
In a recent independent survey of voters, 94 percent said they were satisfied or extremely satisfied with city services, with 70 percent saying they were extremely satisfied. "This can only happen when residents see themselves as partners in delivering city services, such as the Block Leader Program," says City Manager David Knapp.
The Block Leader Program has been replicated in neighboring jurisdictions and its materials shared with cities throughout the nation.
Lessons Learned
Support from the city manager underpins the program's success. Block leaders are encouraged when senior staff and council attend neighborhood events and validate their time and participation. The city continually seeks feedback from block leaders to improve the program. "Our neighbors know each other better now through block parties and emergency preparedness. We also know nearby blocks better," says Block Leader Kathy Liu. Richard Whittington, who also serves as a block leader, echoes this observation and adds, "On my block, we are much closer than ever before. We have had four or five get-togethers in the last couple of years."
Cupertino has learned that nurturing relationships with block leaders makes program growth possible, enhances core municipal services and empowers citizens to improve the quality of life in their neighborhoods. An effective Block Leader Program increases the city staff's ability to interact positively with residents. It also creates opportunities for residents to obtain needed services for their neighborhoods. The more diverse the neighborhood, the more important these two elements are to successfully building civic engagement. Ultimately, Cupertino has learned that it is possible to build community and increase public safety in an environment of profound change.
Contact: Laura Domondon Lee, community relations coordinator, City Manager's Office, Cupertino; phone: (408) 777-3331; e-mail: laural@cupertino.org.
---
This article appears in the December 2010 issue of Western City
Did you like what you read here? Subscribe to Western City
---