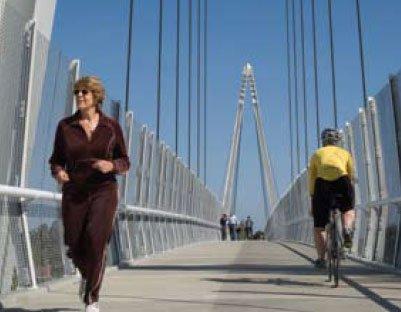 Cupertino's New Bridge Is Infrastructure, Art — and Affordable
The City of Cupertino won the Award for Excellence for this project in the Public Works, Infrastructure and Transportation category of the 2009 Helen Putnam Award program. For more about the award program, visit www.cacities.org/helenputnam.
---
The Mary Avenue Bicycle Footbridge offers an outstanding example of how city and county leaders used innovative thinking to solve what appeared to be an insurmountable budget shortfall on a proposed public works project.
The bridge was conceived more than a decade ago when then-Cupertino City Council Member Don Burnett started talking to residents about his vision of a bicycle master plan to create a countywide network of bike paths. As part of the network, Burnett envisioned a bridge for bicyclists and pedestrians that would join the cities of Sunnyvale and Cupertino and also communicate Silicon Valley's commitment to alternative transportation. The bridge was to be an icon, and with that in mind, the work of rallying community support and securing funds began.
What started with one man's vision became a seven-year process that united the county. During that time, numerous cycling and pedestrian enthusiasts worked together with area schools and others. They spoke at meetings of the city councils of Sunnyvale and Cupertino, the Valley Transportation Authority (VTA) and Caltrans to present the need for the bridge and their support for its construction. Building the Mary Avenue Bicycle Footbridge would close a critical gap in Santa Clara County's bike path network, completing two cross-county bicycle corridors and serving as an entryway to the area's expansive trail network.
The city set aside some money for the project from available funds. Dolly Sandoval, who was a member of both the Cupertino City Council and VTA, worked hard to convince the VTA to provide funding for the project. Initially, the VTA committed $7 million to the project. Bridge supporters were energized and ready to realize their dream — until the low bid came in at nearly twice the allotted budget.
Closing the Funding Gap
Overcoming the shortfall required determination, perseverance, talent, leadership and passion. City staff and consultants went to work on value-engineering the existing design for a concrete structure. After a month, they were unable to shave even $1 million from the project, but they noticed something important: The concrete-form work alone cost more than $1 million.
The team raised the question of whether the bridge should be built of steel. Two issues were paramount: First, could the bridge be redesigned for significant cost savings in less then three months to meet funding requirements? And second, would Caltrans accept a steel bridge?
Before launching the redesign, the team conducted some research to ensure that a steel bridge made sense for the project. Cupertino City Architect Terry Greene recalls, "At that time, steel was hard to get; the mills were not producing. The structural engineer designed a bridge around the steel shapes that a lot of fabricators had sitting in their inventory and in their yards, which he knew would be available. We contacted steel suppliers to confirm what materials were in stock and explained that a project was under way to use those components." City staff also asked questions about the practical aspects of using steel, steel forming and welding technology and verified that the needed parts were available before proceeding.
The city then approached Caltrans to ensure that building with steel would be acceptable. Most bridges are built of concrete because its maintenance is less expensive. In a somewhat unusual arrangement, the City of Cupertino agreed to maintain the steel bridge from top to bottom, and Caltrans approved the new approach.
Taking a New Tack
After Caltrans gave the plan its OK, Cupertino Public Works Director Ralph Qualls and city staff consulted a transportation infrastructure firm with a proven track record in public works projects. Together, they concluded that a critical component of reducing the cost entailed minimizing the need for lane closures on the interstate highway during construction. The team conceived a bridge design with a superstructure of pylons and towers. Each tower could be built in a single night and the superstructure completed in three nights, compared with a cast-in-place concrete structure that would take months.
For the next six weeks, the private firm worked on redesigning the bridge, with guidance from Cupertinoand the VTA. Dolly Sandoval describes the process, saying, "A six-week turnaround! Some people think government works at a snail's pace, but this shows it can make things happen." Cupertino City Council Member Orrin Mahoney notes that the bridge would not have been possible without the tenacity and expertise of city and VTA staff.
The result was phenomenal. Five second-round bids came in under the engineer's estimate, with a low bid of $7.3 million, which meant savings of more than $6 million for the City of Cupertino.
Six months after the project was thought to be dead, construction commenced. The Mary Avenue Bicycle Footbridge opened on April 30, 2009, to a crowd of more than 1,000 cyclists and pedestrians. Surrounded by 12 acres of non-irrigated, drought-tolerant landscaping and native oak trees, this unique bridge has an entry plaza at each end. The plazas create a transition space where kids can play and residents visit with each other or simply admire the bridge, whose elegant lines make it a piece of public art.
The project team proved that aesthetics don't have to be sacrificed to create economically viable construction projects. "The Mary Avenue Bicycle Footbridge is a signature piece. I like to think of it as the second-most recognizable bridge in the Bay Area," says Dave Knapp, Cupertino city manager and avid cyclist.
Contact: Ralph A. Qualls Jr., director of public works, City of Cupertino; phone: (408) 777-3354; e-mail: ralphq@cupertino.org.
---
This article appears in the February 2010 issue of Western City
Did you like what you read here? Subscribe to Western City
---