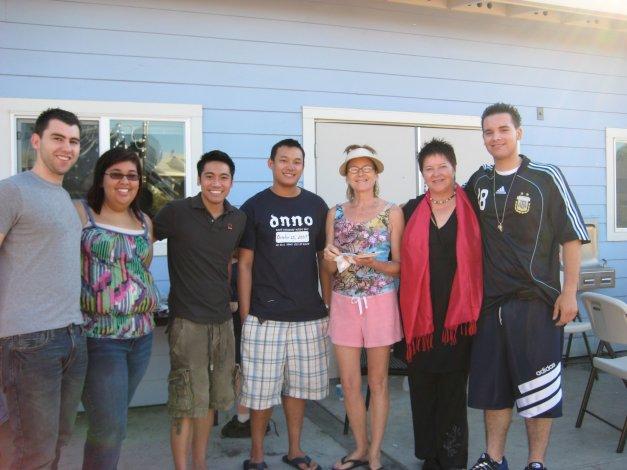 Davis Keeps the Peace With Neighbors Night Out
Gary Sandy is director of local government relations for the University of California, Davis, and a former mayor of Woodland. He can be reached at gasandy@ucdavis.edu.
---
With nearly half its population of 63,000 residents composed of university students between the ages of 18 and 21, the City of Davis routinely faces interesting challenges. Home to the University of California, Davis campus, the city is known for its thriving downtown, vibrant farmer's market and reliance on the bicycle as a primary mode of transportation. Davis also has a highly educated and civically engaged populace.
Over the past decade, the city's housing market has undergone a transition from traditional neighborhoods dominated by single family-owner/occupants to nearly 50 percent rentals. The ensuing annual turnover in housing as students enter or graduate from the university strained the bonds that often unite individual neighborhoods. The specter of parties, parking and noise and the difficulty of maintaining relationships with a transitory population contributed to neighborhood conflicts.
In 2006, city leaders decided to address the increasing spate of party and noise complaints. "We knew we had to find a way to celebrate our unique nature as a community and lay the groundwork for better relations between neighbors," said Davis Mayor Ruth Asmundson. "We thought if we could get people to talk and be familiar with their neighbors we could reduce reliance on city intervention as a means of mediating disputes."
As a result of those efforts and conversations among members of the Davis City Council, city staff and university staff and students, Davis Neighbors Night Out (DNNO) was born.
"The fundamental goal of DNNO is to promote neighborliness," Mayor Pro Tem Don Saylor said. "People need to know their neighbors and be able to resolve disputes amicably. It's become an important part of our community spirit."
In addition, creating an event that was affordable and that did not require large expenditures of either financial resources or staff time to organize was important. "Sustainability is a way of life in Davis both practically and philosophically," said City Manager Bill Emlen. "We knew that whatever event we created had to be sustainable over time. So we asked neighborhoods to organize and host potlucks as the primary focus of the event."
Equally important was creating a partnership to guide the evolution of the event. UC Davis and the Associated Students of UC Davis agreed to collaborate with the city, contributing financial support and volunteer hours. The team created publicity materials and put a page up on the city website for event logistics. The website enables residents to sign up online as party hosts. The city assists party hosts by creating and mailing the invitations.
The city also worked with local businesses to provide sponsorship incentives to encourage participation, including a gift card for every party host from the Davis Food Co-op for party supplies.
The first year, event organizers distributed publicity materials and sat back and waited. Sign-ups started slowly, but by the week of the event nearly 60 neighborhoods had agreed to host DNNO parties. A new Davis tradition had been launched. In 2008, nearly 90 parties were held throughout the city. Organizers expect the event to grow even larger this year.
"DNNO has been quite effective in creating an open environment in individual neighborhoods. Neighbors can link faces and names to houses and feel more comfortable in talking to their neighbors first if they have a problem," Mayor Asmundson said.
The parties also serve as effective outreach for the city. Each party host is given information on a range of city services and encouraged to hand them out to neighbors. In addition, members of the city council, executive city and university staff, the university chancellor and students are assigned to visit specific parties. City and campus representatives drop by, drink lemonade, eat a hotdog and thank attendees for taking part.
Nor does the outreach end there. Fire engines, police canine units, electric cars and Davis' trademark London double-decker buses also make the rounds, prompting delighted smiles from children and neighbors.
The visits by city and university officials also create an opportunity to debrief local residents on city and university services and to proactively identify potential problems.
"Questions are noted and followed up by the appropriate agency," said Stacey Winton, community partnership coordinator. "We make sure that all questions are answered."
Word has begun to spread to other college communities about the success of DNNO. The event has also won two separate awards from the California Association of Parks and Recreation Districts.
Each year the DNNO organizing committee surveys party hosts to troubleshoot problems and find ways to improve the event. "We take every criticism as a compliment," said Winton. "We listen and we learn. Citizen feedback and participation are invaluable."
This year's event is scheduled for October 11. More information is online at http://cityofdavis.org/neighbors.
---
This article appears in the September 2009 issue of Western City
Did you like what you read here? Subscribe to Western City
---