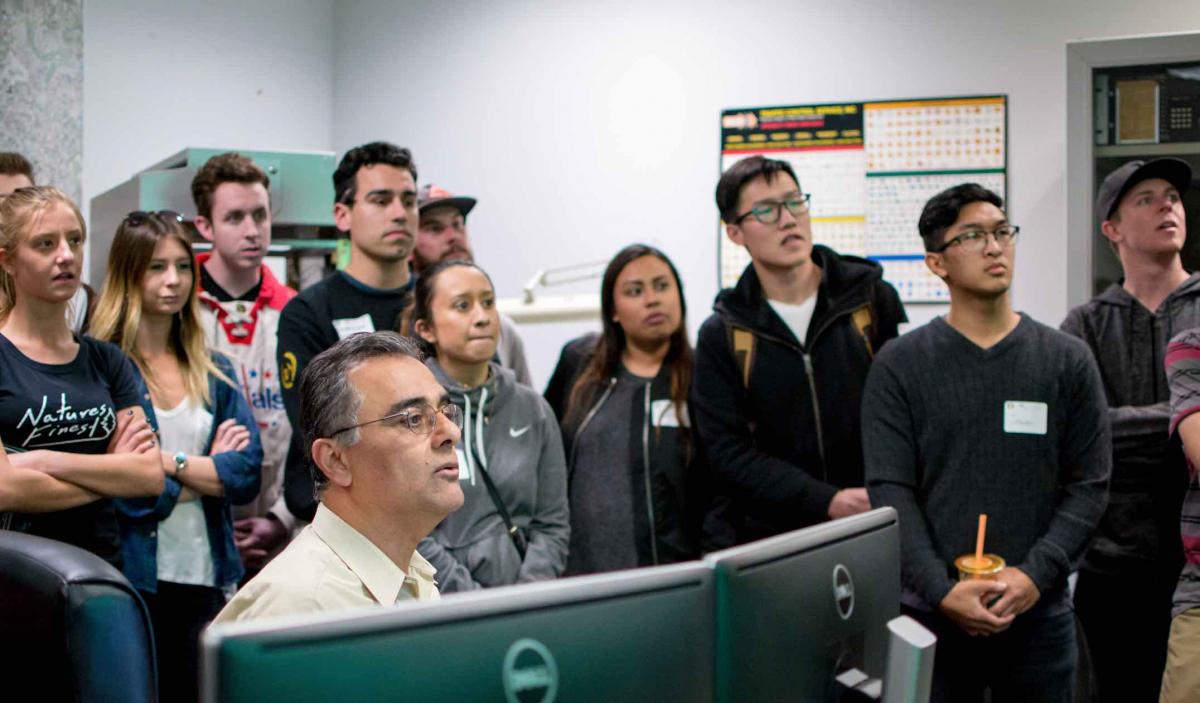 Democracy in Action: City and University Join Forces in San Marcos
---
Sarah Macdonald is communications officer for the City of San Marcos and can be reached at SMacdonald@san-marcos.net.
---
The City of San Marcos is one of San Diego County's fastest growing cities, and it is an educational hub generating a regional workforce.
"With world-class educational institutions and a skilled workforce, the city is a pipeline for regional talent and home to high-paying industries," says San Marcos Mayor Jim Desmond.
And thanks to a new collaboration with California State University San Marcos (CSUSM), the city has found a way to harvest some of that homegrown talent to better serve the public. The city and CSUSM recently joined forces to launch Democracy in Action, a pilot program in which college students spend a semester working on city projects using a hands-on approach.
"Some of the region's brightest minds are on that campus and right down the street from City Hall, so this partnership felt like a natural win-win," says the city's Economic Development Manager Tess Sangster, who helped oversee the effort.
University Students Pitch in on City Projects
During the first cycle of projects in spring 2017, about 100 students worked with city staff to tackle projects that included finding ways to curb unnecessary 911 calls, developing a marketing and sponsorship plan for a city-sponsored race, analyzing data to help reduce stormwater pollution and creating a promotional video about the city.
"Democracy in Action is designed to meet city needs while deepening the learning experience for students," says Elizabeth Matthews, CSUSM faculty director for civic learning. "The projects put our students' critical thinking and problem-solving skills to work to help address issues for our city partner. Our students demonstrate connecting academic knowledge to civic engagement while also expanding their own sense of civic identity and responsibility."
And in some cases, students also have an opportunity to demonstrate creativity. The city's communications staff witnessed this firsthand in the polished, professional-quality video that students produced, which has attracted more than 40,000 views on the city's Facebook page, making it a powerful marketing tool that resonates with residents.
Beyond these benefits to the community, students are learning how to connect with their local government — an overarching goal of the partnership.
"Graduating students leave with a deeper understanding of a how a local community works — and with that, they can influence outcomes down the road," says Scott Gross, CSUSM associate vice president of community engagement.
Democracy in Action was inspired by the University of Oregon's Sustainable City Year Program, which works in largely the same way but, as the name suggests, focuses on boosting sustainability. The Oregon program was so successful it evolved into the Educational Partnerships for Innovation in Communities Network (EPIC-N), an organization that supports collaborations among universities and government in an effort to help meet community needs while developing the future workforce. More than 25 EPIC-N programs operate throughout the United States and in Israel, along with ongoing efforts to make it a worldwide model.
Using the EPIC-N framework, CSUSM staff tailored the Democracy in Action program to focus more on civic engagement. Fostering more civic-minded graduates is especially important in San Marcos because many of them remain in the city well after graduation. About 80 percent of CSUSM alumni continue living in the region, compared with 60 percent of nearby California State University San Diego alumni who stay in the region. The same is true for only about 25 percent of University of California San Diego alumni.
"We wanted students to realize they can inform and impact their local government," Gross says. "They're not just sitting in a classroom talking about theories — they're actually putting their knowledge to work in a meaningful way."
Participation Builds Students' Skills and Confidence
"It was so great being able to work on a project that actually impacts people," says CSUSM student Kristina Kalchev, who worked as cinematographer and musical scorer on the promotional video. "I am proud to include the video in my reel. And the experience has made me more confident to work in the professional world; I feel ready for the workplace."
Kalchev, who plans to earn her graduate degree, says that as a San Marcos resident, she now appreciates more deeply what the local government staff does behind the scenes.
San Marcos Stormwater Program Manager Reed Thornberry also witnessed students "connecting the dots." He worked with students to curb the amount of trash flowing into local lakes, creeks and ponds. A large portion of that work involved analyzing street-sweeping data to map the most significant sources of litter. Thornberry also made a point of getting the students into the field.
"I wanted to take them beyond the data, so they could see what we really do," Thornberry says. "A lot of them live in San Marcos — some have even grown up in this city — but they've never explored our creek system. Once they were out there with me, they spotted bullfrogs, turtles and crawfish. They saw entire ecosystems thriving.
"After seeing the impacts of trash in our waterways, these students got a real sense of why they're worth protecting. I think that drove home the mission," Thornberry says, adding that this project will now help city staff meet new environmental guidelines from the state, further underscoring how this collaboration has real-world implications.
Economic Development, the Workforce Pipeline and Entrepreneurship
The students in this program will soon be part of the approximately 3,000 graduates CSUSM produces every year, which is why San Marcos has become a regional educational hub. About 10 percent of the region's total academic program completions occur in the city.
"San Marcos is fueling a workforce pipeline that will strengthen our region for generations to come," says San Marcos City Manager Jack Griffin. "Beyond that, our partnership with Cal State San Marcos underscores how we can collaborate to benefit our community, and we are proud of that."
In spring 2018, the city and CSUSM will begin the next round of Democracy in Action projects. One will focus on boosting volunteerism at the senior center, and another will explore how to attract more entrepreneurs.
Professor Eliza Bigham and human development research students will partner with the San Marcos Senior Center to research aspects such as volunteer intake processes and opportunities, program administration, economical volunteer software programs and more.
Another team of students will research how to support entrepreneurs through community systems and government policies. Using their research, students will propose activities, events, technologies, organizations and institutions that can help develop an attractive entrepreneurial environment for San Marcos.
"Economic development is a relatively new priority for the City of San Marcos. While we've made some great progress in recent years, I am eager to see what these students produce," Sangster says. "I have no doubt they will help our city take things up a notch and earn some meaningful experience in the process."
Partnership Offers a Model for Other Cities
Democracy in Action offers a model for cities in the region. The nearby City of Escondido is exploring a collaboration with CSUSM, and other cities have also expressed an interest.
This partnership demonstrates what is possible when local government and higher education institutions work together. The Democracy in Action partners are excited about inspiring similar efforts in other cities and hope to see many more partnerships like these.
---
To learn more about the Democracy in Action program, visit www.csusm.edu/community/civiclearning/democracyinaction.html or www.san-marcos.net/DemocracyInAction.
For more information about the EPIC Network, visit http://www.epicn.org/ or email epicn@epicn.org.
---
Photo credit: Courtesy of California State University San Marcos & the City of San Marcos.