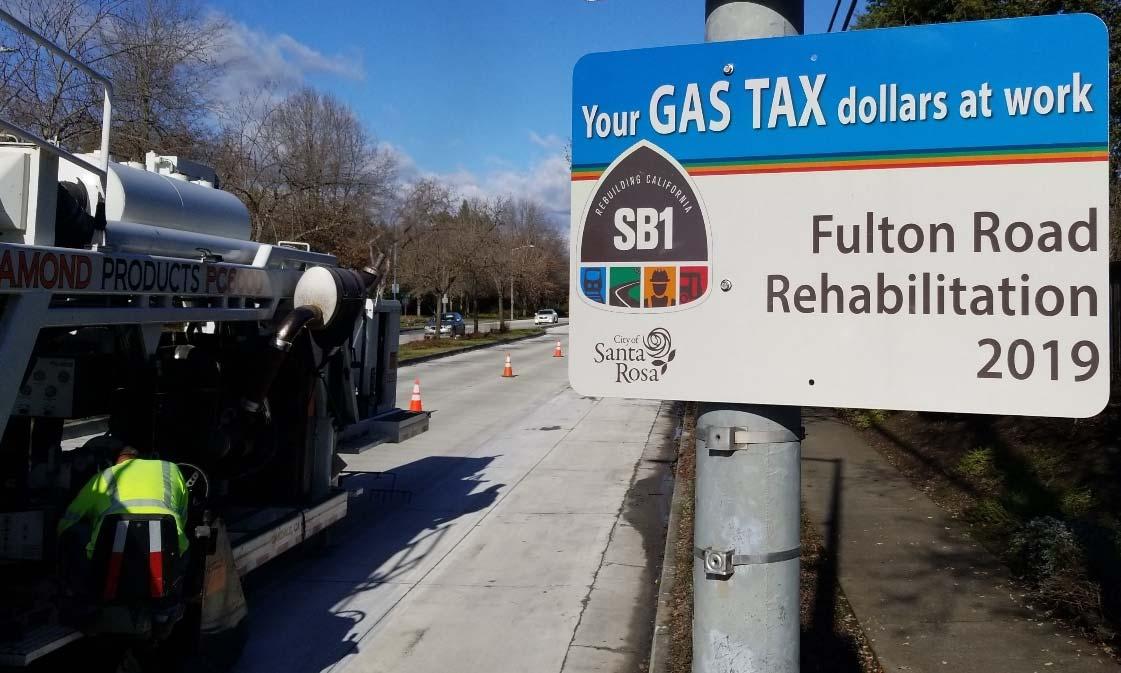 Despite pandemic-related challenges, California cities pave the way to award-winning infrastructure projects
Jill Oviatt is the director of communications and marketing at the League of California Cities and editor in chief of Western City magazine; she can be reached at joviatt@cacities.org.
---
Fulton Road is a major thoroughfare in the city of Santa Rosa where, remarkably, 25,000 vehicles travel each direction per day, and serves as an important evacuation route during emergencies. In the city of Oakland, Telegraph Avenue is filled with rich cultural and historical importance, and welcomes countless cars and pedestrians each day. It also has a history of tragic traffic accidents. In Southern California, the city of Santa Clarita is the third largest city in Los Angeles County, and faces growing pavement infrastructure needs to match the growth of the community.
Upgrading these local streets and roads so critical to their communities was well underway when the pandemic hit in early 2020. Thanks to the innovation, dedication, and creativity of local officials, the projects were not only completed, but received statewide recognition through the 2021 Outstanding Local Streets and Roads Project Awards.
Outstanding Local Streets and Roads Project Awards: 2021 Overall Winner
The devastating Tubbs Fire that broke out in Northern California in 2017 heavily impacted the region, challenging infrastructure to ― and sometimes past ― its limits. Following the fire, the city of Santa Rosa began the Fulton Road Reconstruction project, which was designed for heavy truck traffic and to provide safe long-term access. For this project, the city repaired approximately 3,200 lineal feet of 4-lane principal arterial pavement and associated bike lanes on Fulton Road between Occidental Road to W. 3rd Street, and took top honors in the annual local streets and roads awards.

"Innovation and adaptability were key to the success of this project in both short- and long-term aspects," said Supervising Engineer Erich Rauber. "The Fulton Road project was a prime example of the city being a pioneer in the region testing and implementing new solutions, construction systems, materials, and bidding practices."
The Fulton Road project was underway when tragedy struck the region again in October 2019 as the Kincade Fire broke out. Fortunately, city staff and the contractor acted quickly to make the road a drivable evacuation route for those fleeing the fire's path.
Given the challenges Santa Rosa faced, the city is well deserving of recognition by the League of California Cities, California State Association of Counties, and County Engineers Association of California as the 2021 overall winner of the Outstanding Local Streets and Roads Project Awards. The city's team worked through natural disasters and a global pandemic to ensure their local infrastructure is safe, accessible, and resilient for all.
Complete Streets Projects Category
Maintaining infrastructure is not only critical for improving mobility of residents and emergency responders, it is also essential for providing safe multi-modal transportation options such as public transit, walking, and biking.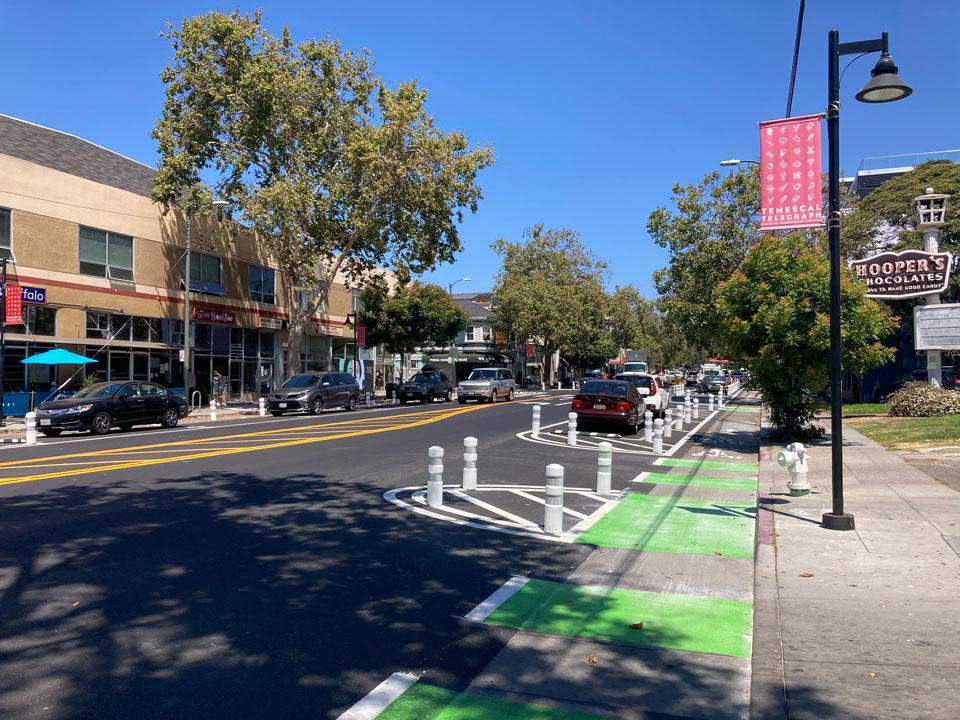 Telegraph Avenue is a 4.5-mile street that begins in Oakland's historic downtown district and ends at the southern edge of the University of California, Berkeley. Between 42nd and 52nd Streets, the busy corridor is home to numerous businesses, shops, restaurants, and residences. It sees heavy auto, bike, and foot traffic each day, and for years the area was plagued by a long history of tragic crashes.
To improve safety, the city embarked on the Telegraph Avenue Paving and Lane Conversion Project, which included upgrading intersection design, enhancing crosswalks to make them Americans with Disabilities Act compliant, and adding bicycle lanes. The success of this multi-faceted project gave the city of Oakland the top spot in the Complete Streets Project award category.
"Telegraph Avenue is one of the East Bay's most important streets," said Oakland Project Manager Sarah Fine. "Our new street design ensures everyone can access Telegraph, whether they're walking, biking, driving, or taking transit. We're proud to have completed this project in collaboration with the local business improvement district, and we're grateful for the many laborers who worked safely through truly challenging times to deliver this important project."
Efficient and Sustainable Road Maintenance, Construction, and Reconstruction Projects Category
To maintain Santa Clarita's 1,242 lane miles of pavement infrastructure the city developed a 5-year plan based on current pavement management principals consisting of "doing the right thing to the right pavement at the right time." To facilitate planning and prioritization, the city uses a critical point management approach which focuses on the rehabilitation and maintenance of streets above rather than below a critical point pavement condition index (PCI). To do this, the city uses innovative strategies such as utilizing local recycled material, which helps reduce the city's carbon footprint and overhead costs.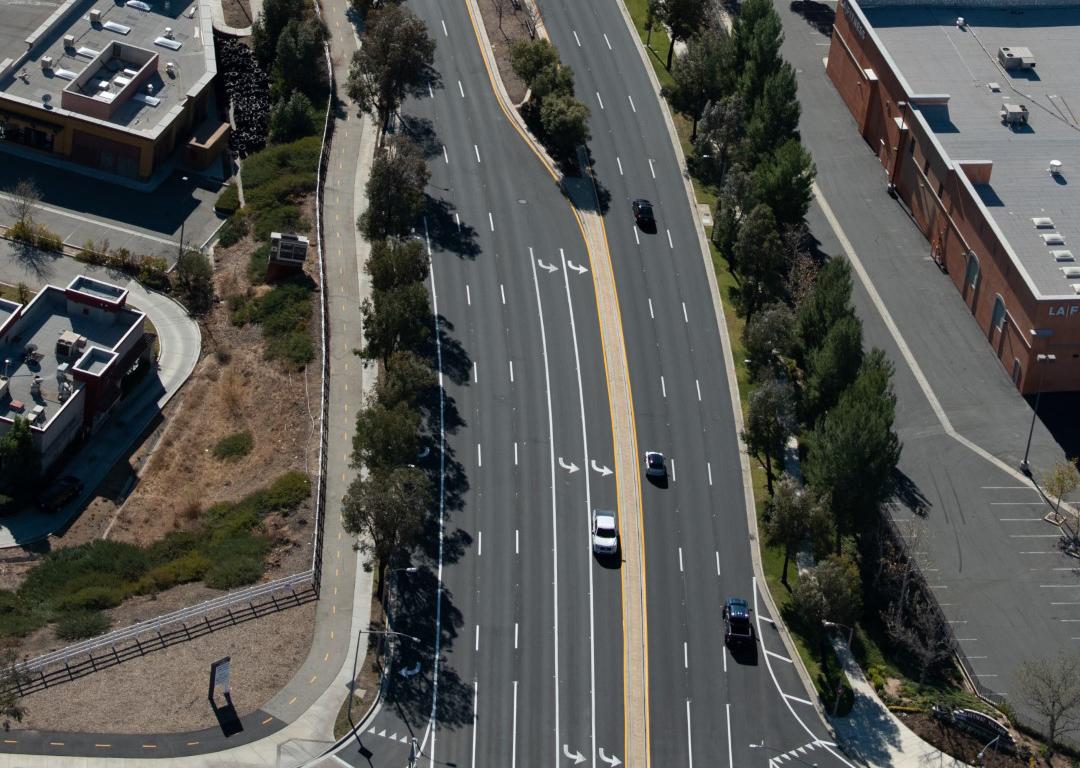 "All of these innovative road repair and construction methods help the city save money which can then be reinvested into maintaining additional streets," said Assistant City Engineer Damon Letz. "It also reduces the amount of waste being hauled away and the amount of new base material needed, which maximizes our resources and helps the environment."
At the end of 2019, the city's overall PCI was at 69. Even working through a pandemic, the city was able to increase the PCI to 70 a year later. As a result of the creative strategies Santa Clarita used for its Overlay and Slurry project, the city won the Efficient and Sustainable Road Maintenance, Construction, and Reconstruction Project award category.
Safety or Intelligent Transportation System Projects Category
The city of Santa Rosa embarked on another infrastructure project that began in February 2020, right before the statewide stay-at-home order. Although the pandemic-related shutdown temporarily suspended construction activities, project management staff and the contractor were able to restart work within two weeks of the lifted restrictions.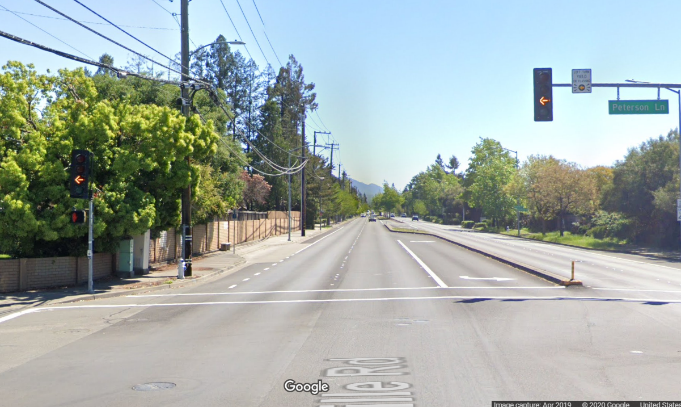 As one of the first local public works projects to restart, Santa Rosa updated stoplights at 37 intersections as part of its Flashing Yellow Left Turn Arrow Retrofit project. The project included 134 new flashing yellow left turn arrows which function like dedicated left-hand turn signals, except there is flashing yellow phase prior to the solid yellow arrow, allowing vehicles to make a left-hand turn after yielding to oncoming vehicles, bicyclists, and pedestrians.
"Based on data collected nationwide, we're confident this project will help reduce crashes, delays, and congestion all of which improve safety and alleviate driver frustration," said Associate Civil Engineer Grant Bailey. "We're proud that despite the many challenges caused by the pandemic, city staff and our contractor were able to complete the project ahead of schedule."
As the winner of the Safety or Intelligent Transportation System Projects award category, the city says its success was achieved by maintaining consistent communication with the contractor during the stay-at-home order as well as the contractor's willingness to go the extra mile.
More than 85 percent of California's roads are owned by cities and counties and accessing funding can often be a barrier to undertaking local infrastructure projects. SB 1, which was passed into law in 2017, invests $5.4 billion annually to fix California's transportation system and has made many local infrastructure projects possible. Since December 2020, cities and counties have received over $7.6 billion from SB 1 to fund more than 4,300 local projects.
Several other cities were recognized with honorable mentions for their outstanding local streets and road projects.
Honorable Mentions: Complete Streets Category
City of Fremont ― Walnut Avenue Protected Bikeway
Identified as a high priority bikeway through the Fremont City Center, the Walnut Avenue Bikeway Project constructed 1.2 miles of raised Class IV bikeways on both sides of Walnut Avenue, four new protected intersections, a new mid-block crossing with pedestrian flashing beacon, and upgrade of 8 existing bus stops.
City of Imperial Beach ― Imperial Beach Boulevard Enhancement Project
This 1.6 mile long project include reallocated travel lanes and traffic calming improvements, new sidewalks, curb and gutter, permeable pavers, new storm drain improvements, landscaped medians and basins, street trees, pavement rehabilitation, bus stops, new street and pedestrian lighting, bike lanes and a "boardwalk" area with interpretative signage.
Honorable Mention: Safety or Intelligent Transportation System Project Category
City of Santa Clarita ― Intelligent Transportation Systems (ITS) ― Phase V
This project deployed automated traffic count systems at more than 60 signalized intersections. This included a mix of upgrading existing cameras with new processors and installation of new equipment. The automated traffic count system collects and provides real-time data to the city that helps improve mobility, real-time and effective monitoring of traffic conditions, reducing staff time in the field, remote access to the traffic signal system, robust data collection, and increased driver satisfaction.
Even though the COVID-19 pandemic created hardship and uncertainty for many, cities delivered award-winning infrastructure improvements for their communities. These upgrades and modernization projects not only improve driver, bicycle, and pedestrian safety, they also create jobs and are an important part in meeting state and local environmental goals. Cities' commitment to maintaining and improving their local streets and roads can be seen throughout the state. To see all of the 2021 awardees please see Cal Cities' press release and visit Save California Streets.