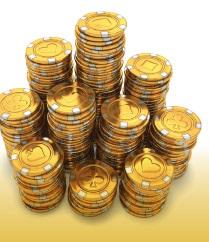 Don't Miss the Leadership Gala at the Annual Conference
Eva Spiegel is communications director for the League and can be reached at espiegel@cacities.org.
---
Attending the League's annual conference next month offers an opportunity to join your colleagues from throughout California for the most comprehensive educational program designed specifically for all city officials. It's also the perfect occasion to support the League's work on behalf of cities by attending the Seventh Annual Leadership Gala Casino Night. As you plan your annual conference schedule be sure to include the gala — it's a night of fun, networking and support for the League that you won't want to miss.
The gala event is sponsored by Willdan, Keenan & Associates, Piper Jaffray and Republic Services. It will be held Wednesday, Sept. 5, at 8:00 p.m. at the Hard Rock Hotel in San Diego. Entry is free, and casino chips are available for a suggested donation to CitiPAC of $50 per person or $75 per couple. Twenty tables will feature blackjack, craps and roulette, as well as refreshments. Come mix and mingle with your colleagues and support the League's efforts to strengthen and protect local control. Join us as we recognize the League Partners who invest in our advocacy efforts.
Launched in 2006 by the League board of directors, the Annual Leadership Gala Casino Night is the one statewide CitiPAC event held each year and is critical to the League's success at the ballot box. CitiPAC, the organization's political action committee, was created in 2003 before the League worked to successfully pass Proposition 1A. The League's victories in defeating Prop. 90 in 2006, winning the No on 98/Yes on 99 campaign of 2008 and passing Prop. 22 in November 2010 would not have been possible without the support of CitiPAC.
Defending Local Control
The League's successful advocacy program uses a three-pronged approach to defend local control: lobbying in the Legislature, engaging in the statewide initiative process and litigating in the courts.
The League's ballot box activities are supported through fundraising. A well-funded political action committee plays a critical role in fighting initiatives that could weaken local control or enable the state to seize local revenues. CitiPAC also supports initiatives that make cities stronger.
Your Support Is Essential
CitiPAC raises money year round and at events such as the Annual Leadership Gala Casino Night, where both individuals and corporate sponsors provide support. You can be part of the League's fundraising efforts by joining your division's CitiPAC planning committee to help with your division's annual event. CitiPAC also makes it easy to give either annually or on a monthly basis at www.CitiPAC.org.
Events like the gala and regional golf tournaments, bocce ball tournaments and entertainment evenings are not only a great deal of fun but also support a very important cause. By attending, you lend your voice to the League's constant advocacy on behalf of cities.
---
Upcoming CitiPAC Events
Join us for these fun events.
Aug. 17, noon to 7:00 p.m., Channel Counties Division CitiPAC Golf Tournament, Solvang
Aug. 25, 1:00 to 3:00 p.m., Sacramento Valley Division Bowling Tournament, Sacramento
Oct. 11, 11:30 a.m. to 8:00 p.m., Central Valley Division CitiPAC Golf Tournament, Dryden Golf Course, Modesto
Oct. 19, 11:30 a.m. to 8:00 p.m., South San Joaquin Valley Division CitiPAC Golf Tournament, Ridge Creek Golf Club, Dinuba
Oct. 19, noon to 7:00 p.m., Riverside County Division Golf Tournament, Menifee
Visit www.CitiPAC.org for more information on upcoming events.
---
This article appears in the August 2012 issue of Western City
Did you like what you read here? Subscribe to Western City
---