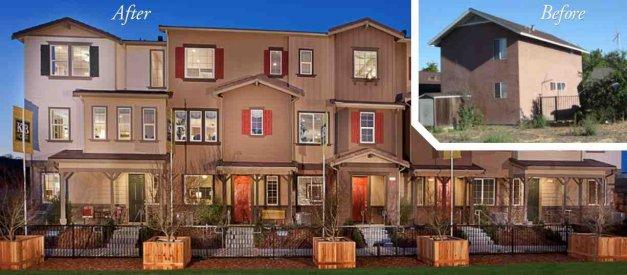 Dublin Uses Public-Private Partnership to Transform Neighborhood
The City of Dublin won the Award for Excellence in the Housing Programs and Innovations category of the 2014 Helen Putnam Award for Excellence program. For more about the awards program, visit www.helenputnam.org.
---
Throughout the nation, thousands of aging public housing units have fallen into disrepair due to poor design and construction and inadequate resources for maintenance. This crisis has left many communities with deteriorating neighborhoods and social despair. The City of Dublin, located in the Tri-Valley region of the San Francisco Bay Area, faced such a dilemma in Arroyo Vista, its sole public housing project. Through partnerships, the city transformed the neighborhood with quality mixed-income housing, open space, many "green" or sustainable features and access to social services.
Turning Public Housing Into Privately Owned Affordable Housing
Built shortly before Dublin incorporated in 1982, Arroyo Vista consisted of 150 apartments serving low-income households and had fallen into significant disrepair. The residents and city council wanted to improve the property but had virtually no funding options in the public sector housing system. However, Dublin's commitment to offer affordable housing, as well as the project's proximity to schools, parks, shopping and mass transit, led the city to explore partnerships and innovative solutions.
"Affordable housing is important to Dublin's economic vitality," says former Dublin Mayor Tim Sbranti, who was in office during the project's development. "Housing that helps to meet the needs of all income levels creates a richer, more compassionate community."
Once the city determined that the cost to repair and rehabilitate the existing neighborhood was not feasible, Dublin pursued redevelopment of the public housing into privately owned affordable housing. The Dublin Housing Authority, composed of the city council, guided actions to achieve this goal. The Dublin Housing Authority established partnerships with the county housing authority; a nonprofit builder, Eden Housing; and a market-rate builder, Citation Homes, which later sold the property to KB Home. These collaborations marked the creation of an entirely new community, named Emerald Vista.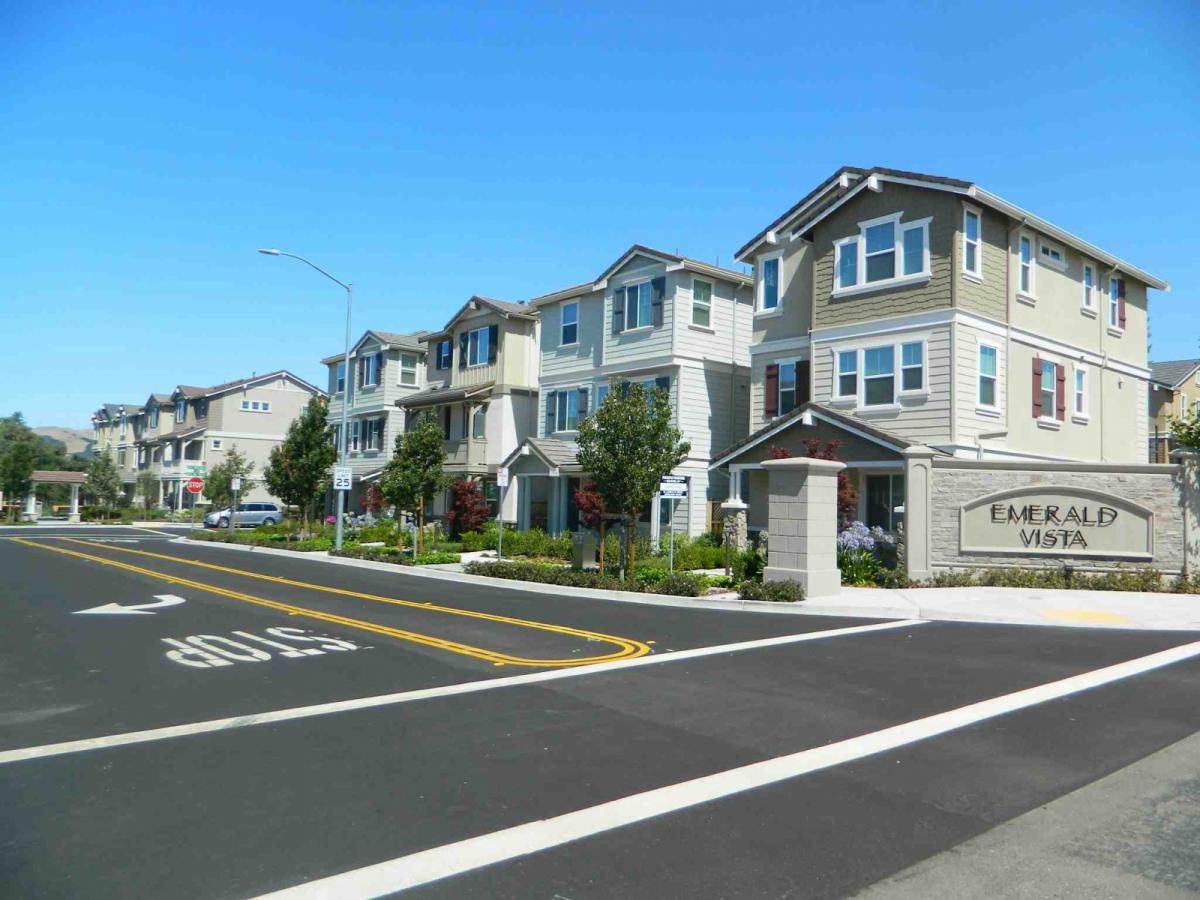 Partnership Makes Project Possible
The partners shared the project's financing. The city invested $7.6 million of its Inclusionary Housing Fund, and KB Home contributed an additional $12 million toward the project. Eden Housing also secured $24 million in low-income housing tax credits.
To pave the way for the land's transition from public to private ownership, the Housing Authority of the County of Alameda (HACA) secured the approval of the U.S. Department of Housing and Urban Development (HUD). "We were thrilled to partner with Eden Housing and the city in the revisioning of this property and in creating the beautiful new community that exists today," says Christine Gouig, HACA's executive director. Recent changes to HUD's regulation of the Housing Choice Voucher Program made it possible for HACA to provide Section 8 contracts for 100 percent of the senior apartments and 25 percent of the family apartments (81 total vouchers).
The five-year planning process included all key stakeholders, including existing residents, so that the resulting project would reflect the community's needs. This team worked together — through the recession and real estate market crash — crafting and recrafting plans to make this unique project possible. The final plan called for a number of key components, but the partnership with KB Home was essential to Emerald Vista's success by helping to subsidize the replacement of the public housing units by purchasing land for an adjacent residential development and providing critical capital and construction assistance.
Overcoming Obstacles to Progress
The construction phase required temporarily relocating all of the existing tenants. The city worked with HACA to ensure that every tenant had access to vouchers to maintain rent affordability. This allowed residents to move to newer housing, featuring more amenities than the existing complex.
The dilapidated public housing was replaced with 180 affordable apartments — a net gain in critically needed affordable housing for the region — without forcing any of the existing residents to be permanently displaced. All of the homes are targeted to tenants earning between 30 and 50 percent of the area median income. Single-family and townhome market-rate units sold at a brisk pace, demonstrating that market-rate buyers will purchase well-designed homes in an economically diverse neighborhood with a strong sense of community.
Completed Project Serves as a Model
Components and amenities developed in Emerald Vista include:
Fifty affordable apartments for seniors, operated by Eden Housing, with programs offered to help residents "age in place" and live independently for as long as possible;
A total of 130 affordable apartments for families, operated by Eden Housing, using the latest green building techniques and materials;
Mixed-income home ownership, including 184 market-rate and 14 below market-rate single family homes and townhomes built by KB Home;
Emerald Vista Community Center, providing a focus for community involvement and classes on health, wellness, safety, technology and financial literacy;
Outside partnerships with the Dublin Unified School District and YMCA that offer Emerald Vista youth on-site after-school activities, including tutoring, recreational programs and technology support;
Kidango Childcare Center, serving children of preschool ages from Emerald Vista and the surrounding area; and
Access to local and regional trail systems.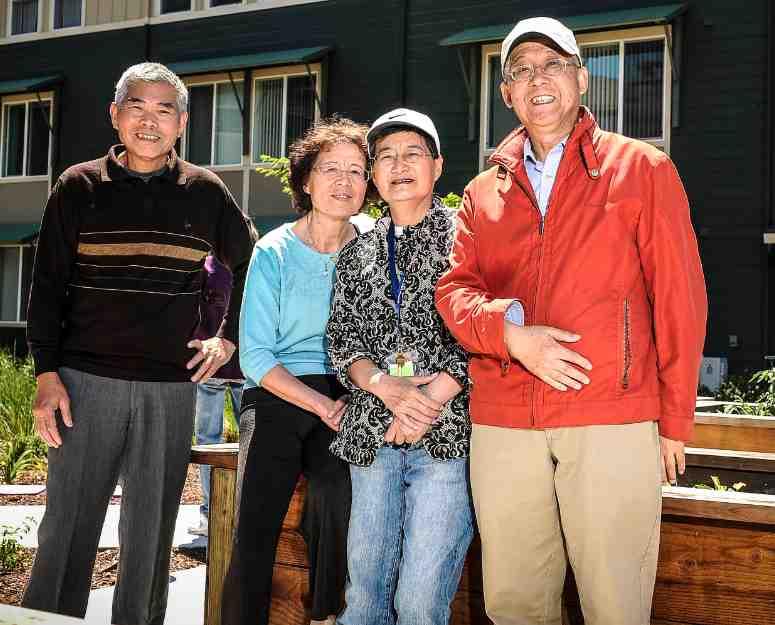 "We envisioned creating a community where you couldn't tell which street was affordable housing and which wasn't — and we got there, with pedestrian connectivity to boot," says Linda Mandolini, president of Eden Housing.
Emerald Vista offers a model of an innovative approach to providing housing for people of all income levels within a cohesive community.
Contact: Luke Sims, director, Community Development Department, City of Dublin; phone: (925) 833-6610; email: luke.sims@dublin.ca.gov.
---
Photo credits: Courtesy of the City of Dublin and the League of California Cities
---
This article appears in the March 2015 issue of Western City
Did you like what you read here? Subscribe to Western City
---