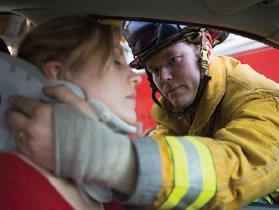 Enough Is Enough! Join the Fight to Save Vital Local Services
All Californians rely on local services. In our cities, public safety tops the list of critically important services that we provide for our residents, followed by parks and recreation, senior centers, libraries, after-school programs and much, much more. These services form the foundation of our quality of life.
When the League set its three strategic goals for 2010, local services came first:
Protect Local Control and Funding for Vital Local Services. Use statewide ballot measure and legislative and legal advocacy to achieve reforms that protect local control and abolish the power of the state to borrow, divert or impose restrictions on the use of all local revenue sources, including locally imposed or levied taxes, the local shares of all transportation tax revenues (including public transit funding), the redevelopment tax increment, and any other local revenue source used to fund vital local services. (A complete list of the League's strategic goals is available at www.cacities.org/priorities.)
For the past two years, the domino effect of the economic recession and foreclosure crisis has resulted in reduced property and sales tax revenues. Unemployment has reached record highs. Local governments have been hit hard by the downturn, and city officials are justifiably wary of the state's propensity for balancing its budget on the backs of cities. While cities have done everything from reducing services to furloughing employees in an attempt to make ends meet, the fiscal outlook is grim.
Ongoing State Raids Threaten Local Services
Meanwhile, ongoing state raids and state borrowing of local revenues continue to jeopardize the services that Californians need most. Police, fire and emergency 911 services have been cut. Services for children, seniors and people with disabilities are being slashed. Parks and libraries are cutting hours drastically or closing altogether.
State raids of local funds represent the worst type of fiscal irresponsibility. Borrowing local taxpayer and transportation funds exacerbates budget problems because those borrowed funds have to be repaid with interest — out of taxpayers' pockets. And after costly legal battles, the courts have ultimately rejected many of these outright raids.
This is why the League has joined the California Transit Association and the California Alliance for Jobs in cosponsoring the Local Taxpayer, Public Safety and Transportation Protection Act of 2010, slated for the November statewide ballot. The measure would:
Prohibit the state from taking, borrowing or redirecting local taxpayer funds dedicated to public safety, emergency response and other vital local government services. It would close loopholes to prevent the state from taking local taxpayer funds currently dedicated to cities, counties, special districts and redevelopment agencies. The measure would also revoke the state's authority to borrow local government property tax funds.
Protect vital, dedicated transportation and public transit funds from state raids. It would prevent the state from borrowing, taking or redirecting the state sales tax on gasoline (Proposition 42 funds) and Highway User's Tax (HUTA) on gasoline funds that are dedicated to transportation maintenance and improvements. The measure would also prevent the state from redirecting or taking public transit funds.
Protect local taxpayers by keeping more of our local tax dollars in the community, where there's more accountability to voters, and by ensuring that our gas taxes go to fund road improvements. It also reduces pressure for the local tax and fee increases that become necessary when the state redirects local funds.
Reform state government and enhance fiscal accountability. This measure is a key step in reforming California's broken budget system by restoring more local control and accountability. It also stops the state's irresponsible practice of borrowing special funds that have to be repaid with interest.
Apply retroactively to any legislation enacted between Oct. 21, 2009, and Election Day (Nov. 2, 2010), invalidating any state law passed between those dates that conflicts with the ballot measure. While the measure takes effect upon approval of the voters on Nov. 2, 2010, it is also retroactive to the date of filing (Oct. 21, 2009) and would render invalid any conflicting legislation passed in the interim.
Provide for immediate repayment if violated. In the event the state violates this measure in the future, it provides that funds will be appropriated automatically from the state's General Fund to restore to the local and transportation programs the amount unlawfully taken.
Spread the Word
The success of this ballot measure depends on the commitment of every city official — on their own time and without using any public resources — to gather signatures, raise funds for the campaign and educate members of the community about what is at stake.
Spread the word. Talk to as many people as you can reach — again, on your own time and without using public resources. Explain how state raids hurt local services and what the measure does to prevent such raids. Point out the urgent need to protect essential local services, and get people to sign the petition in support of the measure.
The League's regional public affairs managers are standing by to help you with talking points and other helpful tips. Additional tools and information to help educate your community about the Local Taxpayer, Public Safety and Transportation Protection Act of 2010 are available at www.savelocalservices.com.
---
This article appears in the April 2010 issue of Western City
Did you like what you read here? Subscribe to Western City
---