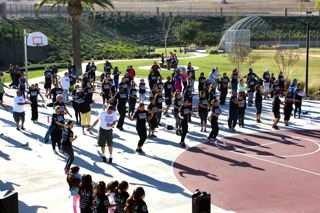 Enthusiasm Plays Central Role in Success of "Live Well Perris" Public Health Program
The City of Perris won the Award for Excellence in the Health and Wellness Programs category of the 2014 Helen Putnam Award for Excellence program. To learn more about the award program, visit www.helenputnam.org.
---
Perris is a 103-year-old city in the center of Riverside County. Incorporated as a small agricultural enclave, the city has undergone a dramatic transition during the past 15 years to become an urbanized diverse community with a population of nearly 75,000. Like most cities in California, the housing market collapse hit Perris hard. Even now, the city's fiscal condition has not recovered to 2006 levels, and Perris continues to operate under a number of austerity measures.
In early 2013, financial projections showed that revenue growth would likely remain flat for several more years. These economic conditions made the addition of new municipal programs unlikely. Nevertheless the Perris City Council recognized a local issue that could not be ignored: Many residents were suffering from obesity, diabetes and other health conditions related to poor nutritional choices and lack of physical activity. In describing the problem, Mayor Daryl Busch said, "A healthy city is a happy city, and as elected officials we owe it to our citizens to provide opportunities to live better lives."
The magnitude of the public health problem motivated city leaders to act quickly, but developing and implementing a grassroots public health program without a significant expenditure of funds presented a challenge. Perris launched a communitywide effort to solicit volunteers, identify partners and gather resources.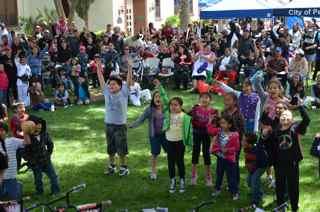 The city initially reached out to its employees by announcing the concept of a public health initiative and inviting employees to attend a voluntary planning session. More than half of the city's 60 employees attended.
The effort expanded to engage community leaders, faith-based organizations, schools and nonprofit organizations working with health-focused initiatives. These groups met with city staff to brainstorm as enthusiasm built, and the framework for a public health campaign began to emerge. In the end, the community and city staff identified 10 separate subprograms as feasible.
Building the Program
First, the city set out to brand its new public health initiative as "Live Well Perris" and develop the message that healthy living can be fun and affordable. Staff designed a logo and bilingual flyers, posters and mailers. The city's Information Technology Department built a web page and a Facebook page and filmed public service announcements for public access television. The city kept costs down by performing these marketing activities in-house.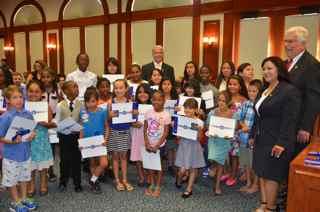 The city held a community health fair to kick off Live Well Perris. Local businesses sponsored healthy lifestyle giveaways of bicycles, juicers, exercise equipment and Live Well Perris t-shirts to attract people to the event. Nearly 2,000 people attended the health fair on the City Hall campus. Residents had the opportunity to visit more than 100 booths, including a Riverside County "Rethink Your Drink" display and an Eastern Municipal Water District water-wise hydration station. Attendees also took advantage of free health screenings, such as blood pressure and cholesterol checks. The University of California, Riverside, Medical School sent interns to conduct individual consultations as well as workshops. Exercise classes ran throughout the day along with numerous activities for children such as rock-climbing, face-painting and arts and crafts. The health fair achieved its goal: to provide a high-energy, healthy day for the community while unveiling Live Well Perris.
The health fair also introduced a Live Well Perris subprogram: the Biggest Loser contest. The Biggest Loser brand was chosen as something easily recognizable and entertaining. Hundreds of people weighed in on the scales at the health fair. Participants received free passes to a local gym and discounted aerobics classes. The group's camaraderie helped participants lose weight over the next 16 weeks, and the community recognized the most successful participants at a city council meeting.
Presentations on laptop computers set up throughout the health fair encouraged people to sign up for the Presidential Active Living Award (PALA) on a website administered by President Obama's Council on Fitness, Sports and Nutrition. Initially, the city wanted to develop its own mobile app to allow people to track progress toward their fitness goals. When the cost of such an app proved prohibitive, staff learned about the PALA website, which allows participants to track their fitness goals at no cost. Within three months, residents accumulated more than 1,000,000 "PALA Points." Those who completed the program received presidential certificates of achievement presented by the mayor at a city council meeting.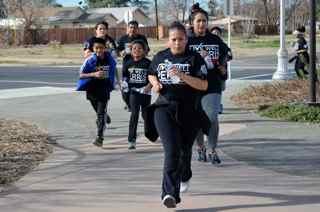 Community Participates With Enthusiasm
Throughout the summer following the health fair, Live Well Perris reached thousands of people with several no-cost activities and events. Aerobics classes moved out of the gym and into the city's 14 parks. By holding outdoor workouts in neighborhoods throughout Perris, exercise became less regimented and more family oriented. As word spread, classes grew. To keep exercise free and convenient, city council members hosted fitness events such as "Walks With the Mayor" and "Hike With the Mayor Pro Tem at Lake Perris." At these events, participants burned calories and reported feeling better as they adopted new fitness habits. Council members also promoted and participated in the International Walk to School Day in conjunction with local school districts. Local basketball coaches also joined in, volunteering to hold a free basketball skills clinic for underprivileged youth.
The city invested approximately $12,000 in the Live Well Perris program, and in-kind donations from the community matched the city's expenditure. This modest outlay and the program's success resulted in a major grant, when Riverside County awarded the City of Perris a grant of nearly $1 million in 2014 to support and expand the program through 2016.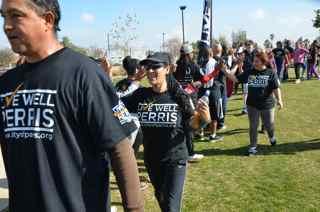 Big Results at Low Cost
The challenges facing Perris with respect to public health are not unique. Perris was determined not to let a difficult fiscal environment stand in the way of what needed to be done. "Live Well Perris demonstrated in its first year that a city doesn't need a large budget to implement an effective public health campaign," says Ron Carr, assistant city manager and Live Well Perris coordinator. "More important are enthusiasm, energy and a commitment to serving the community."
Contact: Ron Carr, assistant city manager, City of Perris; phone: (951) 943-6100; email: rcarr@cityofperris.org.
---
All photos for this article: Courtesy of the City of Perris and the League of California Cities
---
This article appears in the April 2015 issue of Western City
Did you like what you read here? Subscribe to Western City
---