Escondido's K-rail murals save businesses, boost community spirits, and lead to permanent outdoor dining
The city of Escondido won the 2021 Helen Putnam Award for Excellence in the Economic Development through the Arts category. For more information about the award program, visit www.helenputnam.org.
---
In the heart of Escondido, one of San Diego County's oldest and largest cities, is a historic downtown full of small, independent businesses. When the state and county modified indoor dining and retail operations in response to COVID-19, most of these local businesses faced devastating financial losses. Stay-at-home orders changed what was a bustling downtown corridor full of residents and tourists into a ghost town overnight.
The city (population 151,038) recognized that it needed to adopt an emergency business recovery strategy to support businesses on the brink of complete closure. City staff quickly realized they could support outdoor dining and retail by expanding sidewalks for on-street dining and retail.
In order to do this, the city first had to shrink traffic lanes. In just two days, the city reduced the main downtown corridor, Grand Avenue, to two lanes, deploying more than 100 concrete K-rails — angled barriers designed to divert or block traffic — to do so. The barriers were purchased with about $55,000 in CARES Act funding.
This move created what soon became a commonplace sight throughout California: outdoor dining and shopping in the right-of-way, safely separated from oncoming traffic. This allowed businesses to resume operations extremely quickly under modified health and safety policies.
It also gave birth to a creative, collaborative, community-driven program that served to stimulate the local economy and celebrate the beauty and resilience of Escondido.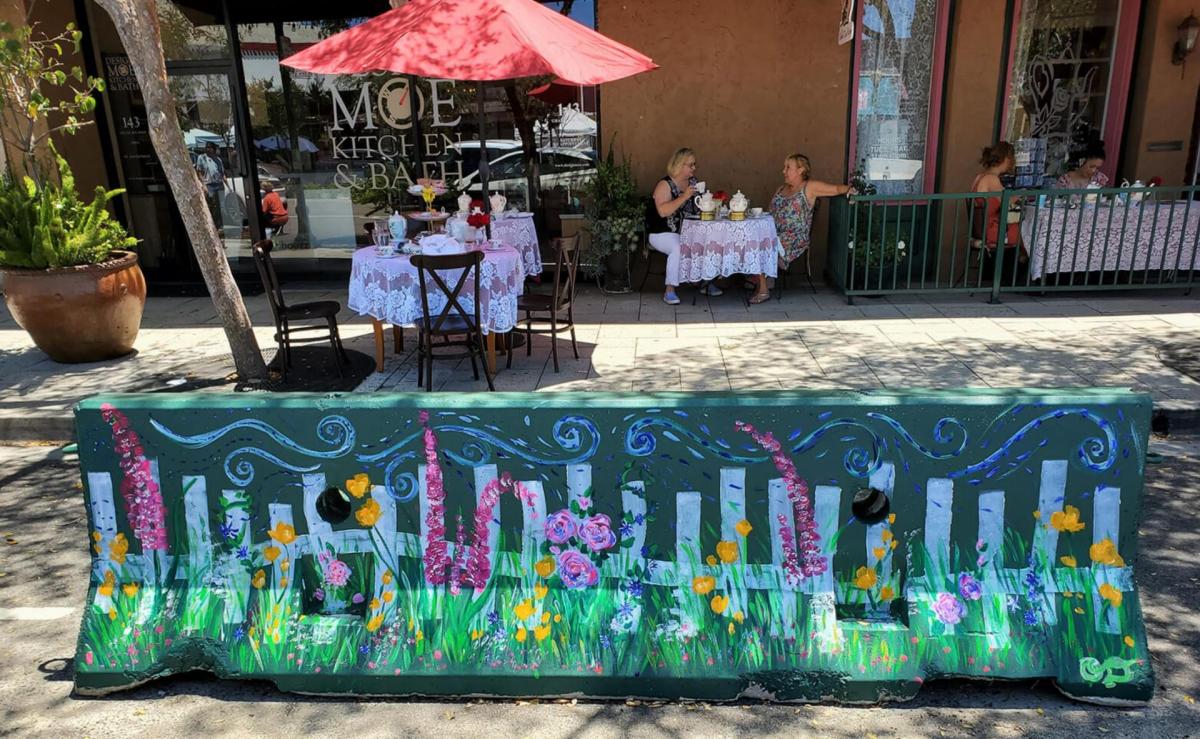 One person's K-rail is another's blank canvas
Escondido's art community soon realized that the drab, gray k-rail barriers were blank canvases that could tell the story of Escondido's community spirit. When artists painted two barriers in front of the Escondido Art Association's Artist Gallery, other businesses requested designs for their barriers.
The city of Escondido, along with Escondido Shines, Escondido Rotary, Downtown Business Association, and the Escondido Art Association, quickly rallied local artists, gathered financial contributions and supplies donated by local businesses, and recruited local volunteers to create murals of hope and iconic Escondido sights on the k-rails.
The project was named "Beautify Escondido" and immediately took off, bringing not only joy and hope during a very dark time, but also much-needed attention to struggling businesses.
"From the outset, our goal was to make a positive difference during difficult times, to unite and infuse positive energy into our beloved city," said Suzanne Nicolaisen, one of the key artists from the Escondido Arts Partnership.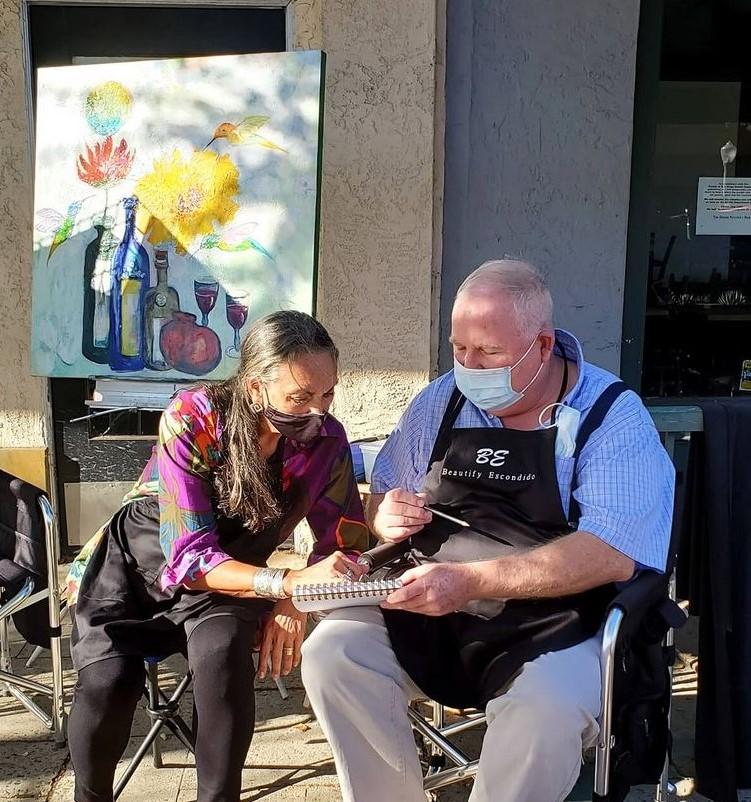 The project brought together volunteers and artists from around the community and resulted in much-needed art and connection during a time of uncertainty and isolation. What started as a temporary fix to keep business doors open, turned into a community movement that brought visitors to see the art and support local businesses. For some, this was their first time visiting these stores.
Once the barriers were completed, a self-guided walking tour of the barrier paintings was created by city staff by taking photos and plotting them on an interactive online map. Based on a QR code system, visitors could see information about each k-rail and its artist. The walking tour promoted social distancing and foot traffic for local businesses along Grand Avenue.
"Turning a safety necessity into a canvas for art and beauty is truly a positive silver lining of this pandemic," said Joanna Axelrod, Escondido's deputy city manager and director of communications and community services. "The fact that our efforts, and those of our community volunteers, have inspired other cities to do something similar is truly humbling. The self-guided tour and StoryMap allow these works of art to live on even as we emerge from the pandemic."
Additionally, after state restrictions were eased, the Second Saturday Pop-up Art Walk resumed, which allowed makers to conduct outdoor retail sales on booths within the barriers. This event brought the community back together safely and allowed the art community to celebrate the painted barriers. Residents loved the sense of community the project created and the support it brought to business owners.
"Suzanne and the other artists at the Escondido Art Association did a beautiful job taking the vision of the individual business owners and transferring that vision to a concrete canvas in a personalized way," said Downtown Business Association President Alex MacLachlan. "I saw a lot of positive responses on social media to what they did. The art brought out a certain amount of community pride."
"Last year, we had dinner with a couple from Fallbrook," he added. "Without solicitation, they told us about their recent trip to downtown Escondido and how they felt like they were dining outside in Europe. That was a very satisfying anecdote to hear."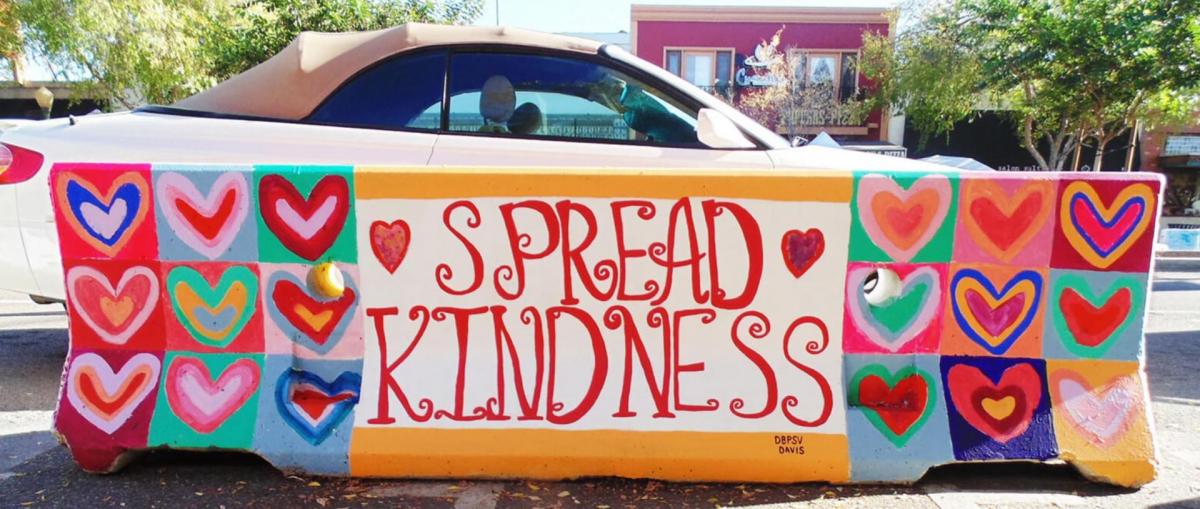 The K-rails are gone, but their effects remain
Although recent street improvements along Grand Avenue necessitated the removal of the K-rails, their effects can still be felt. The effort to expand sidewalk dining, combined with artists volunteering to bring beauty to something utilitarian, brought additional attention to the downtown corridor when it needed it most. Business owners embraced outdoor dining and look forward to continuing outdoor operations permanently after sidewalk widening construction improvements along Grand Avenue are complete.
In addition to winning the Helen Putnam Award for Excellence, the project also earned accolades at the San Diego North County Economic Development Council's annual award event, with the honor of an Excellence in Economic Development award.
Just as importantly, the "Beautify Escondido" project was an opportunity for residents and businesses to come together during one of the most collectively challenging times the city ever faced. The interactive art map remains active and serves as an important digital monument to when the community came together during a difficult time.
Jennifer Schoeneck is the deputy director of economic development for the city of Escondido. She can be reached at (760) 839-4587or jschoeneck@escondido.org. Watch this video for a brief overview of the project.