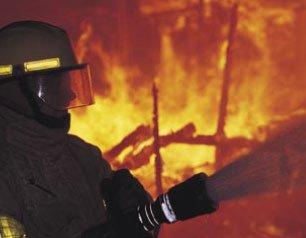 Eureka Establishes Mobile Live-Fire Training Program
Consistent training on essential firefighting skills is critical for the protection of communities, citizens and firefighters. But the City of Eureka Fire Department and members of surrounding allied agencies lacked the ability to practice realistic structural firefighting techniques on a frequent, consistent basis. Unfortunately, this problem is not unique to the city's fire department. There are no agencies within the tri-county area of Humboldt, Del Norte and western Trinity counties that operate facilities capable of simulating structural fire conditions in a controlled environment – despite the existence of qualified instructors.
Because training resources in the tri-county region are limited, the Fire Department must either import training sessions from outside the area or send firefighters out of the area for training. Both methods are cost prohibitive; importing training is typically beyond the resources of local fire agencies, and sending firefighters out of the area incurs travel expenses.
To solve this problem, a new approach to the issue was taken that involved identifying and obtaining the necessary training equipment, which had to be:
Specific to required firefighter skills development;
Mobile, making it accessible to as many local agencies as possible; and
Cost effective and affordable to obtain and maintain.
Mobile Training Unit Simulates Live Fires
The Eureka City Council's strategic vision directed the Fire Department to develop a regional training program. The Fire Department's vision, as declared in its mission statement, is to "Foster and maintain positive and productive cooperation with allied agencies and organizations." Compelled by this vision, the Eureka Fire Department obtained funding through the federal Assistance to Firefighters Grant Program to establish a regional program for live-fire training. After extensive re-search into equipment that would meet the training requirements, a mobile live-fire training unit was purchased.
Delivered in June 2005, the 52-foot mobile unit allows live-fire training in a safe, controlled, realistic and environmentally sound manner. This trainer utilizes propane fuel, which burns cleanly and reduces emissions. It is designed to withstand the extreme conditions of structural firefighting as well as frequent and repeated use.
The Mobile Live-Fire Trainer allows firefighters to train and improve their skills in many areas, including:
Using personal protective equipment and self-contained breathing apparatus;
Fire extinguishing techniques;
Search and rescue operations;
Firefighter safety and survival;
Ventilation; and
Other essential skills under live-fire and smoke conditions.
The unit utilizes an on-board computer with a redundant safety system; the fire generated in the trainer is controlled and can be extinguished quickly.
The mobility of this unit makes training firefighters in remote areas convenient, increasing attendance and the value of the training. The regional use of the live-fire trainer is cost effective because the expenses incurred using the trainer (such as maintenance costs) can be shared, lightening the financial burden of individual agencies. This makes the latest fire science technology available to many fire agencies, regardless of their size.
Breadth of Training
Eureka Fire Department personnel received "train-the-trainer" instruction in the operation and features of the live-fire trainer. This training was also presented to some of the fire agencies in the region. Instructors in Humboldt, Del Norte and western Trinity counties were certified by the manufacturer to operate the training equipment. Training courses were then formulated and made available to the fire agencies in the region.
Course objectives of live-fire training included:
Improving the interoperability of agencies through participation in multi-company drills;
Honing basic fire suppression skills;
Practicing new techniques, such as thermal imaging, under realistic conditions;
Using the Incident Command System;
Training chief officers in command and control concepts; and
Rehearsing firefighter safety and survival techniques under realistic conditions in a safe, controlled environment.
To date, the Eureka Fire Department has delivered training to approximately 300 students from 18 fire agencies. Training was also provided for other emergency responders, such as structural firefighting training for Humboldt County correctional officers to address the specific needs of firefighting in a jail facility.
For the future, outreach training is scheduled for the use of thermal imaging cameras for the Humboldt County Training Officers Association and rapid intervention crew training for the California Department of Forestry and Fire Protection. Because various local agencies can train together, each agency has the opportunity to observe each other's capabilities, thus becoming more knowledgeable about the tools and resources each agency has and familiar with various agency members on a personal basis. This knowledge is essential to area agencies in managing incidents of a disastrous nature, which could involve several agencies in one occurrence.
The Eureka Fire Department strives to deliver the highest quality and level of service possible. The Mobile Live-Fire Simulator Program fulfills its core mission of developing the skills of its emergency responders, providing assistance to the community and fostering a positive and productive relationship with allied agencies and organizations. It is the hope of the Eureka Fire Department that its investment in this program will lead to a reduced loss of life and property in the communities where its firefighters live and serve.
Contact: Eric M. Smith, fire chief, Eureka Fire Department; phone: (707) 441-4000; e-mail: eurekafd@ci.eureka.ca.gov; or Lisa Pulver, fire services officer, Eureka Fire Dept.; phone: (707) 441-4000; e-mail: lpulver@ci.eureka.ca.gov.
---
This article appears in the October 2006 issue of Western City
Did you like what you read here? Subscribe to Western City
---