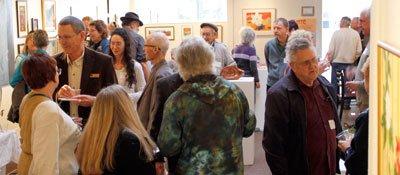 Eureka's Arts District Drives Local Economy
The City of Eureka won a 2013 Helen Putnam Award for Excellence in the Economic Development Through the Arts category for this project. For more about the award program, visit www.helenputnam.org.
---
The City of Eureka (pop. 26,960) is a historic community nestled between redwood forests and California's rugged North Coast. It also serves as Humboldt County's seat. The city experienced economic problems in the early 1990s and tackled these issues by embracing arts and culture solutions.
Faced with empty storefronts, underused upper floor space and a vacancy rate of almost 18 percent in the Eureka Business Improvement District, the city's redevelopment agency and the district successfully applied to become a California Main Street Designation City in 1992. The challenge was finding a way to unify 49 blocks and several unique identities, including Old Town, a registered National Historic District, downtown, a 20th century shopping hub, and Auto Row, a commercial area dominated by car dealerships.
"Humboldt County has one of the highest populations of artists per capita in the state, concentrated in Eureka," says Libby Maynard, executive director of the Ink People Center for the Arts, a local nonprofit. "Many artists were struggling to make a living and lacked business skills to market their craft. Arts uses — working, showing, selling — stimulate property improvements and attract local traffic and cultural tourism." The city's redevelopment agency partnered with the Eureka Art and Culture Commission, Humboldt Arts Council, Ink People Center for the Arts and Eureka Main Street to form a Cultural Arts Resource District.

Building on a Vision
An early step in creating the Cultural Arts Resource District involved developing the Phantom Galleries project, which allowed artists to display their work in empty storefronts. Eureka Main Street contacted property owners about the project. As a result of working with the redevelopment agency and Humboldt Arts Council and receiving a grant from Pacific Telesis, empty storefronts served as Phantom Galleries in 1993–94. Property owners were responsible for providing power and access for the artist, Humboldt Arts Council provided the lighting and Eureka Main Street secured insurance coverage. Formerly blighted, boarded-up, dark spaces came alive with art in window displays. The program ran for about a year, until success in marketing the empty storefronts meant there was no longer a need for Phantom Galleries.
The city adopted a live-work ordinance in 1995 that allowed upper floors to be converted from empty space to residences and businesses for artists. This helped create a 24/7 community, which in turn attracted amenities such as grocery stores, coffee houses and more.
The city and its partners dovetailed efforts to enhance the Cultural Arts Resource District with a monthly art walk, First Saturday Night Arts Alive!, throughout the area. It features art shows, live music, dance and theater performances and even appearances and book-signings by authors. Launched in 1994, the event is still going strong and consistently engages the community in the arts.
The district also features more than a dozen sculptures. C Street Market Square, the city's most recent waterfront development, includes a rotating sculpture exhibition, where six pieces of a sculptor's work are featured for a year. In addition, the district is home to a 10-week summer concert series, and a countywide arts festival is planned.
Changing Vandals Into Artists
The redevelopment agency, Eureka Main Street and Ink People Center for the Arts created the Rural Burl Mural Bureau to divert vandals into the arts. By working with youth who had been defacing buildings and interrupting the flow of business by loitering, this beautification program redirected the vandalism into creative expressions of art: murals on walls in alleys, on boarded-up buildings, and the backs and sides of buildings that face Highway 101, which passes through the arts district. Recognizing the value of public art, city staff worked with the partner organizations to waive permit fees.
Through the Rural Burl Mural Bureau, more than 40 murals now grace the walls of buildings. Those buildings remain graffiti free. Youth 15 to 20 years of age have helped with this project since 1994. Many of those involved have gone on to become independent artists.
Growing Numbers Reflect Success
"When the First Saturday program began, there were 10 businesses participating, including three art galleries," explains Charlotte McDonald, executive director of Eureka Main Street. "Today there are more than 60 venues, including 10 galleries, four arts organizations, two museums, and more than 50 restaurants, retailers and professional and service-based businesses — along with one dance company, two repertory theaters and two performing arts sites." Artists sell their wares, and a number of artists have been commissioned to create works for individuals and companies. Musicians are paid and booked a year in advance for many of the venues, and theaters hold opening nights to coincide with the event. The success of First Saturday Night Arts Alive! has spread to five other cities in Humboldt County, and the arts are now recognized as part of the county's prosperity plan for economic development.
"Today the vacancy rate in Eureka's core commercial district is about 3 percent. Using the live-work ordinance, upper floors converted into lofts now house approximately 50 artists. Many more people now choose to reside downtown and in Old Town because of the area's vibrancy and affordable rents," says Cindy Trobitz-Thomas, retired redevelopment director. The North Coast Co-op, a local grocery store and bakery, relocated into the arts district, renovating an empty warehouse that had been used for almost 100 years as a bread manufacturing facility. The co-op provides a fresh alternative to large grocery chains and is within walking distance for residents, which helps conserve gas and promote healthy lifestyles.
"In downtown and Old Town, 40 percent of the businesses have an arts connection, directly or indirectly," says Mike Knight, interim city manager. "The district's sales tax revenue remains steady, in spite of the drastic downturn in the economy the past few years. The reinvestment ratio for a California Main Street City is $22.92 to $1. Creating a Cultural Arts Resource District to revitalize downtown and Old Town has been very successful in countering the decline of the fishing and timber industries."
It is one of the reasons that culture guru John Villani, author of The 100 Best Small Art Towns in America, named Eureka the nation's Best Small Art Town.
Contact: Judy Harrison, economic development coordinator, City of Eureka; phone: (707) 268-1830; email: jharrison@ci.eureka.ca.gov.
---
This article appears in the May 2014 issue of Western City
Did you like what you read here? Subscribe to Western City
---