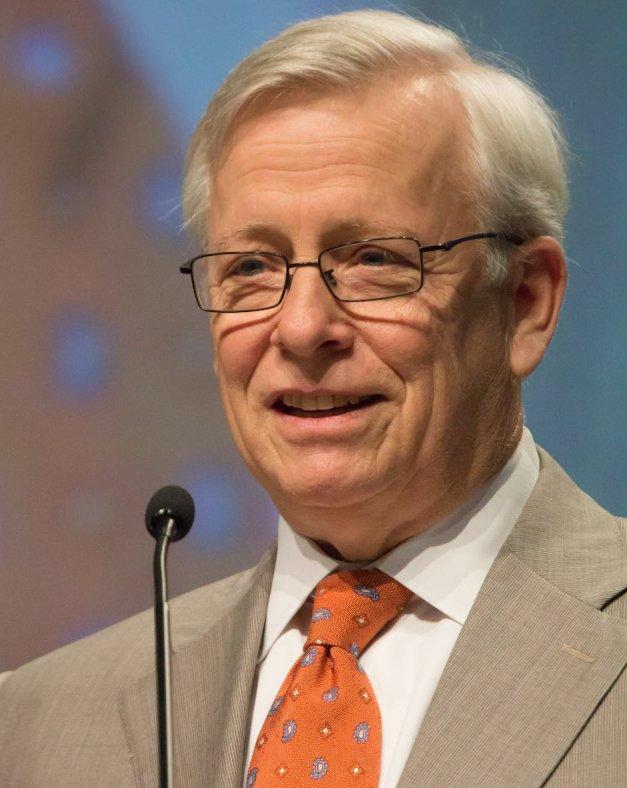 A Farewell Interview With Executive Director Chris McKenzie
League Executive Director Chris McKenzie will retire at the end of this month after serving the League for 17 years.
What was your original inspiration for pursuing public service in local government as a career, and how has that evolved over time?
McKenzie: I was initially exposed to public service as a youngster because one of our neighbors was a member of the St. Louis Board of Aldermen (that is to say, city council), and he would visit with my parents about hot issues facing the city. In my early 20s I decided to get a master's degree in urban planning. That led to a series of jobs in a state planning agency, the state league of cities, my home county (as legal counsel and later chief administrator) and then as executive director of two municipal leagues. My entire career has been in public service of one kind or another. It has been endlessly fascinating and rewarding to work to help make the lives of our fellow citizens better.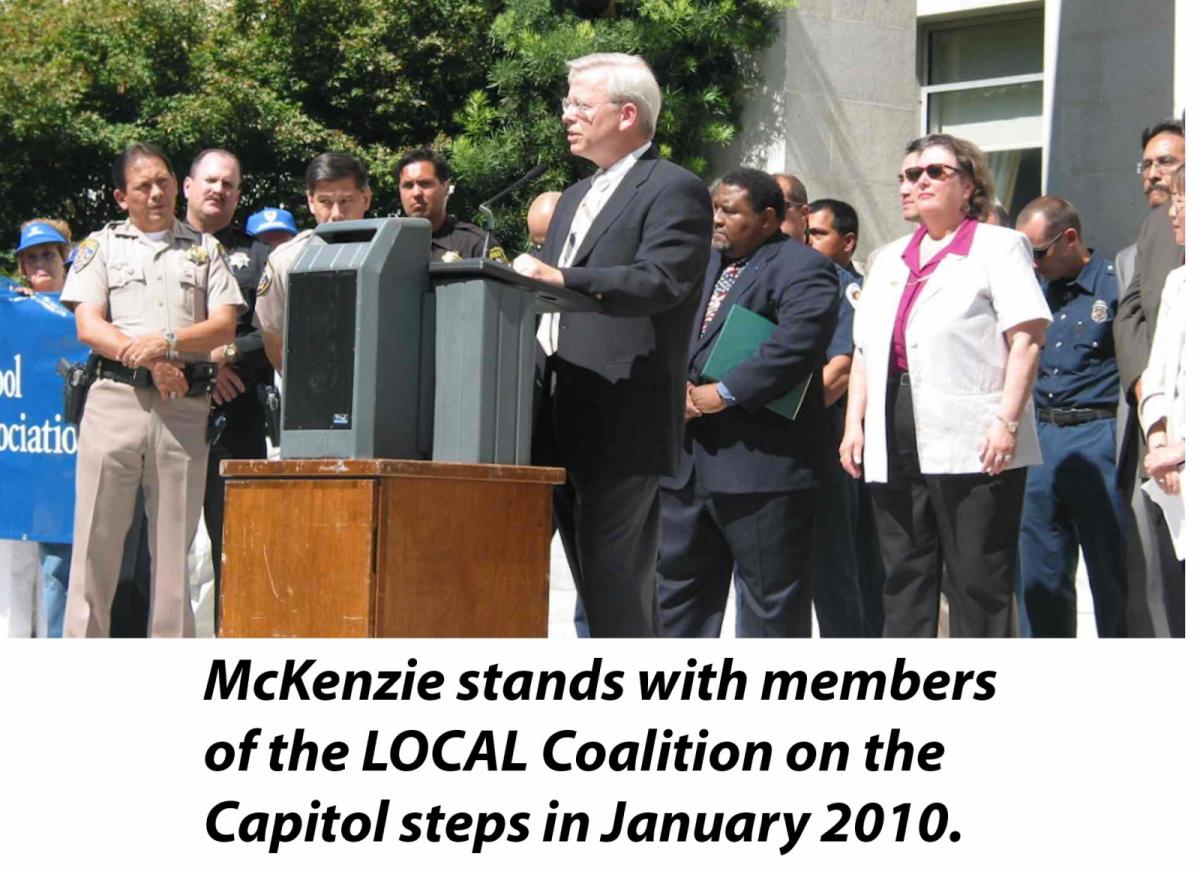 The League's member cities are extremely diverse in size, demographics and geography. How do you bring together such a diverse membership and unite them behind common issues?
McKenzie: It is very simple if I remember the League's vision statement: "To be recognized and respected as the leading advocate for the common interests of California's cities." I discovered early in my municipal league career that the only way to be effective in this line of work is to help focus the members' efforts on those areas of common concern and interest. If the member cities have divided interests within the League, the League will be ineffective. Ultimately California's cities have many common interests that focus largely on ensuring local control, fiscal sustainability and responsive city governments.
What are the League's greatest strengths, from your perspective?
McKenzie: Its greatest strengths are the active involvement of city officials who provide the League with strong leaders to help set our priorities and advocate for our common interests, and a talented staff that is unconditionally dedicated to strong city governments and local democracy. Our extremely accomplished and dedicated volunteer leaders ensure that we remain focused on what unites us and not waste our time debating things that don't affect cities broadly. Our capable staff supports the city officials who lead and empower the League.
How has the evolution of the League's regional public affairs (grassroots advocacy) program helped shape the organization?
McKenzie: It has had a transformative effect on the League. Every lobbyist knows the impact of a well-designed and executed advocacy program. Our grassroots advocacy program allows the League to connect the right city officials at the right time with the right state legislators to achieve a favorable result on an issue. It is a form of "smart lobbying" that uses the right resources for the job at hand, rather than always throwing everything against the wall in hopes that something will stick. The League's regional public affairs managers are experts in helping make these connections at the right time; the relationships they have with city officials, state legislators and staff are major tools to influence state decisions that can either hurt or help cities.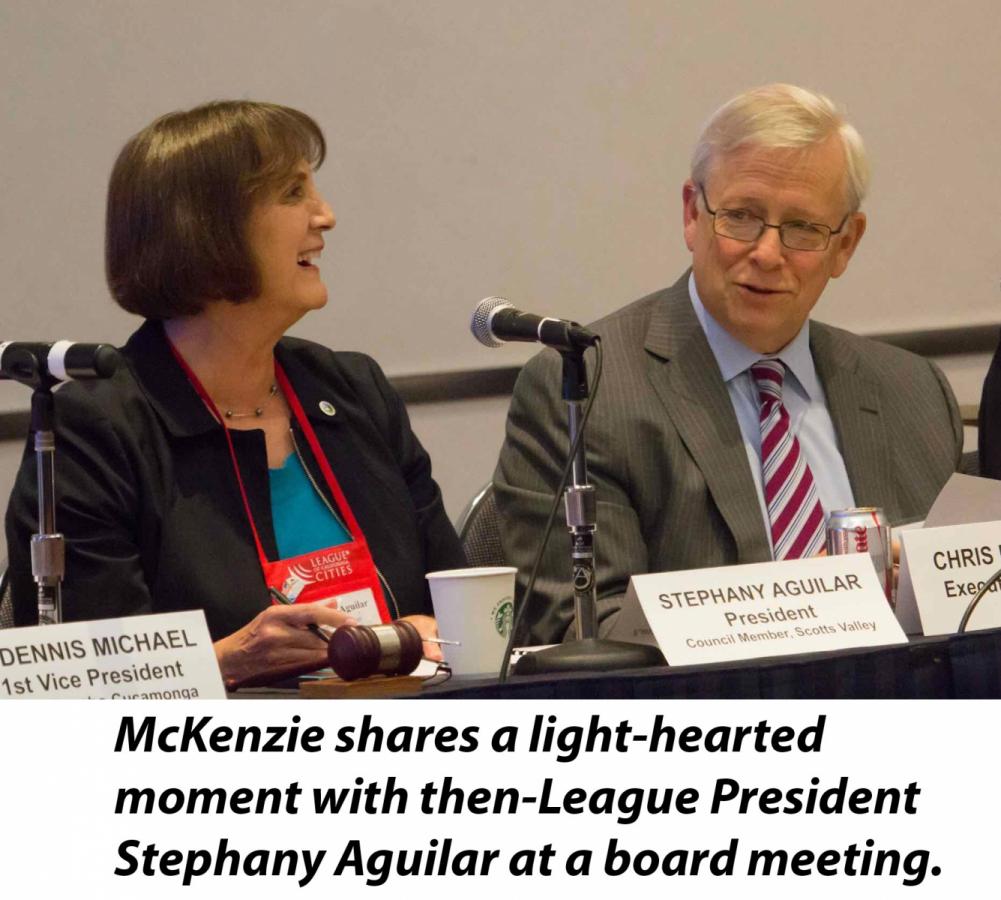 What are some of the other organizational changes that have contributed to the League's successful track record during your tenure?
McKenzie: First, the League board and members have now embraced our diversity caucuses with much greater enthusiasm than when I arrived — creating the new Gay, Lesbian, Bisexual, Transgender Local Officials Caucus and Women's Caucus and asking all of the caucuses to participate in our annual goal-setting retreat so we can work to get everyone in the organization focused on what unites us. Second, we decided to embrace ballot measure fundraising as a part of our culture by creating our own ballot measure political action committee, known as CitiPAC. Our regional divisions hold fundraisers throughout the year for CitiPAC so we can develop the political capacity to protect local revenue and local control in statewide ballot measure campaigns. These events are great League "friend-raisers" as well, connecting our members with ongoing sources of corporate support for the League's ballot measure objectives. Finally, we created a new League Partners Program, formalizing our ongoing relationship with our partners in the business and nonprofit worlds. Through this program we are able to partner much more effectively with companies and nonprofits that share common interests with cities and the League. It has been a great success, in my opinion.
Each League president brings unique perspective and insights to the position. How does the president's leadership influence the organization's direction and focus? What characteristics make a strong president and a strong leader?
McKenzie: A strong League president leads the board effectively in staying focused on what unites us, treats the board with deference and respect, collaborates with the Executive Committee and staff to make sure issues that come to the board are well-developed and ready for decisions by the board, and encourages League staff to provide advice and leadership in the areas of their expertise. The League president is the leader of the board team and not a solo act, and we have been fortunate to have had many presidents who keep this in the forefront of their minds.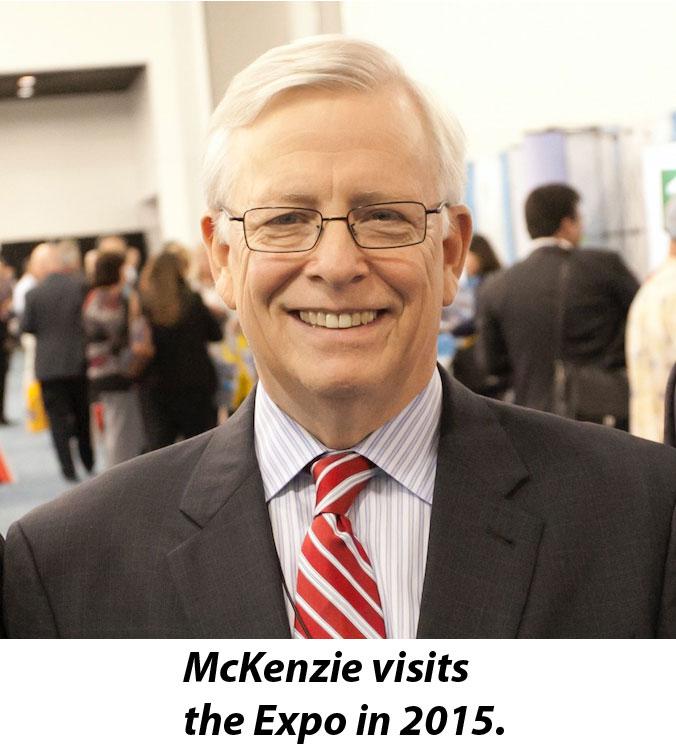 What were the biggest surprises during your time as executive director?
McKenzie: First, I was surprised and overwhelmed by the resources available to the League through the generosity of our members. Due to the hard work of my predecessor, Don Benninghoven, the organization was financially strong as well. Second, in hindsight it now appears that it was relatively easy to accomplish some of our major goals once we had some early successes on which we were able to build in successive years. Third, I was pleasantly surprised by current and former city officials' loyalty to the League — often decades after they had served in city office. All of these were very pleasant and heartwarming surprises.
What have been the most significant challenges for the League?
McKenzie: Right before coming to California in 1999 I read Ron Suskind's book, A Hope in the Unseen. It tells the story of a young African-American man living in abject poverty who decides against great odds that he is going to be an academic and life success. It is a story about the intersection of the power of hope and individual and collective action. For me it also expressed what any individual or group needs to achieve greatness — hope, determination (or grit) and hard work. As an outsider, I was perhaps able to see the potential for the League to become even more effective in advancing municipal interests, but it required a shared hope and commitment from our members. In time and through a series of victories, which we always took time to celebrate, a sense of hope was rekindled and then combined with determination and hard work through the creation of our regional public affairs (grassroots advocacy) program, other investments by the membership, a string of court and ballot measure victories, and a focused and largely successful legislative advocacy program. We have had our losses, but I think our members believe the successes have vastly outweighed the losses.
What have you enjoyed most about the job?
McKenzie: Most of all I have enjoyed working with a talented team of colleagues to serve the best city officials in the nation. It has been a joy to come to work and learn and strive with my colleagues. It has been a privilege to serve our members who are so enthusiastic and supportive of our mission to protect local control and help build strong cities.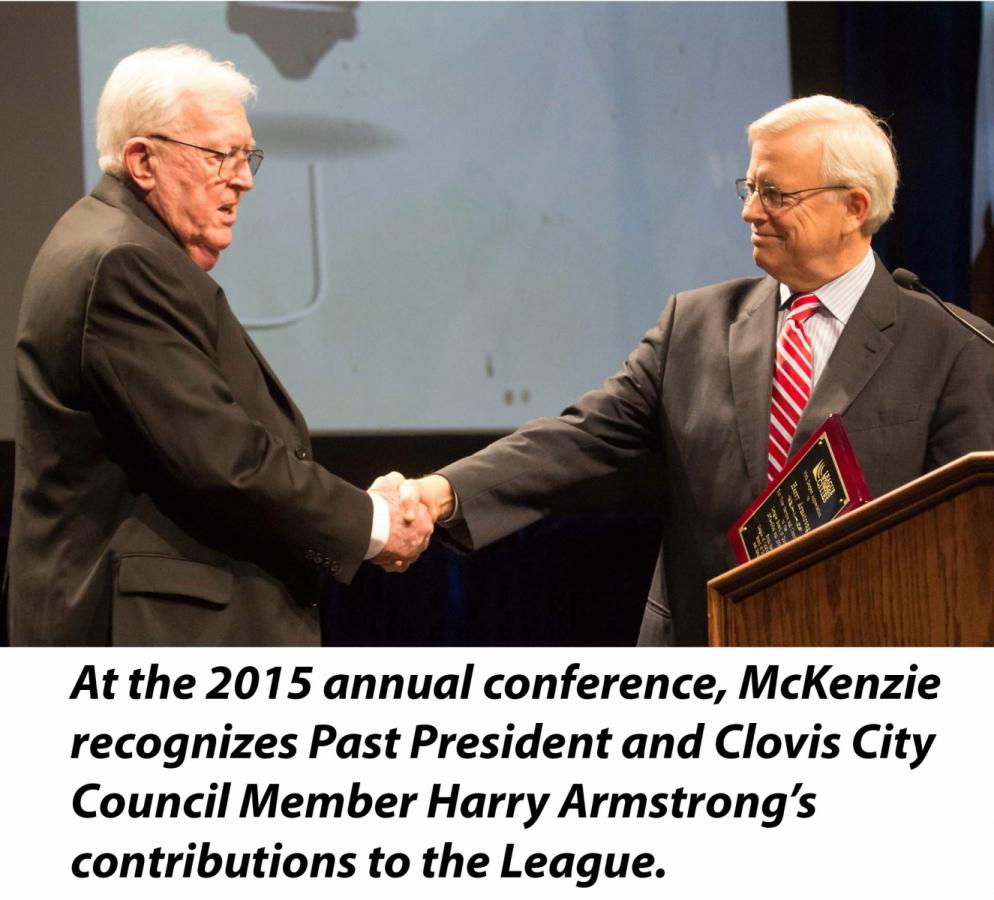 In what areas has the organization made the most progress?
McKenzie: That is ultimately for the board and members to decide, but from my vantage point the League has successfully established itself as a respected source of information, advocacy and passion about the most exciting and trusted level of government in the state and nation — city government! And the League is very active in all the major arenas of advocacy — the Legislature, the statewide ballot and the courts.
How has the League staff contributed to the organization's success during your tenure?
McKenzie: Immeasurably. They are the heart and soul of the organization. Along with our members they are the "keepers of the flame" of local democracy and local control. They live and breathe our mission and love serving and supporting the thousands of city officials with whom they interact during their careers.
What are the perennial challenges that you anticipate the League will continue to address in the coming years?
McKenzie: I believe that for the next few years the League will need to continue to advocate for adequate funding for infrastructure, affordable housing and housing for homeless people. These are long-term challenges that require long-term solutions. Lastly, we must continue strategically opposing and defeating efforts to reduce local control unless city leaders are part of designing other solutions because they are for the greater good. Local control has worked very well as a default strategy for California in most areas, and the League will need to constantly remind state and federal leaders of that fact.
What do you see as your legacy in terms of the work you have done as executive director?
McKenzie: I will let our members be the judge of that, but I hope they will remember my passion for their role as city leaders and supporting what they do.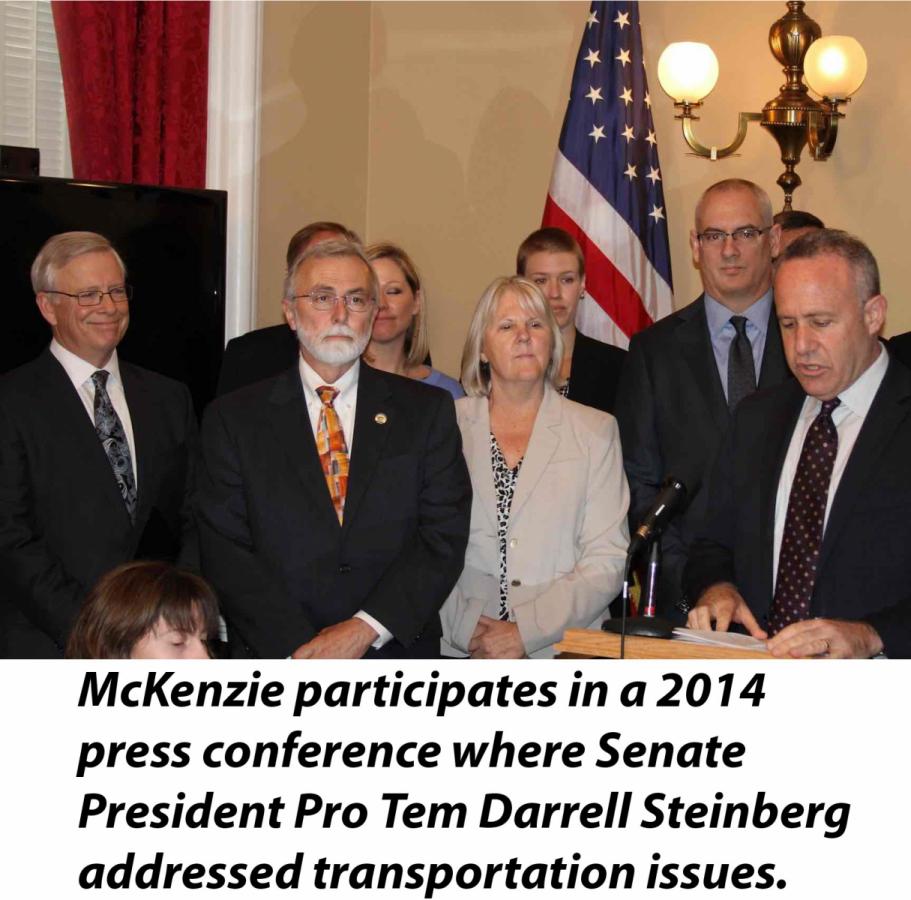 How has your family life informed your professional life?
McKenzie: I have a very rich personal life as a result of my good fortune of being married to a talented and gifted woman, Manuela Albuquerque, who celebrates my work successes but reminds me quietly and by example that being successful at home is even more important. Becoming a parent and now a grandparent has been a joy beyond anything I ever could have anticipated, and those who work with me know it has deeply influenced my thinking and my work life. I hope it has made me a better human being and professional.
What is something about you that people generally don't know?
McKenzie: I acted in dozens of plays (including musicals and radio dramas) in my young adult years and camped extensively with the Boy Scouts and rose to the rank of Eagle Scout. I enjoy bird watching (courtesy of my wife who introduced me to it in recent years), love to cook (and eat) and have traveled extensively in India because my wife is a native of the country and speaks fluent Hindi.
What kinds of things are you looking forward to doing in retirement?
McKenzie: I have a number of personal enrichment goals, including mastering Spanish, learning how to play the piano and at least one other musical instrument, traveling extensively and doing some limited community volunteer work, but the most important goal I have is to enjoy more time with my wife and other family members and friends doing the things that bring us joy. After 40 rewarding years in public service, I am pleased to allow some other leader to experience the same opportunity I have had with the League. It is an exceptional organization, and I believe I have left it in excellent condition — in many respects as it was when I arrived 17 years ago — but with a few more tools in its toolbox and a renewed sense of its capacity to serve our members and the public.
What advice do you have for the League going forward?
McKenzie: Many of you know that I worked in Kansas for 25 years before coming here. I recently heard President Obama describe how his Kansas grandparents explained what made you a success in their state, saying people in Kansas don't like showoffs. Instead, they respect people who work hard, treat you with respect and can be trusted every single day of the year. I believe the same thing can be said about effective organizations. Another popular president, Theodore Roosevelt, blended this Kansas philosophy with his own on foreign relations when he said, "Speak softly, and carry a big stick." Any organization like the League that wants to protect its members' interests must have the capacity to influence policy decisions in the Legislature and the courts and through ballot measures. The League now has the capacity to do all three. It will continue to be viewed as an influential and reliable representative of cities if its leaders and staff work hard, are trustworthy and respectful of others, speak softly but firmly and use the League's tremendous capacity to positively shape public policy to benefit the residents of cities and the state.
---
Photo credit: Jeremy Sykes, courtesy of the League of California Cities (all photos)
---
This article appears in the October 2016 issue of Western City
Did you like what you read here? Subscribe to Western City
---