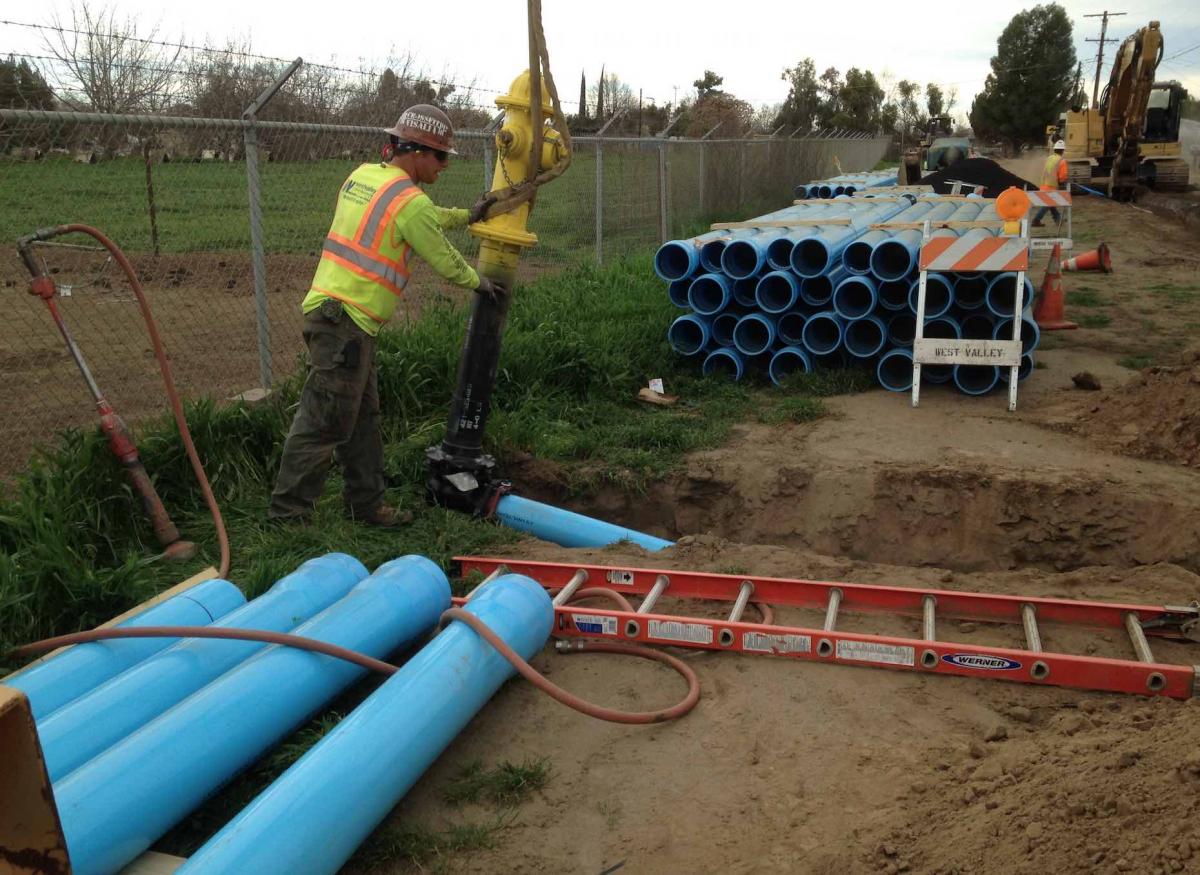 Farmersville Delivers Emergency Water to Neighbors
The City of Farmersville won the Award for Excellence in the Planning and Environmental Quality category of the 2017 Helen Putnam Award for Excellence program. For more about the award program, visit www.helenputnam.org.
---
Residents in the unincorporated community of Cameron Creek Colony were devastated when the wells they had relied on for generations to supply drinking water started to go dry in 2014. The unrelenting drought took a toll on this community of approximately 300 people in Tulare County.
Most residents can remember the exact moment they lost their water. For resident Carlen Overby, it happened on July 4, 2014. "The pipe starts spitting air because your pump is still working," she recalls. "It's trying to pull water up, but there's nothing there — it's just air." For months, Overby relied on a garden hose connection to her neighbor's deeper well, which was still producing some water, and used bottled water for cooking and drinking.
Eventually, the Tulare County Office of Emergency Services and Self-Help Enterprises, a community development organization, hauled in emergency tanks and bottled water supplies to sustain Cameron Creek Colony residents. This was not a permanent solution, however, and more wells in Cameron Creek were failing every day.
Planning Ahead for Water Supply
Two years earlier, leaders in the City of Farmersville (pop. 11,248) — in consultation with Tulare County — had begun working on water supply plans for their neighbors directly north of the city limits. They were concerned about the water quality in neighboring Cameron Creek Colony, just north of Farmersville, due to the proximity of the private wells to septic systems. Water experts suspected potential drinking water contamination and believed the residential wells, like many in the Central Valley, were shallow and vulnerable to droughts. The Farmersville leaders recognized the need to test the wells in Cameron Creek and to begin planning to provide water, sewer and storm drain infrastructure in Cameron Creek Colony well before a crisis occurred.
This advance planning and strategic partnerships allowed the City of Farmersville to quickly mitigate the potentially disastrous health and environmental crisis and install water lines in less than a year to provide permanent water delivery services to Cameron Creek Colony in 2015.
"It was amazing to see the reaction when people actually had running water again in their homes," says Farmersville Mayor Paul Boyer. "We're glad we were able to line up emergency funding to bring our water supply to them."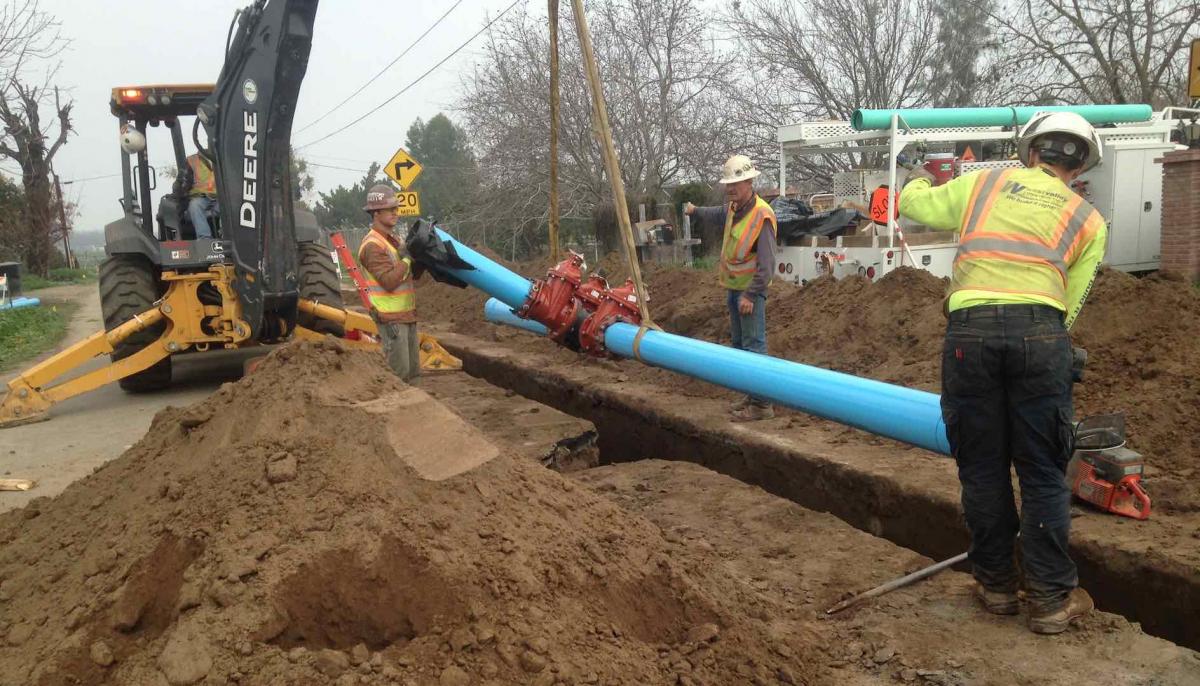 Responding to the Crisis
When it became clear that the water crisis in Cameron Creek was growing worse during the summer of 2014, Farmersville worked within an accelerated four-week time frame to secure more than $1 million to execute the project. The U.S. Department of Agriculture (USDA) and the State Water Resources Control Board (SWRCB) provided emergency funding. "We knew we had to get the money in their hands as quickly as possible," says Sarah Marquart, public affairs specialist with USDA Rural Development. "The San Joaquin Valley was hit so hard. This situation exemplified the severity of the drought. It was heart wrenching."
The project was constructed within two months, with 7,262 linear feet of water main pipelines supplying water to 106 homes in Cameron Creek by May 4, 2015.
Thirteen public agencies and private partners collaborated on the project, including USDA, the California Department of Public Health, SWRCB, California State University Fresno, Tulare County Board of Supervisors, Tulare County Resource Management Agency, Tulare County Local Agency Formation Commission, Quad Knopf, Self-Help Enterprises and the Bank of the Sierra.
The community also participated in the project construction. Most residents dug their own trenches and helped install connections between the water meters and their homes. Self-Help Enterprises helped cover the cost of building permits and materials with funding from the Bank of the Sierra.
Cameron Creek Colony residents paid a small utility deposit and were spared the cost of debt service to pay for the million-dollar water line. The project served as a good illustration of neighbor helping neighbor and ensured Cameron Creek Colony residents received the same safe drinking water and long-term services as Farmersville's residents within the city limits.
The Value of Proactive Planning
The residents of Cameron Creek Colony now have reliable, clean water — a dramatic improvement over the previous imperiled water quality and supply. Far-mersville's city water is consistently high quality, needing minimal treatment to meet all water quality requirements. The project also included new fire hydrants, which allow the city and county fire departments to respond quickly to protect the neighborhood. Most importantly, the new water lines provided a vital lifeline to the Cameron Creek community.
Then-U.S. Department of Agriculture Secretary Tom Vilsack visited Farmersville and Cameron Creek on July 18, 2014. His visit boosted morale for residents and city leaders.
"It was important to the administration to come out and show that the federal government was helping mitigate this water crisis," says Marquart. "It was an 'all-hands-on-deck' project with government at all levels contributing."
Speaking to the community, Vilsack said, "Some people might say, if you don't have water, pick up and go where there is water. The problem is how do you sell your house? Who is going to buy your house if there's no water?" The project restored viability and vitality to a community that desperately needed it.
This project provides an excellent example of the value of proactive planning. Even as the City of Farmersville faced a dismal unemployment rate, stagnant economic growth and a dwindling budget, city leaders did not lose sight of their neighbors' needs. Their foresight and planning meant that the city was prepared when the drought emergency struck.
Contact: Jennifer Gomez, city manager; phone: (559) 747-0458; email: JGomez@Cityoffarmersville-ca.gov.
---
Photo Credit: Courtesy of the City of Farmersville and League of California Cities.