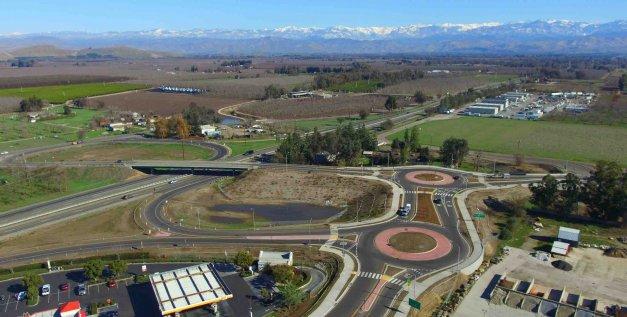 Farmersville's Innovative Dual Roundabouts Welcome Visitors
The City of Farmersville won the Award for Excellence in the Public Works, Infrastructure and Transportation category of the 2017 Helen Putnam Award for Excellence program. For more about the awards program, visit www.helenputnam.org.
---
Farmersville, a rural city of 11,248 residents located a few miles from Visalia, faced major circulation challenges at its main entrance from Highway 198. Traffic often backed up at multiple stop signs. Pedestrians lacked sidewalks to reach businesses and restaurants. The substandard conditions discouraged developers from investing in potential industrial and commercial sites.
"It was congested. It wasn't easy to traverse and needed improvement," says Ted Smalley, executive director of the Tulare County Association of Governments. The city's gateway also lacked a sense of place to let visitors know they had arrived in Farmersville.
But the improvements originally recommended for the Farmersville Boulevard and Highway 198 interchange would be costly — estimated at $30 million to widen a bridge, install traffic signals and build other necessary infrastructure. And the improvements were not scheduled until decades later in 2030. Smalley remembers when the initial idea was proposed for the Farmersville roundabouts. He says, "We got together with the city council and county leaders and asked, 'What if we could do roundabouts at the city entrance intersection?'" From an engineering perspective, roundabouts were feasible at this location and much less costly than the improvements recommended earlier. The City of Farmersville was willing to try something new.
This decision led to a complete overhaul of the city's gateway from the Highway 198 corridor overpass and connecting streets leading into Farmersville. The innovative project used a novel approach: dual roundabouts to move traffic into the city from the highway. It included sidewalks, bicycle lanes, retaining walls and sustainable landscaping that provided "complete streets."
Sending a Signal: Open for Business
The roundabouts also created a new grand entry into Farmersville. "Now, when people first see our city, they are really impressed," says Farmersville Mayor Paul Boyer. He explains that the project helps the city showcase the vacant parcels at the gateway. "They can see that we have ample area for commercial and possibly industrial development," he says. "It's inviting and accessible now; it says Farmersville is open for business."
City leaders expect the improvements to encourage future job growth and commercial investments that will allow residents to shop for more goods and services close to home. The project opens the door for development of 65 acres at the southeast quadrant of the interchange and another 65 acres along the west side of Farmersville Boulevard, south of Noble Avenue.
Costs and Benefits
The $5.5 million project was a cost-effective and attractive solution to address multiple transportation-related issues, especially when compared with the original $30 million improvement estimate.
Roundabouts are a sustainable transportation improvement that eliminates ongoing costs of hardware, maintenance and electrical work associated with an intersection that uses traffic signals. By reducing traffic congestion, the roundabouts have resulted in shorter driving times for motorists and reduced fuel consumption and greenhouse gas emissions, which help improve air quality.
Roundabouts also provide safety benefits. "A roundabout removes 90 percent of the fatal collisions that occur at intersections because it eliminates 'T-bone' crashes," says Smalley. "We love the safety aspects of roundabouts. The Farmersville project is the first of its kind in Tulare County, and it shows that roundabouts work."
The project's safety and traffic improvements helped Farmersville secure more than $3.8 million in grant funds from the Highway Safety Improvement and Congestion Mitigation and Air Quality Improvement programs. In addition, Tulare County's Measure R (a half-cent sales tax for transportation funding) provided over $1 million toward the project. The project was the first of its kind not only in Farmersville but in Tulare County. "It's one of the things I will remember for my entire career — how government came together to do something new," says Smalley.
Public reaction to the dual roundabouts has been overwhelmingly positive. Interim City Manager Mario Krstic says, "Traffic moves beautifully, conditions are safer, and we have a sense of pride as we enter our city."
Mayor Paul Boyer notes that the project offers an excellent example of what the city can accomplish when it is able to secure outside funding, "We are a severely disadvantaged community," he says. "But that doesn't mean that we can't get things done."
---
Contact: Mario Krstic, interim city manager, City of Farmersville; phone: (559) 747-0458; email: MKrstic@Farmersvillepd.com.
---
This article appears in the February 2018 issue of Western City
Did you like what you read here? Subscribe to Western City
---