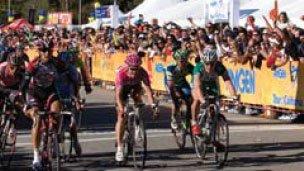 Film and Tourism Drive Economic Development in Santa Clarita
The City of Santa Clarita won an Award for Excellence in the Community Services and Economic Development category of the 2008 Helen Putnam Award for Excellence program. For more information about the program, visit www.cacities.org/helenputnam.
---
Today's tough economic times make it more important than ever for local governments to find ways to produce revenue and boost their local economy. The City of Santa Clarita, located just minutes from downtown Los Angeles, has developed award-winning economic development programs that are self-sustaining, increase the city's General Fund revenues and generate millions of dollars in local economic activity.
Like many young cities, Santa Clarita faced some challenges after incorporating in 1987. It was widely perceived as a bedroom community; the majority of Santa Clarita's residents traveled to Los Angeles for employment. The city needed to cultivate a bigger job base. City leaders also realized that the General Fund was largely supported through property tax revenue, leaving city finances vulnerable to fluctuations in property values.
To strengthen its financial position, the city took steps to diversify its revenue sources, thus reducing volatility and risk. Santa Clarita developed a three-part strategy, which included:
Addressing the jobs-to-housing imbalance by creating quality employment opportunities for residents;
Creating an economic base by dramatically increasing sales tax-generating businesses and activities; and
Enhancing Santa Clarita's image and economy by attracting events that would benefit local businesses.
Once this strategy was articulated, city leaders recognized an opportunity to achieve significant results by developing the local film and tourism industries. But obstacles to implementing the economic development strategy included the lack of film industry incentives and a perception that Santa Clarita was "too far" from Los Angeles.
Broad Marketing Effort Launched
In 2002, Santa Clarita expanded its Economic Development Division to include the Santa Clarita Film and Tourism Office. Once established, it was important to highlight the area's close proximity to Los Angeles. The city developed materials that showed Santa Clarita as a Southern (not Northern) California destination. For the film industry, the city refined its logo design to include the "30-Mile Zone," an industry designation that saves production money when filming in the designated zone area.
Using its new logo, the city developed an array of contemporary marketing tools, including newsletters, websites, guide books and seasonal rack cards. It implemented a consistent advertising campaign and used trade shows to reach its target audiences: potential tourists and the film industry.
Developing Partnerships
Recognizing the importance of working with local film and tourism companies, Santa Clarita initiated an extremely successful series of Film Stakeholder Summits, where film office staff met with business owners. The city also sought opportunities to enhance public-private partnerships by developing cooperative marketing programs.
"Strong relationships are critical when launching a new program," says Santa Clarita Mayor Bob Kellar. "You really need to understand your program and how it meets the needs and goals of your audiences. Communitywide buy-in is a must."
Santa Clarita used several tactics to increase film production and the number of film businesses located in the city and also give visitors new reasons to spend time there. Staff worked with private industry to add or convert soundstages for film productions; on the tourism side, the city developed partnerships with private event producers to ensure that targeted events based in Santa Clarita succeeded. The city began supporting such local events and backed its support by waiving fees to use city-owned facilities, streamlining city event permits and assisting with regional marketing efforts.
Reaping the Rewards
Developing the film and tourism programs produced significant results. Several film businesses relocated to Santa Clarita since 2005. Before the city launched its film office in 2002, only three productions were based in Santa Clarita, using approximately 12 stages. Since then, another eight stages have been built, and numerous hit television shows are based there. Film permits in Santa Clarita have increased by 184 percent since 2003. In 2008, a total of 827 film days brought $19.5 million into the city's local economy.
Three new hotel properties opened in Santa Clarita since 2006. Hotel occupancy increased steadily from 2005-08 even with a 29 percent increase in rooms and a weakening consumer tourism market. Tourism companies Princess Cruises and Cunard relocated to the city in 2005, adding to Santa Clarita's already strong tourism base, which includes Six Flags. These companies provide thousands of jobs to the area.
The city has successfully maintained transient occupancy tax (TOT) revenue over the past four years, despite a slump in the tourism industry. Since 2005, Santa Clarita has benefited from more than $2 million in TOT revenue annually, providing valuable dollars to reinvest in vital community services.
Santa Clarita has also attracted world-class events, such as the Amgen Tour of California and AT&T Champions Classic, since developing its tourism office. These two events alone generate more than $9 million annually in local economic activity.
"In recent years, I've noticed an increase in inquiries from other California cities looking to develop programs like our film and tourism offerings," says Assistant City Manager Ken Striplin. "It's a pleasure sharing best practices with communities looking to enjoy similar successes."
---
Contact: Ken Pulskamp, city manager, Santa Clarita; phone: (661) 255-4900; e-mail: kpulskamp@santa-clarita.com.
---
This article appears in the May 2009 issue of Western City
Did you like what you read here? Subscribe to Western City
---