Finding light in dark times, city officials emerge stronger together
After 18 months of virtual board meetings, webinars, conferences, and convenings, it was so great to see 1,900 city officials from throughout the state gathered in Sacramento for the 2021 League of California Cities Annual Conference and Expo. This was my 15th annual conference, and year after year, this conference brings great value both to me personally and to my city of Walnut Creek. The conference gives us all a chance to connect, share ideas, and learn from each other. This year's conference was particularly valuable, as we heard numerous stories about all of the ways our cities are moving their communities forward. There's no end to the innovation and creativity at the local level.
During the conference, I was also sworn in as your as your 2021-2022 League of California Cities President. This is my first "President's Message," and I'm grateful for the opportunity to share my thoughts about the issues we face as we rebuild our cities.
I would like to start by saying how honored I am to serve as Cal Cities President this year. I promise to commit my time and energy to expanding resources for city officials as we continue to chart the path to recovery in our communities.
Whether you are in your first or second year of city service, or a seasoned 20- or 30-year city official, no one has seen anything like the issues city officials have faced the last couple of years. You have been required to work harder, gather input more quickly, make decisions faster, do more with less, and be ready to change course with very little notice.
In the last two years, we've watched as more than 3.5 million acres of land has been destroyed by wildfires. We've experienced the driest year on record since 1895, and the driest two-year period since the mid-1970s. Since the beginning of the pandemic, our cities have collectively lost more than $5 billion in core revenues. And, if that wasn't enough, as of September 27, COVID-19 has led to the deaths of 68,360 members of our California communities.
From the farmlands of the Imperial Valley to the timbered forests of the Humboldt coast, COVID-19 has played out on the ground, in our cities. And it's been you – our city leaders – who have been called upon to hold our communities together as we've mourned the loss of family members, close friends, city colleagues, business associates, and long-time community leaders.
These losses were often sudden and were always sad. It feels like every day over the past two years has been a test of our commitment as leaders and I want to thank you for your perseverance.
However, I'm also an optimist. I believe the past two years can serve to inspire us to be better leaders and help strengthen the work that we do together.
As city officials, we come from all parts of our state and we are very different. North and south, coast and mountains, rural, suburban, and urban. Yet, despite our differences, we share the same goal – to apply our local knowledge and experience to the work we do together on behalf of all California cities.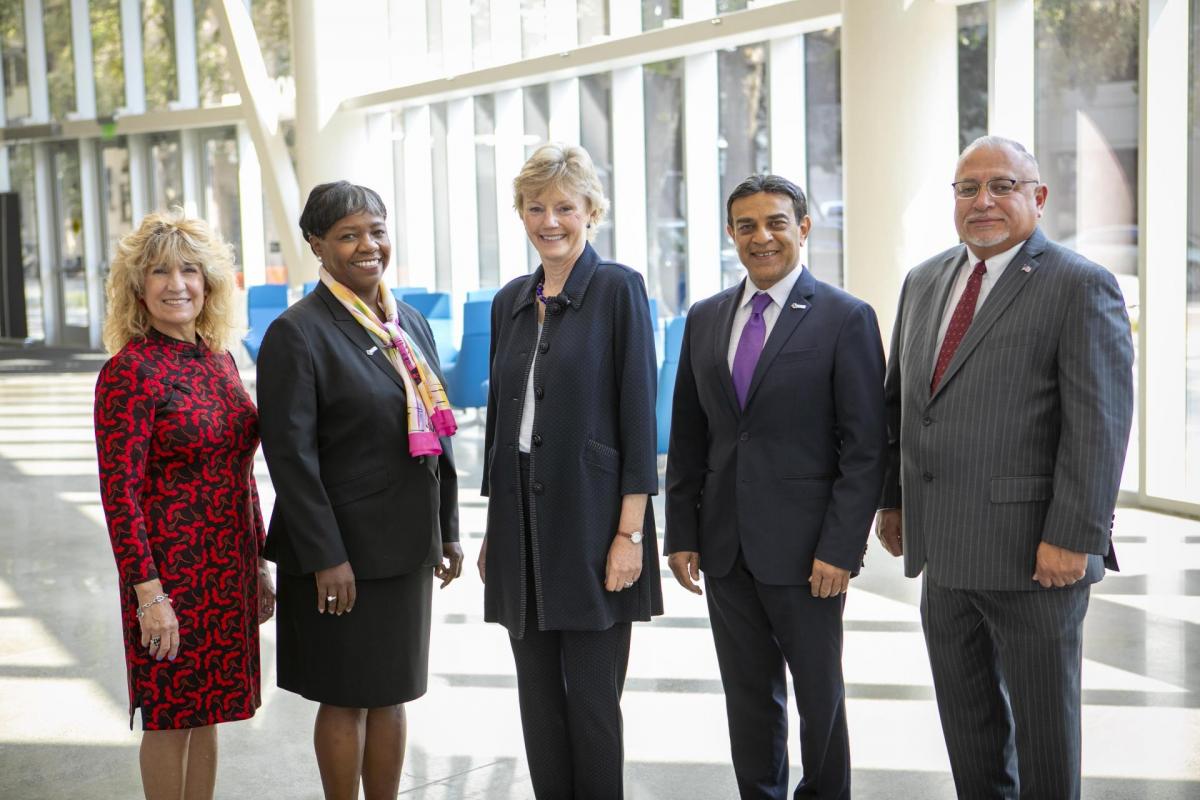 When we speak with one voice, we prove time and time again that we are more effective. We are stronger when we work together, take the time to listen and learn from each other, and share ideas on how we can do better. We succeed when we discuss and debate our various perspectives, when we use that debate to develop a cohesive, thoughtful approach to our challenges, and when we take the time to come to agreement on our collective point of view.
Working together as California cities is the way we can honor those we've lost. Finding and using our unified voice is how we can continue to serve our communities going forward.
What do I foresee during my year as president? I'm certain we'll continue to face many policy challenges – increasing the supply and affordability of housing, serving residents experiencing homelessness, facing the growing impacts of climate change, weathering economic and fiscal uncertainty. We'll continue to face top-down mandates and pressure from Sacramento, and divisiveness in Washington, D.C.
However, no matter the issue, we know that our cities are the backbone of California, and we will hold firm to our mission that local authority is fundamental to California's well-being.
We'll also continue to focus on recovery. The $8 billion in American Rescue Plan funding we secured in March 2021 is critical as we rebuild our communities, and we will work to ensure that our cities can make full use of every one of those dollars.
We will expand our efforts to support the work of our cities to advance equity in our communities. And, to improve member engagement and the pathways to leadership, our Board will further its work to strengthen our governance system.
While the year ahead is not entirely clear, I am confident that we'll do what we do best at Cal Cities: We'll work together to tackle our challenges and we'll work together to capitalize on new opportunities.
As president, I promise to do my best to create an environment where we can listen to one another, debate our differing perspectives, and move forward for the betterment of our communities.
It is my greatest honor to be selected to serve as Cal Cities President, and I look forward to working with you to create a better California.