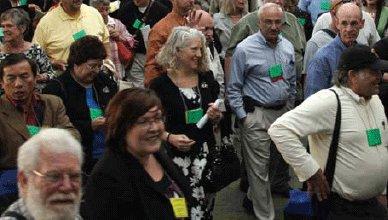 Finding Strength in Shared Values and Diversity
Finding Strength in Shared Values and Diversity
Any Californian knows that we come in all shapes, sizes, ideologies, colors, ethnicities, geographies, languages, political views, religions and with many other identifying characteristics. For more than 150 years people have traveled from all over the world to lay claim to not only the American dream but the special way we dream it in California. In a relatively short time they become part of the fabric of our state and its cities, and we have always been stronger because of it. Eventually they come to reflect the values and views of their adopted communities as well, because we are anything but monolithic in California.
As public officials we see this same variety among our cities, giving us an abiding belief in the importance of local control in responding to the unique conditions in each and every city. The League is as committed today to local control and self-determination as we ever have been, because we know that California is at its best when its decisions come from the "ground up." This value underlies the mission of the League, which is "to restore and protect local control …," and it represents the best of an organization like the League.
Our Shared Values Connect Us
Our shared values of local control and self-determination have also affected the breadth and depth of our organization's leadership in every action we take. The policy-making process and procedures we employ are designed to ensure that our entire membership is represented because it is imperative that our policies reflect our broad constituency. The League is powerful largely because of the participation of its entire membership.
Here's a snapshot of how the League works. It is divided into 16 geographic regions, known as divisions, which serve as a primary advocacy force. Our regional public affairs managers work locally in their divisions to develop informational programs and carry out grassroots activities that support specific legislative, regulatory or ballot measure goals. Each division has a seat on the League's board of directors.
The League also has 11 municipal departments that provide professional development and help form the organization's policies and programs (for a list of the League's departments, see page 6). The departments assist in shaping the League's policy and legislative positions by appointing representatives to the League's eight policy committees and its board of directors.
Created by the board of directors to help with policy deliberations, the League's eight policy committees are composed of city officials from the League's divisions, departments and the general membership throughout California, balanced by appointments by the League president and non-voting representatives of the League Partners and affiliate groups. Policy committees help to make League policy by reviewing legislation, recommending broad new policy guidelines and studying key issues affecting cities.
Our Diversity Strengthens Us
It is unfortunate that "diversity" has become one of the most controversial words in America today. If we stop for a moment and think about what it means, however, it becomes clear that the controversy is much ado about nothing. According to Merriam-Webster's Collegiate Dictionary, the word "diverse" dates from the 14th century and means "differing from one another." Its chief synonym is "different."
The League is the quintessential big-tent organization, with the leaders of some widely different cities setting its policies and supporting its lobbying and training agenda. What do a San Francisco supervisor and a Hemet council member have in common? What else but local control. The League's strength is built on the common values we hold near to our hearts. We put aside our differences to focus on protecting and strengthening cities, and our diversity gives us greater insight and power.
While we can always do more to open our leadership ranks, the League's significant progress over the past decade with its local control agenda has only been possible because we have worked, albeit imperfectly, to be an inclusive organization. This means listening to all parts of our organization and creating new avenues for city officials to participate in the organization, including our "diversity caucuses." The caucuses are important parts of the League, serving as incubators for new League leaders and providing another key element in the discussion of policy issues that affect cities. We have been enriched by their involvement in the League.
With all of its members and component parts working together, the League has become the place where we have secured the passage of Proposition 1A in 2004 to protect the local shares of the property, sales and vehicle license fee taxes with more than 80 percent of voters in support. Our victories in 2006 and 2008 defeating ballot measures that would have eviscerated local land-use authority were a direct result of our combined strength.
Now the state has decided to take other revenues not protected by Prop. 1A, and we are part of a broad coalition working to support the Local Taxpayer, Public Safety and Transportation Protection Act on the November 2010 statewide ballot. This measure would close those loopholes to prevent the state from borrowing, raiding or otherwise redirecting local government, transportation and public transit funds.
What You Can Do
We need to bring our collective commitment to local control to bear in the next few months as we work to pass the Local Taxpayer, Public Safety and Transportation Protection Act of 2010. Explain to your constituents what it means for our diverse cities and our residents' quality of life. You can find talking points at www.savelocalservices.com.
And beyond the ballot measure, connect with your colleagues throughout the state and learn from their experiences. Make a commitment to get involved with the League so all of California's 480 cities can benefit from the perspective you bring to public service. Choose an issue that is important to your city, and be part of making statewide public policy through the many avenues offered by the League's divisions, departments, policy committees, resolutions process and board. Be part of the strength we find in diversity and inclusion.
---
The League's Policy Committees
Administrative Services
Community Services
Employee Relations
Environmental Quality
Housing, Community and Economic Development
Public Safety
Revenue and Taxation
Transportation, Communication and Public Works
The League's Departments
City Attorneys
---
City Managers
City Clerks
Community Services
Fire Chiefs
Fiscal Officers
Mayors & Council Members
Personnel & Employee Relations
Planning & Community Development
Police Chiefs
Public Works Officers
---
This article appears in the June 2010 issue of Western City
Did you like what you read here? Subscribe to Western City
---