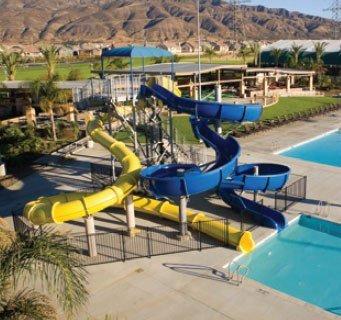 Fontana's Public-Private Partnership Builds a World-Class Park
The City of Fontana won the League Partners Award for Excellence in City-Business Relations in the 2009 Helen Putnam Award for Excellence program. For more about the awards program, visit www.cacities.org/helenputnam.
---
Over the past several years the City of Fontana has been one of Southern California's fastest growing suburbs. With more than 50 percent of its population under the age of 18, Fontana is home to many young families. From 1999 to 2008, the city's population increased approximately 69 percent, growing from 111,786 to an estimated 188,498.
With growth of this magnitude, city leaders realized that the residents needed places in the community where they could recreate and relax with their families, friends and neighbors rather than having to travel to other cities to enjoy such amenities. So the city's Public Works Department conducted a series of communitywide surveys in 1999 to determine residents' needs as part of updating its Parks, Trails and Recreation Master Plan. The surveys revealed that Fontana's residents wanted the city to develop:
An aquatics complex;
A community center offering health, fitness and educational programs as well as community events;
A children's park that could withstand the windy environment;
More walking and biking trails;
A dog park;
An outdoor space for large gatherings;
An extreme sports park; and
A place where residents could gather and get to know one another.
"We were pleased with the outpouring of comments, number of responses and general participation from the community at large," says Chuck Hays, Fontana's director of public works. "The survey results gave the city the information we needed to do our jobs."
Leveraging Local Resources
Determined to fulfill the residents' expressed needs, the city council directed staff to proceed with the project, which came with a price tag of $59.5 million.
Financing for the project came from a variety of sources. The city provided $41 million in redevelopment agency funds and $7.5 million from park development fees. The local Community Facilities District contributed $1.5 million. And in an effort to get the project off the ground, city leaders engaged developers in discussions about the planned facility's positive impacts on the community and how the project would raise property values in the area. As a result, developers worked out a land swap and contribution deal with the city that netted $9.5 million for the project.
Park's Extensive Amenities Hit the Mark
Oct. 28, 2008, marked the grand opening of Fontana Park, where more than 30,000 community residents gathered to tour the park and visit its extensive amenities. At the park's heart stands the 43,000 square-foot Jessie Turner Community Center for Health and Fitness, dedicated in memory of the late Mrs. Jessie Turner, a well-known minority community activist who advocated for health and fitness programs in her community. The center houses a full-size indoor gymnasium with adult and youth basketball programs, an aerobics room, a large assembly hall, a full-service kitchen, a periodicals room and educational classrooms that accommodate pre-kindergarten classes, job development and retention classes, martial arts, dance and fitness activities.
Another area of Fontana Park comprises the city's first Aquatics Complex, which was developed to host not only local recreational swimming, but to provide the local high school and college teams with a competition pool. The Aquatics Complex contains a 14-lane competition pool with two diving boards; a recreational pool where the city offers swim lessons, water fitness and scuba diving classes and open recreational swimming; two nine-meter looped and curved waterslides; a zero-depth splash play area; and a corporate pavilion for large gatherings.
Fontana Park also houses an Extreme Sports Park with a vast array of adrenaline-inducing skate and bike terrain, including the area's first flow bowl with half-pipe and Southern California's first capsule, a vertical curved shell that allows a rider to become a human roller coaster.
Among its diverse components, Fontana Park contains a formal park with a covered sports arena, a dog park, a children's park, and an interconnecting promenade with arbors, stone monuments, water features and walking/running trails.
This formal park area can accommodate community fairs, corporate picnics and other public functions that require rental booth/vendor exhibit space and subsequently generate revenue.
Project Creates Jobs
From start to finish, the park project took about four years to complete: two for design and two for construction.
During construction, the project created about 110 jobs. Five permanent jobs are now associated with the new facilities, and during peak season, up to 125 part-time jobs are generated.
"This economically and culturally flourishing park allows community members to gain skills and knowledge that may have previously been out of their reach due to location, money, time or other issues," says former Mayor Mark Nuaimi. "These facilities provide hundreds of needed community programs supported by local agencies and are places where children and adults can learn in a safe, secure, state-of-the-art environment that serves the community at large."
Contact: Chuck Hays, director of public works, City of Fontana; phone: (909) 350-6530; email: chays@fontana.org.
---
This article appears in the September 2010 issue of Western City
Did you like what you read here? Subscribe to Western City
---