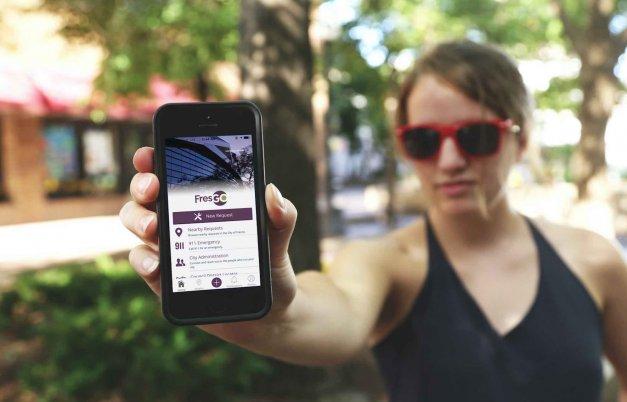 Fresno Uses Mobile App to Reach and Engage the Community
Technology provides great opportunities for cities to connect with their residents and improve service delivery, and the City of Fresno is finding ways to do just that. Fresno uses a free mobile app to more efficiently route service requests, evaluate its response to requests and connect with residents. In fall 2015 the city launched FresGO, an app that allows residents to connect directly with city departments and easily submit requests.
Fresno residents can submit photos and report potholes, malfunctioning stop lights, graffiti and similar issues on the spot — without having to make multiple phone calls or fill out paperwork. On the city side, it gives staff a more complete picture of issues, allowing them to streamline services and identify and address barriers to improving service delivery. For example, the app helped the city recognize a backlog on tree services and identify the resources needed to clear the backlog. The city's graffiti removal team now also has a 24-hour turnaround time for service requests, making Fresno a more attractive place to live, work and play.
In addition to improving service delivery, the app facilitates a dialogue with Fresno's diverse residents, including those who are historically underrepresented. The app allows for dynamic translation into 18 languages and offers features that comply with the Americans with Disabilities Act (ADA). The app also provides push notifications to alert residents of flooding and other emergency events.
Residents can report issues including:
Graffiti;
Water services;
Traffic issues;
Potholes and infrastructure problems;
Blocked roadways;
Illegal dumping;
Abandoned vehicles; and
Parks and recreation repairs or concerns.
Residents without smartphones can enter service requests online at bit.ly/1WTprkK.
Over 4,500 people downloaded the app in the first six months it was available. That number continues to grow, creating a feedback loop between residents and city departments. Residents and city staff alike can track requests, see if a specific type of request occurs frequently in their area and provide comments.
"The need for government to improve customer service and embrace new technology has never been more important," says Mark Standriff, director of communications and public affairs for the City of Fresno. "Thanks to FresGO, our citizens are now better connected to city services and can see the results in their neighborhood in real time. It's a mobile front door to City Hall."
ILG Offers Free Technology to Enhance Public Meetings
The Institute for Local Government (ILG) offers local agencies the use of handheld wireless devices for a process known as keypad polling. These devices are typically used in a meeting to gather instantaneous responses from individual participants. When combined with dialogue, this technology allows participants to anonymously select or prioritize options and then immediately view the group's collective judgment or the opinions of different subsets of participants.
ILG also offers digital meeting translation equipment that supports simultaneous translation of public meetings. Each set consists of 40 receivers and headsets as well as the transmitter and speaker/headset for the person translating. The equipment is easy for interpreters and meeting participants to use and features instructions in both English and Spanish. For more information or to borrow the equipment, visit www.ca-ilg.org or contact publicengagement@ca-ilg.org.
---
This article appears in the June 2016 issue of Western City
Did you like what you read here? Subscribe to Western City
---